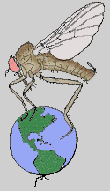 FLY TIMES


Stephen D. Gaimari

, editor

Plant Pest Diagnostics Branch

California Department of Food & Agriculture

3294 Meadowview Road

Sacramento, California 95832, USA

Tel: (916) 262-1131

FAX: (916) 262-1190

Email:

sgaimari@cdfa.ca.gov
Fly Times began in October 1988 as a biannual newsletter for North American entomologists interested in research on Diptera, and its existence fostered the subsequent formation of the North American Dipterists Society in 1989. The newsletter reports on communications about current research projects and findings, field trips, techniques, areas of research cooperation, news of meetings and conferences, reviews of major publications on Diptera, and job opportunities etc. Periodically a Directory of North American Dipterists has been included with past issues of Fly Times, listing addresses, phone numbers, fax numbers, email addresses, and interests, but this is now available online on this web site.
Fly Times has gone online simultaneously with the distribution of hardcopies since April 1997 (Issue 18). The newsletter has been offered online as a PDF file since October 2001 (Issue 27). It is expected that this biannual newsletter will appear every April and October. The Supplement series was started in December 2017, with Supplement 1. North American dipterists wishing to contribute to the newsletter should contact Steve Gaimari.

---
---
First published on the Internet in 1997
Last update: 20 March 2023