Food Industry Management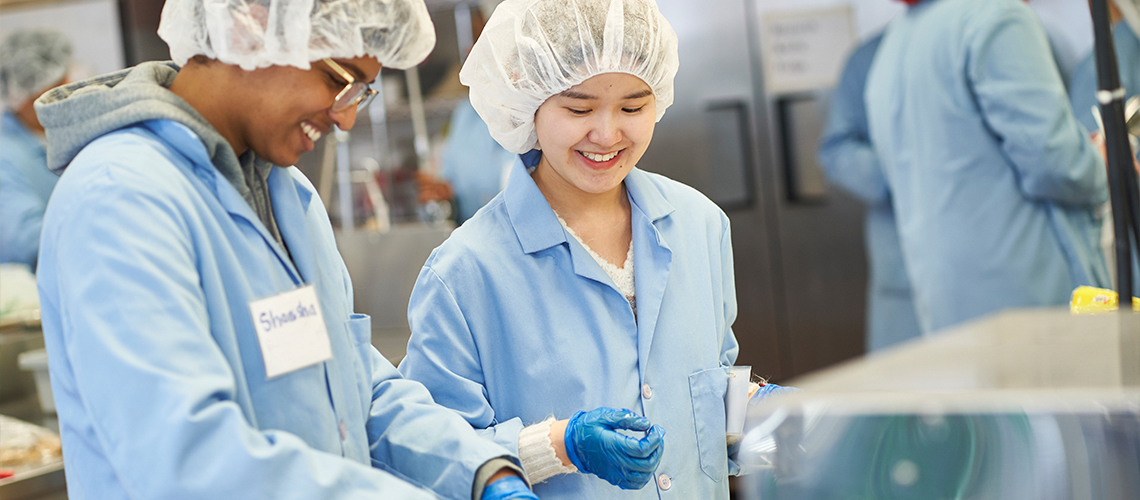 The Food Industry Management (FIM) major is a one-of-a-kind program in Canada. It combines a solid background in food science, economics and business, using a mix of theoretical and hands-on learning. Students will graduate with the knowledge, skills and professional network needed for effective management in the food sector.
What is Food Industry Managment
Food industry management bridges food science and business. Combining business practice and industry and market analysis with the science of food safety, processing and food composition, food industry management graduates ensure the success of food businesses.
Professionals in food industry management have broad career options with the ability to focus on either the processing or business side of the industry. They understand the impact of changing a single ingredient on both a product's flavour and the company's bottom line.
This program is offered and administered by both the Department of Food Science and the Department of Food, Agricultural and Resource Economics. Program format: on-campus, in-person.
Admission Requirements
Ontario secondary school students applying to the program require English (ENG4U), Advanced Functions (MHF4U), Biology (SBI4U), Chemistry (SCH4U), and 2 additional 4U or 4M courses. Students that are mature, transfer, or applying from outside Ontario should visit the admission requirements page to learn about their requirements.
Unique Courses
Communication in Food Science
Food Packaging
Supply and Value Chain Management
Retailing, Merchandising and Sales
Food Safety Management Systems
Food Product Development
Full course descriptions and a listing of all courses, can be found in the Undergraduate Calendar.
Co-op
A co-op option is available for students studying in the FIM major. Students are required to complete three co-op work terms as part of this five-year degree. Working with Co-operative Education and Career Services, students receive support in applying for positions and completing work terms. The co-op experience improves students' job search skills, work performance and networking abilities, while they explore career opportunities and make money. Learn more about the food industry management co-op here.
Career Opportunities
Research and development manager
Food production/operations manager
Quality control manager
Logistics/supply chain manager
Finance operator
Food safety quality supervisor
Ingredient and packaging procurement manager
What Students are Saying
Sometimes the best way to learn about a program is through meeting a current student. Meet them here:

"Food Industry Management offers a unique niche allowing me to learn about both the business and science aspects of the agricultural world. In addition to the program itself, the co-op work term helped set me up for greater success by guiding me to opportunities that allowed me to explore potential career paths in the future." -Mandy Lam, food industry management student
Learn about other student experiences through the following student profiles:
Learn About the Perks
Questions
Our OAC Student Liaison team is here to help! Have you applied to or are you considering this program, but have some questions? Check out the following pages to learn more: