Developing Practice to Support Policy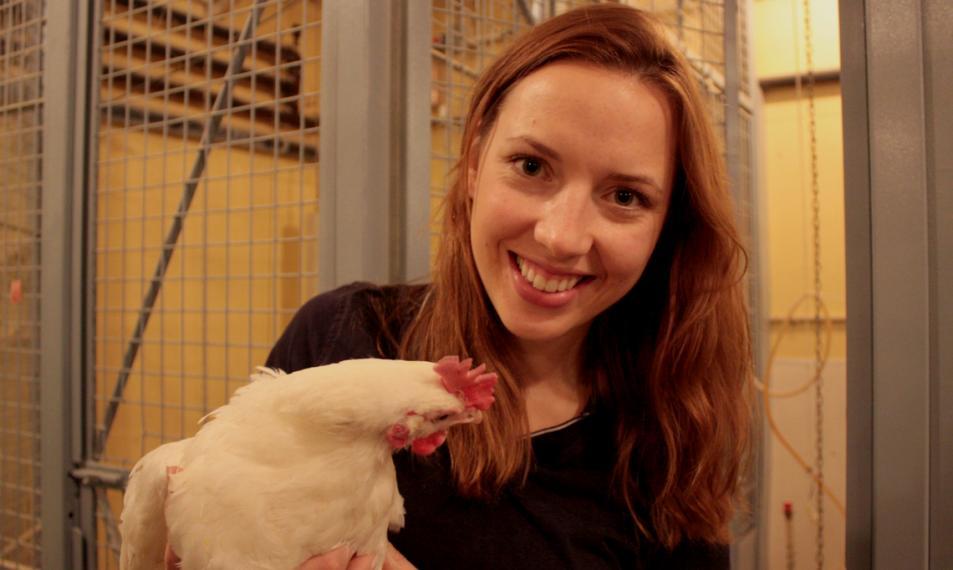 It's a long way from Scarborough, Ontario to Auchincruive, Scotland - over 5,000 km. For Krysta Morrissey, a PhD candidate in the Department of Animal Biosciences, not only was it a long journey, but it was also a long time in the making.
Unbeknownst to Krysta, she set out on a path to Scotland, several years prior to her travel dates, when she began working in Prof. Tina Widowski's lab as an undergrad.
"I was working with the graduate students, helping them with their projects and data collection," shares Krysta. "I started realizing that it was really cool, being able to work with animals, but not in the same way as a veterinarian."
Becoming a veterinarian was her original plan, but she decided to pursue a master's degree with Tina following her undergrad. Her master's research, co-advised by Dr. Stephanie Torrey, focused on changing the diets of broiler breeder hens to improve their health and welfare.
Krysta explains that these hens can become severely obese due to their rapid growth, which leads to high mortality and morbidity rates if their feed is not restricted. However, it is a double-edged sword; when feed is restricted the hens redirect their foraging activity into undesirable behaviours such as spot pecking or injurious pecking. Her master's research focused on finding a solution for both issues by altering the hens' diet to increase satiety, reducing their overall impulse to forage on feed (and feathers).
Studies in Scotland
Following her master's, Krysta decided to pursue a PhD in 2012 as part of a collaboration between Scotland's Rural College (SRUC) and the University of Guelph, and took the opportunity to base her studies in Scotland where demand for her area of research was escalating.
A recent announcement by the United Kingdom's Department for Environmental, Food and Rural Affairs (DEFRA) stated that a ban on beak treatment of poultry species would take effect in 2016, though this ban ended up being cancelled. In the UK and Canada, beak treatment is a common practice to help reduce injury from injurious pecking and cannibalism on commercial farms.
To ensure maintained poultry welfare without the practice, researchers, including Krysta and her SRUC advisor Vicky Sandilands, were enlisted to evaluate alternative strategies to reduce the occurrence of these undesirable behaviours.
"As keepers of animals we have a duty to house them to the best of our ability," shares Krysta. "Beak-trimming is a 'Band-Aid solution' for injurious pecking and we need to address the cause if we want to find a sustainable solution."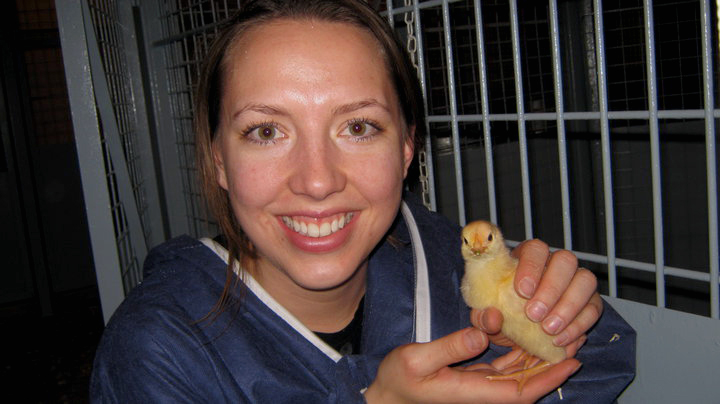 With SRUC, Krysta completed two studies that compared differences across breeds and diets of non-beak trimmed hens in enriched-cages.
In the first study, two different species were compared in enriched cages of 80 hens each. Each cage included two pecking mats, eight hanging ropes and two blunting boards (used to dull the beak) in hopes of deterring injurious pecking away from other hens. Krysta measured behaviour, beak morphology as well as feather cover to conclude her results.
From this study Krysta found that the Hyline Brown, a common UK strain, was found to participate less frequently in injurious pecking, had better feather cover and less mortality than the Lohmann Brown Classic. Unexpectedly however, the extra enrichments didn't appear to promote better feather cover or less mortality despite the decrease in injurious pecking behaviour.
She speculated that this could be due to three reasons. First, the ropes had cauterized ends, making it difficult for the hens to pull apart, which could have caused a loss of interest. Second, as injurious pecking is an extension of foraging behaviour, the unnatural angle of the vertically hung blunting boards may have been deterring. Lastly, the ratio of enrichments to the number of hens in the cage may not have been sufficient to draw attention away from other hens and toward the enrichments.
In the second study, Krysta supplemented the hens' diets with animal protein and oat hulls with the objective of increasing the time spent by hens feeding. Krysta hypothesized that the longer the hens spent feeding, the less time they would participate in injurious pecking.
Enrichments were again added to the cages but in a higher ratio and in alternate designs. Rope ends were not cauterized, and the blunting boards were placed in the feed troughs, where natural pecking behaviour could occur.
Krysta continued to measure feather cover in this study and was pleased to find that the hens in enriched cages had less feather damage.
Krysta credits her time abroad for enriching her experiences and enabling her to grow personally and academically. For graduate students and researchers, she has one piece of advice: "If you are offered the opportunity to research abroad – take it."
Back in Canada
Krysta returned to Canada in 2015 and is now completing a third research project at the Arkell Research Station.
In this study the hens are individually housed, and each hen has blunting boards or cuttlebones in their cage. Cuttlebones are often given to exotic pet bird species to dull their beaks.
By taking photos throughout the study, Krysta documented how the beak morphology of the non-beak trimmed hens was changing with these added enrichments. She is currently analyzing the data.
Finding a solution that addresses the cause of injurious pecking to decrease mortality and injury rates in poultry is integrally important as governments set out to ban the practice of beak trimming.
"Once these regulations are implemented, the welfare of flocks that aren't beak trimmed may be at greater risk," Krysta explains.
Injurious pecking is a problem even in beak trimmed flocks, and insights that address the cause of the behaviour will improve the overall welfare of hens. The results from Krysta's research will help reduce this behaviour in all flocks, thus improving welfare standards in a period of change and supporting farmers and their flocks into the future.
Share this page
Find related news by keyword
News Topics