Feline Fine: Looking After Aging Cats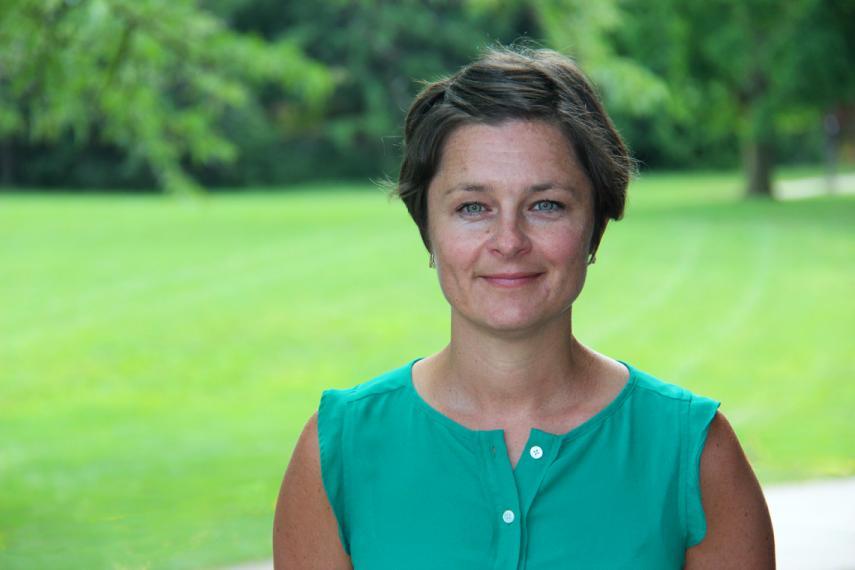 Canadians are living much longer lives than they did 100, or even 50 years ago, thanks to advances in health care and research.
The same trend is true for the feline population, shares Kate Shoveller, a comparative nutritionist and assistant professor in the Department of Animal Biosciences.
Similar to the human population, advances in animal health and nutrition have enabled cats to live longer lives.
"Just like humans, we have a very large aging population of cats," she notes.
In Canada, most feline research has focused on young cats and a large knowledge gap exists on the aging cat population. Kate intends to help fill this gap.
Along with a team of ten other feline experts, Kate published a series of review articles in the Journal of Feline Medicine and Surgery earlier this year. To date, the review articles have been some of the most popular in the journal.
"It shows me that there is a need for that information," reflects Kate on the success of the articles. "If this can help just a few cats, that is the most important outcome." A passionate animal lover, Kate views cats as members of the family. In fact, the family bond she has with her own ten-year old Bombay, Zola, helps to motivate her work.
The authored articles focused on identifying and understanding aging for cat owners and veterinary practitioners. This increased understanding will contribute to better quality of life for aging cats, through improved preventative care and nutrition options.
"We had to make a lot of extrapolations from young animal data," notes Kate, "but we really wanted to talk about how a healthy older animal is different from a younger healthy animal."
For pet owners, explains Kate, understanding if their aging cat is healthy begins when their cat is still a kitten. Measuring basic health indicators, such as body weight, skin and coat, eyes, oral health, and behaviour, on a regular basis throughout the cat's life is important to know what is normal for their individual cat.
These factors can vary greatly on a species-to-species and even cat-to-cat basis, complicating the definition of a "healthy aging cat". However, if owners have been monitoring these factors over the course of the cat's life, they have a better understanding of what is normal and what requires further attention.
There are some changes that occur across all cat species as they age, notes Kates. These include behavioural changes such as altered sleep cycles and increased vocalization; appearance changes such as decreased skin elasticity and brittle nails; functional changes such as decreased mobility and decreased sensory abilities (vision, smell, hearing).
Though increased sleep is normal with aging, "cats aren't meant to sleep all day," Kate explains. "They should have active parts of the day and interact with family; this is very important to keep them healthy."
The information in the Journal of Feline Medicine and Surgery provided by Kate and the team of experts will also help veterinary practitioners recognize differences between normal aging and disease at a whole body and molecular level, preventing the misdiagnoses of aging as disease and vice versa.
"We wanted to share with the practitioner what they can encourage owners to do to help maintain cat health, and as such the quality of life and the longevity of their pets," Kate shares.
Kate plans to use her expertise in nutrition and metabolism to continue to provide more depth to the information on aging cats. Together with Adronie Verbruffge, an assistant professor in the Department of Clinical Studies in the Ontario Veterinary College, Kate plans to establish an adult feline colony at the university's Central Animal Facility.
With this colony, further investigations can occur into the metabolism of adult cats and how it differs from other animals. They will also be able to study how diet and environment contribute to changes in the animal, which can ultimately lead to the development of nutrition options better catered to age.
By better understanding their aging, Kate's research will help maintain the health of cats throughout their lives, ensuring a long and happy friendship between humans and our furry felines.
Share this page
Find related news by keyword
News Topics