Meet Kevin, BBRM Student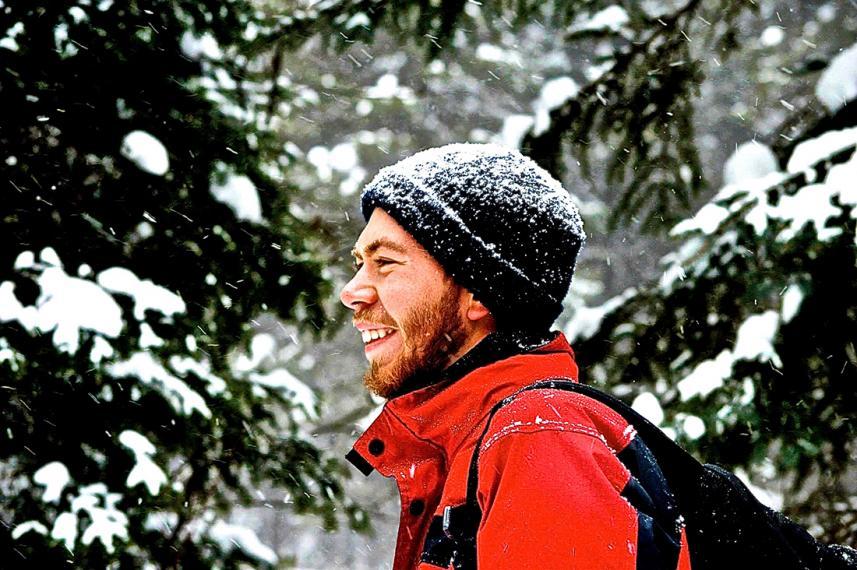 About Kevin Kemmish
Program: Bachelor of Bio-Resource Management - Environmental Management
Hometown: London, Ontario
Year of study: Third year
Kevin Kemmish is a third year student in the Bachelor of Bio-Resource Management (BBRM) – Environmental Management program. An environmental enthusiast, Kevin enjoys the diverse range of classes offered by the program, from soil science to ecology. Outside of classes, Kevin is also co-president of the University of Guelph Wildlife Club.
---
Why did you decide to come to the University of Guelph?
Although I had back up options, the Bachelor of Bio-Resource Management (BBRM) program at the University of Guelph was my first choice. It has been since I first found and learnt about the program. I felt that the program gave me more options and variety than other opportunities elsewhere.
What residence did you live in during first year?
I lived in an East Residence town house during my first year with four other guys. We had our own kitchen, living area and two bathrooms to share between ourselves. Personally, I liked living here for my first year; it was relatively quiet and provided plenty of personal space, which made it a good fit for me.
What do you like best about your program?
I like the variety of classes that need to be taken. I feel that the variety helps to provide a good balance in my knowledge and interests.
Do you have a favourite class or professor?
I have enjoyed most of my classes. Some recent highlights have been ENVS*2060 - Soil Science, BIOL*2060 - Ecology, and GEOG*2480 – Mapping and GIS.
What is your plan after graduation?
I don't have a definite plan for after graduation. I want to have a number of varied experiences in the environmental field before deciding exactly what I want to do, whether it is in a professional or an academic setting.
What were you up to this summer?
This summer I worked as a turtle field technician for the START Muskoka project. START (which stands for Saving Turtles At Risk Today) works to conserve turtle species in the Muskoka region. We actively catch, weigh, measure, take DNA samples and notch the turtles (giving a unique ID), and then release them. We also monitor nesting activity to help us better understand their status throughout the region. We largely focus on the Blandings turtle, a threatened species, but record sightings of all reptile and amphibian species at risk.
What are your favourite events and activities on campus?
The university has a lot of fun events to see or get involved in. College Royal is especially interesting; many student groups run events and displays, which are all fun to see.
How do you get involved on campus or in Guelph?
I have become very involved with the University of Guelph Wildlife Club and will be one of this year's co-presidents. This club is not closely affiliated with my program or OAC, and it has helped me meet lots of people with similar interests that I would otherwise not have met.
What is your favourite way to procrastinate from studying?
Guelph has lots of great green spaces. My favourite way to procrastinate is to spend time hiking through and exploring these spaces, such as Preservation Park and the Arboretum.
Where is your favourite spot to hang out on campus?
My favourite places on campus are the Arboretum and the Bullring. I like to head to the Arboretum to explore and relax. The Bullring is definitely a favourite when I'm hungry.
Do you have any favourite spots in Guelph?
I really enjoy visiting the parks and trail systems along the river to hike and explore.
Share this page
Find related news by keyword
News Topics