Although the weather outside was brisk, the 2015 Aggie Good Times Banquet inside the Gambrel Barn at Country Heritage Park in Milton warmed everyone's Aggie spirit.
On Friday, January 23rd the Student Federation of the Ontario Agricultural College hosted the evening including fantastic speeches, a finger licking good meal, and a spirited awards ceremony. Every component of the banquet encompassed the strong "OAC family" that Dean Robert Gordon spoke about in his opening remarks.

The annual Aggie Good Times Banquet is an opportunity for students, alumni, faculty and guests to enjoy an evening filled with laughs, achievements and support of the tremendous OAC community of the past, present and future.
The banquet is truly an intergenerational celebration. Attendees included classmates from the Class of 2018 back to the Class of 1972. Although outnumbered by students, alumna Anna Ilnyckyj, OAC '84, shared how she never feels out of place at OAC events. It is as though everyone can find common ground in agriculture.
The keynote speaker was Class of '07 OAC alumnus Stewart Skinner who is highly respected by students and the Ontario agricultural community. He delivered an inspiring speech about his experiences at OAC. As a sixth generation farmer holding two degrees from OAC, Skinner had much to share with his peers. The focal point of his address emphasized the value of stepping outside of your personal comfort zone to engage with new people and share different perspectives, especially in regards to agriculture. Skinner recognizes that "Agriculture has been under fire…" in recent years, receiving push back from environmental, economic and animal welfare concerns in the community and media. Skinner attributes his ability to defend agriculture in public forums to the skills gained from his time at OAC. He utilized these same skills on a large stage as the nominated Ontario Liberal Party candidate in the Perth-Wellington riding in the recent 2014 provincial election.

Another element of the night was a showcase of alumni giving. Eric Hogervorst presented a $10,000 gift from the OAC Class of '07 to the OAC Learning Trust. Dwight Greer, OAC '72, presented a cheque from the OAC Alumni Foundation for the OAC Student Liaison Outreach initiative for $7,500 and the OAC Class of '53 also gifted $10,000 toward outreach to potential students. In addition, OAC Class of '51 are continuing to support five OAC scholarships of $4,000 for current OAC students who have shown outstanding leadership qualities. The generous gifts given from OAC alumni leave a legacy of unwavering support for OAC and investment in the success of future generations.
SFOAC Vice President of Internal Affairs Lauren Benoit presented the awards portion of the evening. A number of awards were granted to OAC students for dedication, athletics and spirit. The Class of '33 and '96 Spirit Award is one of the most anticipated presentations of the evening. When debating the candidates for the award Lauren shared that it came back down to "Aggie Family". The recipient must be an individual who is helpful, welcoming and inclusive to all fellow Aggies. This year's award was shared by two deserving recipients, Leslie Bowman and Ali Sullivan.
2015 is the 15th anniversary of the Cheryl Somerville Memorial Leadership Award. This award is given to a second year student that shows exemplary leadership qualities possessed by the late Cheryl Somerville, Class of '96. This year's recipient is Chris Olbach, a student with unlimited willingness to help and contagious positivity. Chris is also president of the Class of 2017.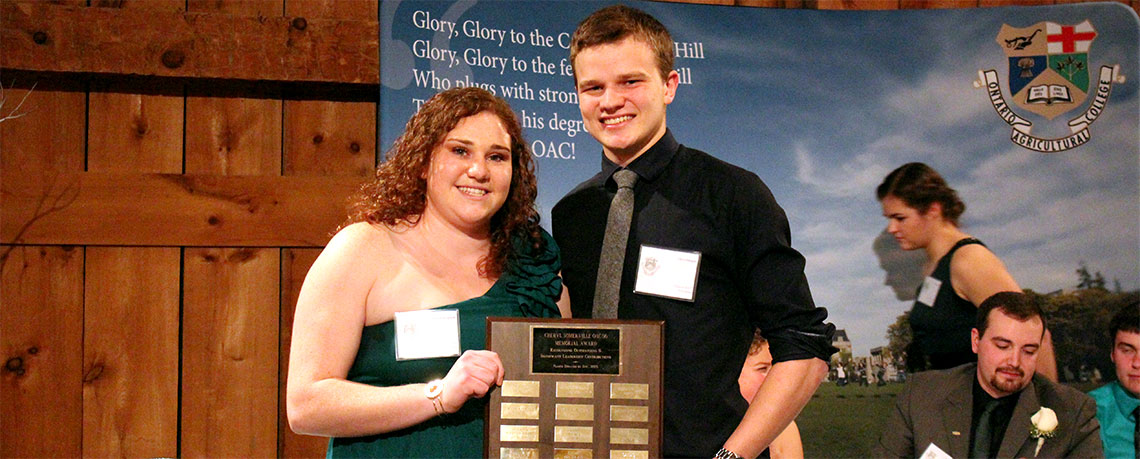 This year a new award was introduced in honour of Betty Clyde, OAC Dean's Office staff member of 25 years. The award was created by SFOAC to recognize an individual who has made a lasting impact on the student body. Receiving the Betty Clyde Award for its inaugural year is Betty Clyde herself, for her outstanding dedication to the OAC students and community. Betty Clyde retired this winter and her presence will be greatly missed in the OAC Dean's office and OAC community.
As the awards ceremony concluded and before the dance portion of the evening began, students, alumni and staff closed off the ceremony with a traditional singing of College on the hill; a tune that never gets old.
Other awards presented at Good Times include:
OAC Outstanding Executive Award – Andrea Smith, Class of 2015 Communications Director
OAC Outstanding SFOAC Member – Brendan Louwagie, Public Relations
Dennis Murr Memorial Trophy – Carrie Davenport
Spirit Award – Class of 2014
Baseball Tournament Winning Team – Class of 2015
Soccer Tournament Winning Team – Class of 2016
Volleyball Tournament Winning Team – Class of 2016
Hockey Tournament Winning Team – Class of 2017
Red Roller Award – Class of 2015's Toga Pub
Aggie Week Spirit – Class of 2017
Overall Aggie Games Winning Class – Class of 2017
Photos from the event are available for viewing or download via Flickr [1].