Agri-Food Yearbook
Every year the OMAFRA-U of G Partnership produces a special edition of the University of Guelph's long-established Research magazine called the Agri-Food Yearbook. In the Agri-Food Yearbook, we showcase the programs and research that make up the Partnership.
This magazine is published through the Office of Research's well-known SPARK program, and is jointly produced by OMAFRA and U of G staff.
If you would like copies of the current or past Agri-Food Yearbook, please contact KTT Admin.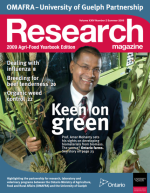 This first Agri-food yearbook highlights the partnership for research, laboratory and veterinary programs between the Ontario Ministry of Agriculture, Food and Rural Affairs (OMAFRA) and the University of Guelph.