Publications
Staying Ahead of the Curve Magazine
In 2013, as part of the OMAFRA-U of G Agreement the Animal Health Laboratory was awarded funding for a Disease Surveillance Plan (DSP). The Ontario Animal Health Network (OAHN) was developed as part of the DSP. OAHN is now made up of 10 species network, covering each major livestock species in Ontario, plus companion animals and wildlife.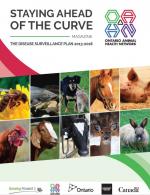 Detailing what the Disease Surveillance Plan and Ontario Animal Health Network completed from 2013-2018, including summaries by network, research projects, equipment purchased, tests developed, and much more.
Agri-Food Yearbook
Every year the OMAFRA-U of G Agreement produces a special edition of the University of Guelph's long-established Research magazine called the Agri-Food Yearbook. In the Agri-Food Yearbook, we showcase the programs and research that make up the Partnership.
This magazine is published through the Office of Research's well-known SPARK program, and is jointly produced by OMAFRA and U of G staff.
If you would like copies of the current or past Agri-Food Yearbook, please contact KTT Admin.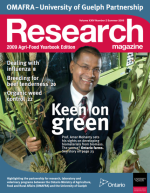 This first Agri-food yearbook highlights the partnership for research, laboratory and veterinary programs between the Ontario Ministry of Agriculture, Food and Rural Affairs (OMAFRA) and the University of Guelph.