Registering for Sections in Your "Preferred Sections" List: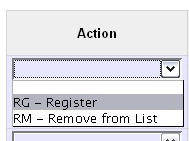 In the "Register for Previously Selected Sections" scroll down to the list entitled "Preferred Sections".
In the left-hand side column labeled "Action" use the drop-down menu to choose "Register".
Click the "Submit" button at the bottom of the page.
This will bring you to the "New Schedule" page.