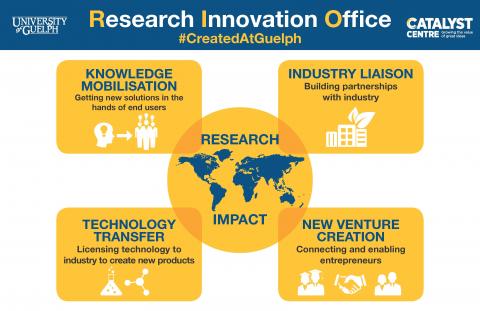 By Liz Snyder
The Office of Research has a new unit to enhance and increase the impact of research at the University of Guelph.
Sherri Cox is the executive director of the newly formed Research Innovation Office (RIO), an office that was formed to connect research with industry and society, increase research funding and build on the U of G's reputation as a research innovation leader.
The unit will harness activities that are already happening at the Catalyst Centre as well as knowledge mobilization efforts across campus, and will also put resources in place to enhance services for start-up creation, industry liaison, commercialization, and knowledge mobilization.
"We are here to serve the research enterprise at University of Guelph - as a resource for researchers, bringing the great work that they're doing for society," Cox says.
Cox spent six months consulting with internal and external stakeholders to find out the needs of colleges and researchers and the best practices and challenges of other tech transfer and knowledge mobilization offices. She also examined what work was already been done on campus and what resources are allocated to innovation and knowledge mobilization to see what the RIO might look like.
Malcolm Campbell, VP Research, formed RIO after identifying a gap in services.
"There was a need to consolidate and build a wider array of services to help our researchers," said Campbell.  "There were already pockets across campus doing good work on research innovation and knowledge mobilization, and there was an opportunity for the Office of Research to help catalyse and elevate that capacity for all U of G researchers."
Cox says RIO will build on and enhance the U of G's reputation as a research innovation leader but she also wants RIO to be a leader in the way it works with researchers and other stakeholders. 
"We will adopt key principles to realise a fuller research innovation capacity – ensuring that we are adaptable and flexible to different researchers' needs," she says. "It's decidedly not a one-size-fits all approach – we want to reach out to the researchers to find out how we can help them. What I'm most excited about is really showcasing research excellence that already happens at University of Guelph and getting it out there and connecting it with the world."
The Catalyst Centre receives funding from the Research Support Fund.