Mouse Model for Metabolic Syndrome
Description
Metabolic syndrome (MetS) is a combination of metabolic risk factors that increase the risk of developing cardiovascular (CV) disease and type-2 diabetes. Currently, it is estimated that up to 25% of the population in USA suffers from MetS. However, the cause of MetS is not completely understood and very few models exist to study this disease.
Dr. Marica Bakovic at the University of Guelph has developed a novel mouse model, which offers a unique opportunity to study disease progression, and examine various therapies and nutraceuticals that may positively impact obesity, MetS, diabetes, and other related cardiovascular diseases.
Mouse Characteristics
Increased body weight gain over time
Higher blood glucose
Insulin resistance
Higher blood VLDL (the bad cholesterol) and triglycerides levels
Lower metabolic rate
Fatty liver and increased fat deposition in muscles and skin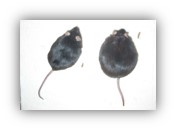 MetS knockout mouse (right) is significantly heavier than its wildtype counterpart (left) 24 hours after birth.
Applications and Advantages
Preclinical studies using this unique animal model to study the molecular mechanism of MetS
Preclinical studies to evaluate the efficacy of various drugs, nutraceuticals and diets to prevent or mitigate MetS, diabetes, and other CV diseases
Development Status
Knockout mouse generated
Mouse growth and development characteristics well characterized
Patent Status 
Issued patent on knock-out (US 6,777,216).
License Status
Seeking for licensee and research partners.
Contact 
Dr. David Hobson, dhobsonn@uoguelph.ca 519-824-4120 x58859