Policy Fellowship
Slideshow Banners


University of Guelph Policy Fellowship
The University of Guelph Policy Fellowship program is a unique experience that aims to help bridge the gap between science and policy in Canadian agriculture, agri-food and biodiversity. This program brings decision-makers from federal, provincial and local governments, industry and NGOs to the University of Guelph for focused conversations that are intended to give them new, informed perspectives. At present, we offer two cohorts of the Fellowship program yearly: one in the Fall semester and one in the Winter semester.
Fellows are matched with researchers, research institutes and University staff who can provide insight on their key challenges. The schedule allows time for unstructured dialogue and exchange of information so that decision-makers can learn about cutting-edge research to inform policy decisions, discuss their key priorities with leading researchers, and build networks of experts who can advise on emerging needs.
Through our Fellowship Alumni Network, Fellows maintain their connections to the University of Guelph and our community of Fellows, facilitating on-going conversations about important agri-food topics.
COVID-19 Update: The Policy Fellowships program is moving online! Usually a three day intensive program, the Fellowships will now include two to three meetings per week over six weeks. It will still include a customized schedule of one-on-one and small group meetings with academic experts and networking with other Fellows. Apply by the end of July to take part during Fall 2020!
Want to learn more about this program? Follow the links below or contact us at policyfellows@uoguelph.ca.
Current and past Policy Fellows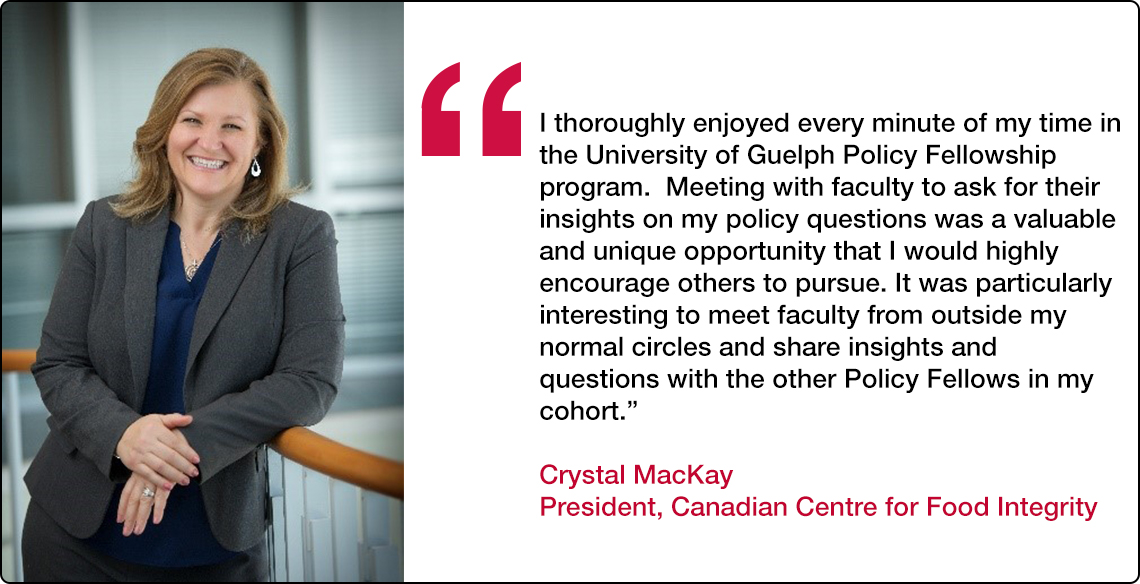 ---
The Policy Fellowship Program is funded by Food from Thought, the Canada First Research Excellence Fund program at the University of Guelph.