Policy Fellowship

University of Guelph Policy Fellowship
The University of Guelph Policy Fellowship Program helps to bridge the gap between science and policy or practice. It connects decision-makers from government, industry and non-governmental organizations (NGOs) with University of Guelph experts for focused conversation about issues in agriculture, food and biodiversity.
Fellows are matched with carefully selected faculty and staff who can provide insight on their key challenges. The program allows decision-makers to access cutting-edge research for informed policy decisions, to discuss complex challenges with peers and leading researchers, and to build networks of experts to advise on emerging needs.
The program takes place three times a year in a hybrid format at the University of Guelph. Upcoming cohort themes include:
-    One Health – Spring 2023 *application deadline March 17th
-    Food Security – Summer 2023
Want to learn more about being a Policy Fellow? Follow the links below or contact us at policyfellows@uoguelph.ca.
Apply to the Policy Fellowship Program
Current and past Policy Fellows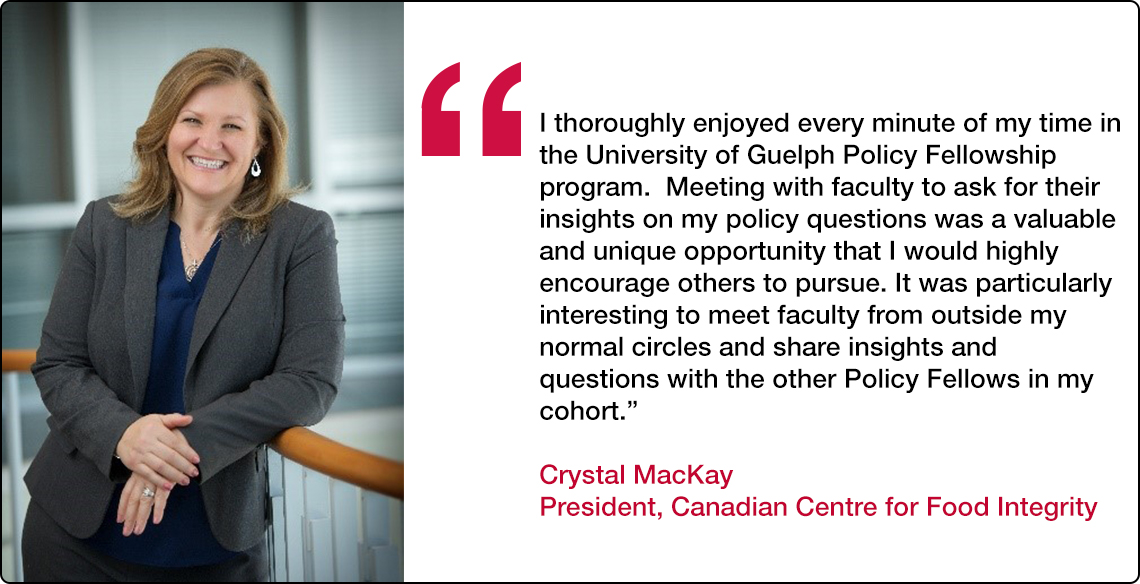 ---
The Policy Fellowship Program is funded by Food from Thought, the Canada First Research Excellence Fund program at the University of Guelph.