Award Winners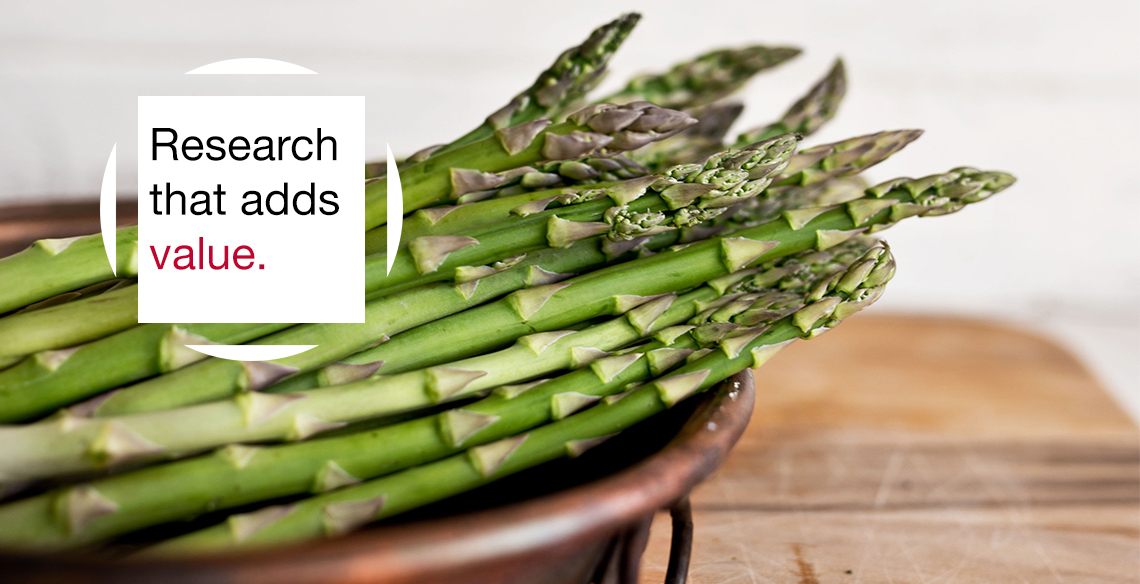 Innovation of the Year
The Innovation of the Year Awards recognize and celebrate University of Guelph innovations that have made, or have the potential to generate value for Canada.
Since 2016, innovations representing work conducted by researchers across a variety of university departments have been recognized. These innovations continue to have a positive influence in diverse areas including animal health, food packaging, environment and human wellness.
Winners
2022
Developed by Dr. Andria Jones-Bitton and Dr. Briana Hagen, ""In the Know": A Mental Health Literacy Program for Agriculture is a bilingual agriculture-based mental health literacy training program aimed at farmers and anyone in the agriculture sector.
By Dr. Robert Hanner and his team, "Environmental DNA Biomonitoring" involves two reported inventions which were used as the foundation of a new startup company called Precision Biomonitoring Inc. in 2017. These inventions relate to methods and tools for detecting NDA in environmental samples, which is useful for monitoring the presence of species of interest.
A novel airlift pump system, developed by Dr. Wael Ahmed and brought to market by start-up company FloNergia Inc., does not contain any moving parts or require lubrication. This revolutionary modification has been optimized for multiple food applications and is currently in use at aquaculture facilities around the world where it significantly reduces energy and maintenance costs, creating more sustainable and economically viable practices.
Dr. George van der Merwe and his team have optimized local strains of yeast for brewing. Escarpment Labs has commercialized this work into a diverse selection of specialized yeast strains for craft and industrial brewers alike, including wild Ontario yeast strains, which will improve the sustainability and economics of Canadian craft brewers who previously relied on imported yeast strains.
​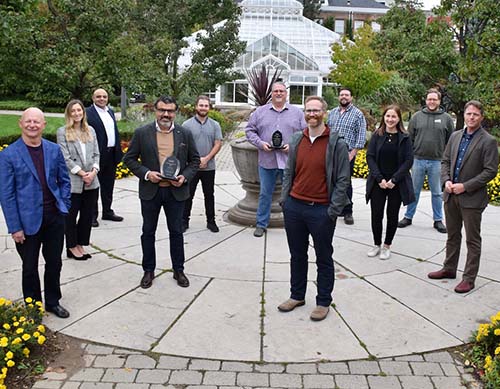 From left: Paul Subject, Jessica Bowes, Sherif Abdou, Dr. Wael Ahmed, Joshua Rosettani, Dr. George van der Merwe, Angus Ross, Nate Ferguson, Caroline Tyrawa, Richard Preiss, Steve De Brabandere.
Dr. John Lindsay developed advanced geospatial data analysis software called Whitebox Tools, an open-source technology that is used around the world for applications that include wetlands mapping, landslide forecasting, soil erosion and ice cover modelling.
Dr. Keith Warriner and Dr. Mahdiyeh Hasani alongside industry partner Clean Works developed a waterless cleaning system to disinfect fruits and vegetables using hydrogen peroxide, ultraviolet light and ozone, this process was optimized for the cleaning of N95 masks and other PPE during the Covid-19 pandemic.
Dr. Dave Wolyn was selected for his work for his leadership in the breeding and development of asparagus varieties that have become the most popular kinds grown in North America and that are fast gaining favour in Europe and Asia.
​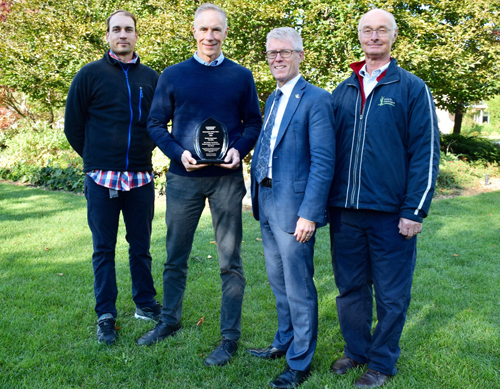 From left: Plant technician Richard Grzesik, Prof. Dave Wolyn, Malcolm Campbell, vice-president (research), and retired plant technician Paul Banks.
Dr. Mansel Griffiths was selected for his work, along with co-recipient Dr. Maira Medellin-Peña, pioneering the use of probiotics to reduce the spread of harmful bacteria, enhancing the health and welfare of livestock.
From left: Hannah McIver, CEO of MicroSintesis; Mansel Griffiths, chief scientific officer of MicroSintensis and professor emeritus (Food Science); Maira Medellin-Peña, joint recipient of award; Malcolm Campbell, vice-president (research). Griffiths and Medellin-Peña won the award in 2018.
Dr. John Dutcher

was selected for his work with nanoparticles of phytoglycogen, which which are non-toxic, biodegradable and water-soluble. The PhytoSpherix technology is now being marketed by the Guelph-based company Mirexus with 18 full-time employees.

Dr. Bonnie Mallard was chosen for her breakthrough High Immune Response (HIR) technology, which allows farmers to raise healthier animals that require less treatment and antibiotic use.
Dr. Mario Monteiro and his team created a carbohydrate-based vaccine that targets the surface polysaccharides exposed by C. difficile.
Dr. Amar Mohanty and his team at the Bioproducts Discovery and Development Centre (BDDC) worked to create a 100 per cent-compostable resin that can be used by industry to make many items more sustainable, including single-serve soft pods for coffee and other hot beverages.
Congratulations to These ​Other Award Winners