2019 Gryphon's LAAIR Innovation Showcase and Pitch Competition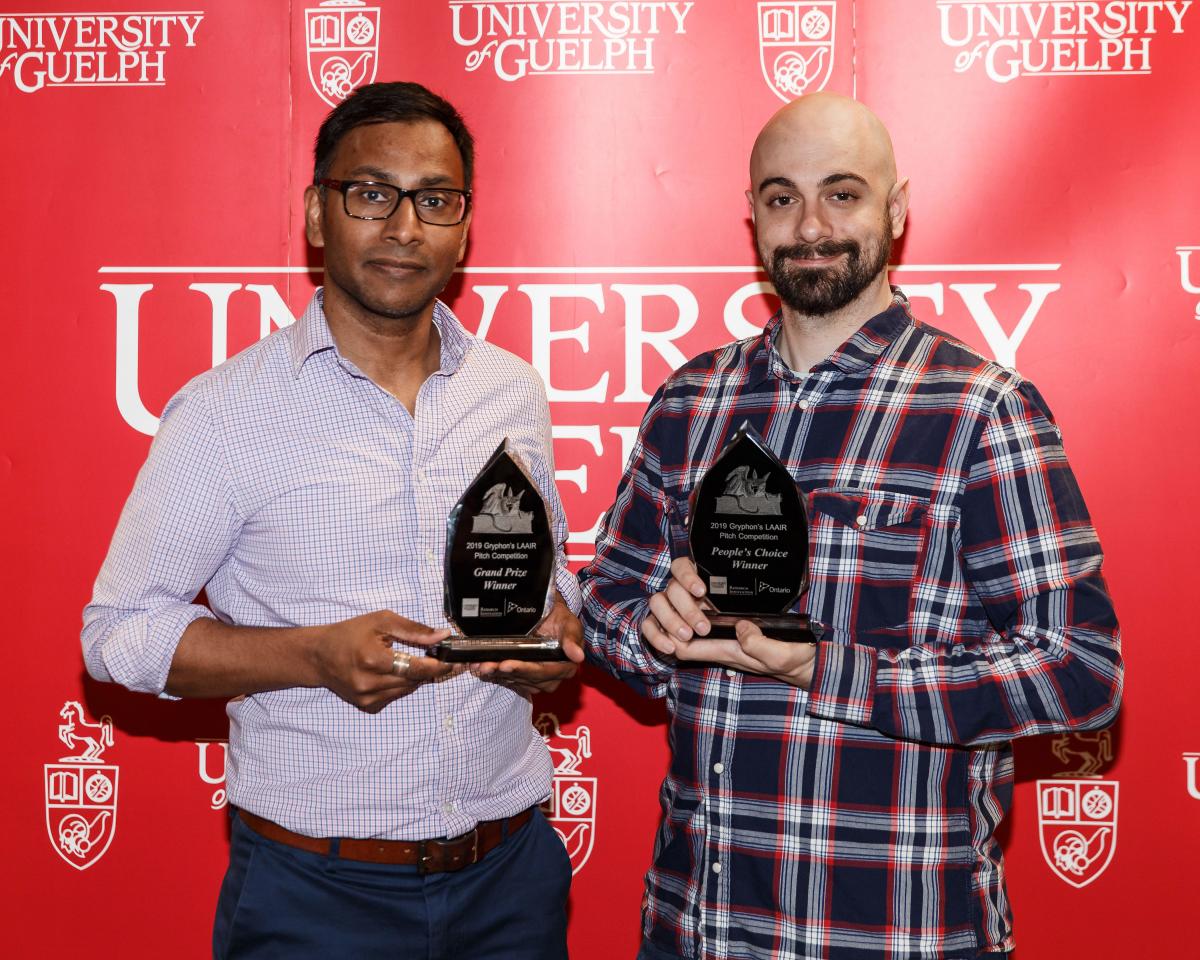 Gryphon's LAAIR Winners Sujeevan Ratnasingham of LifeScanner (left) and Kevin Piunno of We Vitro (Right). ​Photo Credit: Kyle Rodriguez of Artifacts for Life Photography
Thank you for celebrating our first-ever Gryphon's LAAIR Showcase and Pitch Competition with us on May 21, 2019. Read about the event and pitch competition winners and take this opportunity to rewatch the pitches: LifeScanner, We Vitro, FloNergia, eQcell, SP Nutraceuticals, Griffinix.
Ready, set, pitch!
The Research Innovation Office at the University of Guelph (U of G) was pleased to host an afternoon and evening of events that celebrated the amazing innovators who are putting knowledge into action in ways that have a real-world impact!
Beginning with an afternoon of dialogue and case studies that highlighted the many ways U of G researchers identify needs and validate concepts that can be used by external stakeholders, the Gryphon's LAAIR Innovation Showcase and Pitch culminated in a pitch competition where six corporations who have roots in the U of G research community went head-to-head to win a total of $15,000 in prizes.
The Teams
Six corporations who have roots in U of G research and were looking to scale up received rigorous coaching to perfect their pitches before going head to head in this high-energy Canadian Innovation Week event.
The six companies were:
Named by the Globe and Mail as an important Canadian Clean Tech Company to Watch in 2019 and achieving finalist status in Fast Company's 2018 World Changing Ideas Award competition, FloNergia Inc. is commercializing airlift pumps that substantially reduce energy use in aquaculture, hydroponic, and aquaponic production systems.
DNA sequencing and analysis is made more accessible and portable by Biolytica Inc. (LifeScanner) Their lead product the LifeScanner Species Identification Kit and companion App is empowering 'citizen scientists' and others to use new tools and information to better understand and document the diversity of life around them.
Using an artificial intelligence based controller system that provides timely and efficient responses to cyber-attacks, Griffinix Inc. is helping to build more secure, predictive and resilient computer systems. Their technology has applications across industries and sectors and can be used to protect sensitive information for parties as diverse as agricultural groups, health care providers and the Department of National Defence.
Targeting large scale cannabis producers and their needs for product consistency, the We Vitro growth system is a novel yet versatile plant tissue culture devices ideally suited to commercial settings needing to scale plant production. By redesigning traditional equipment, We Vitro Inc. has created space saving, low labour and maintenance solutions, putting them at the forefront of the tissue culture industry.
Through the discovery and development of novel food and plant-based molecules, SP Nutraceuticals Inc. is developing natural products designed to improve the lives and health of people who would otherwise need prescription medications. They are working with the molecule Avocatin B, which has demonstrated an ability to kill leukemia stem cells, delay the onset of insulin resistance and aid in weight loss.
eQcell Inc. gives veterinarians and trainers an opportunity to repair injured equine athletes with cutting edge stem cell therapies. eQcell technology not only reduces the suffering of these animals but allows them to return to their intended careers with high functionality to live productive lives.
The Details
The Gryphon's LAAIR Innovation Showcase and Pitch Competition was held on May 21, 2019, in Rozanski Hall on the UofG campus from 2-9 p.m. with the pitch competition kicking off at 6 p.m. Improv comedian and entrepreneur Jay Reid of The Making Box hosted the evenings' proceedings.
The objectives of the competition were threefold:
Share the real-world impact U of G innovators have on the Ontario economy with the campus community, OMAFRA, our partners and the public;
Provide a platform for U of G innovators to share their success stories and to initiate new conversations and partnerships that will further enhance the impact; and
Inspire our wider campus community to adopt an impact focused mindset.
Five well-known judges from corporate Canada took the measure of the sales pitches and selected the Grand Prize winner:
Mauricio Alanis holds an honours Bachelor of Commerce degree from McMaster University and has been working with Maple Leaf Foods for almost 10 years. Starting off in their Leadership Track rotational program. He has held progressive roles on the commercial side of the business in both Sales and Marketing, did a short stint as a production supervisor at a manufacturing facility, and has since progressed through more strategic roles, having worked in Corporate Strategy for a few years as well as in a financial and strategic advisory role reporting directly to the President and CEO. Most recently he took 2017 as a sabbatical year to travel the world with his wife. Currently, he is the Director of Innovation at Maple Leaf Foods.
Laura Arrell is the Managing Director of The Arrell Family Foundation. The foundation is primarily focused on food security, healthcare and education. The Arrell Family Foundation recently founded the Arrell Food Institute at the University of Guelph. Laura sits on the Advisory Committee for the AFI. Before transitioning her career into philanthropy, Laura worked at Raymond James Financial for 15 years, most recently as Managing Director, US Institutional Equity Sales. She is also mother to three children and is passionate about food and travel.
As a Co-Founder of award-winning Mabel's Labels, a great Canadian small business success story, and with 15 years in the financial services sector, Julie Ellis now shares her experience and expertise with other entrepreneurs helping them gain accelerated success.
Recently, Julie was the Chief Operating Officer (COO) for Snuggle Bugz, a privately owned multi-million-dollar omnichannel retailer based in Burlington with 9 locations and 11 stores in Ontario and BC. In Julie's role as COO, she took leadership of the executive team driving the company's growth toward operational excellence, team integration, and market expansion.
This falls within Julie's area of specialization -- working with product-based bricks and mortar and e-commerce businesses. She has created what she calls "Ignite and Scale", a process that ignites companies by creating operating leverage to scale higher profits. Julie works primarily with progressive small and medium businesses that a) have reached a point where their growth is stuck or stagnant b) they are expanding too quickly and can't keep up or c) they are growing but want to accelerate that growth.
Former Board Chair of the Hamilton-based Innovation Factory, a not-for-profit organization, helping entrepreneurs bring new and innovative ideas to market.
Board member of the Angel One Investment Network, a not-for-profit organization, one of the most active angel investors' groups in Canada.
Julie is a sought-after presenter and speaker on topics ranging from entrepreneurship to e-commerce business building. Her awards as Co-Founder of Mabel's include:
RBC Canadian Women Entrepreneur Award For Excellence in Entrepreneurship 2014
W100 Fastest Growing Company in Canada 2012/13
RBC Canadian Women Entrepreneur Momentum Award 2009
A dynamic thinker with clear, bold vision, Shelley has been a catalyst in Canada's innovation and commercialization environment for over 20 years. She has garnered a strong reputation for building highly effective teams and strategic partnerships to pursue multi-million-dollar initiatives for Canada.
As CEO of Natural Products Canada, Shelley has led the national team in developing the programs, network and processes to align, strengthen and support commercialization of natural products in Canada. She is responsible for many of NPC's initiatives to advance the natural health product and functional food categories in Canada, including showcasing Canadian companies and expertise in the media; establishing a partnership with Nature's Way; providing opportunities for SME education in topics such as regulatory, marketing and events; and introducing international investors and partners to Canadian opportunities.
In her previous roles, Shelley has helped researchers and companies navigate commercialization hurdles such as regulatory, IP, scale-up, R&D, and financing. She has partnered with countless regional and national organizations to leverage key expertise, strengths, programs, and funds to move these initiatives forward.
At the University of Prince Edward Island, she catapulted the technology transfer office into a thriving and industry-focused member of the innovation community. And it was there that she led the development of the proposal to create Natural Products Canada (NPC).
Shelley's experience and insights as an entrepreneur and innovation champion in not-for-profit and academic settings have led to numerous positions on national and regional Boards and advisory committees, including the Natural Health Products Research Society and Springboard Atlantic.
Shelley has an MSc in Medicine and an MBA from Memorial University.
Shelley Martin recently retired from her role as President and CEO of Nestlé Canada Inc., after a 28-year career with Nestle. She was active in the industry with director and leadership roles in numerous boards, including Kids Help Phone and Board Chair of the Food and Consumer Products of Canada representing the Canadian packaged goods industry. Most recently, Shelley the interim CEO for Vineland Research and Innovation Centre, a world-class research centre dedicated to horticultural science and innovation. Vineland delivers innovative products and product solutions that address the needs of the horticulture industry and advance Canada's research and commercialization agenda.
Shelley is a three-time winner of Canada's Most Powerful Women –by the Women's Executive Network. Shelley is also a proud Laurier alumni, graduating with Honours from the Business Administration program with a focus in Marketing.
She is married with 2 young adult daughters and an adult step-daughter and step-son.