2020 Gryphon's LAAIR Pitch Competition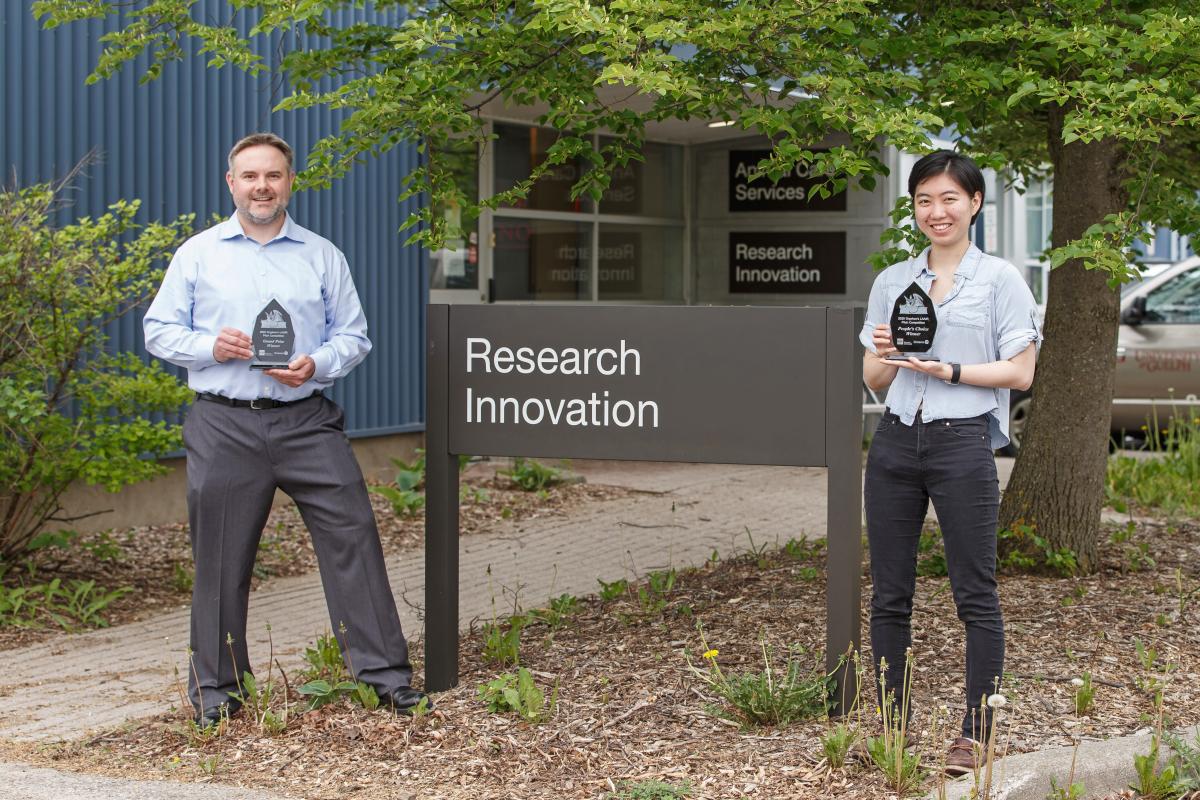 Gryphon's LAAIR Winners Chris Grainger of Harvest Genomics (left) and Jane Ong of Neophyto Foods (Right). Photo Credit: Kyle Rodriguez of Artifacts for Life Photography
Thank you for joining us virtually on May 27, 2020 as we celebrated the second annual Gryphon's LAAIR Showcase and Pitch Competition. Read about the event and pitch competition winners and take this opportunity to rewatch the pitches: Harvest Genomics, Neophyto Foods, Psigryph, Green Feet Ecosystem Services, SUBJECTMATTERS.
Alternatively, view the recording of the live 2020 Gryphon's LAAIR Pitch Competition!
Return to the LAAIR
The Gryphon's LAAIR Innovation Showcase and Pitch Competition returned in 2020 with new teams and technologies in an online format on Wednesday, May 27th from 3:00 pm to 4:30 pm! Improv comedian and entrepreneur Jay Reid of The Making Box joined us once again as host of the proceedings.
The objectives of the competition was threefold:
Share the real-world impact U of G innovators have on the Ontario economy with the campus community, OMAFRA, our partners and the public;
Provide a platform for U of G innovators to share their success stories and to initiate new conversations and partnerships that will further enhance the impact; and
Inspire our wider campus community to adopt an impact focused mindset.
The Teams
The five competing corporations were:
The Judges
We were pleased to welcome an esteemed panel of judges, joining us from across the country. Shelley King joined us from Nova Scotia, Fred Wall from Saskatchewan and Joe Dales from London, Ontario.
Shelley King is a strategic, decisive, and highly respected leader in the Canadian technology commercialization, innovation, and investment space. For 25 years, she has married her scientific background in academia with her in-depth knowledge of entrepreneurship and industry to help Canadian innovations go from bright idea to market-ready product. As founding CEO of NPC, Shelley has helped position Canada as a global pioneer and trailblazer in the natural product sector. NPC has made connections with more than 800 organizations nationally, involved more than 600 companies in its development pipeline, invested in 10 early stage enterprises, and experienced two exits.
Previously, Shelley was VP, Research and Business Development for Genome Atlantic, where she catalyzed industry-academic relationships, putting Canadian genomics research on the international map. She spearheaded the development of the National Fisheries and Aquaculture Genomics Strategy, directed the management of $28 million in research projects, negotiated $17 million in multi-stakeholder collaborative research and funding agreements, and raised $8 million in co-funding. She has also served as CEO of Synapse, a not-for-profit organization responsible for UPEI's applied research and industry services and as president of biotechnology start-up NovaLipids Inc.
A sharp risk-taker, relationship broker, and bridge builder, Shelley holds an MSc in medicine specializing in neuroscience and an MBA from Memorial University. She sits on the board for Springboard Atlantic and has served on the boards of Genesis Centre, the Natural Health Products Research Society, the Aquaculture Association of Canada, the Pan American Marine Biotechnology Association, and the Newfoundland & Labrador Association of Technology Industries.
Joe Dales has gained 30+ years of agriculture industry experience beginning his career working with leading companies such as Pfizer, Cyanamid Crop Protection(BASF), First Line Seeds(Monsanto), and NK Syngenta Seeds(Syngenta).
In 1998, he co-founded Farms.com Ltd. and AgCareers.com which have grown to become a leading supplier of innovative solutions to farmers, agriculture and food companies around the global, he remains a major shareholder and director. In 2019, he co-founded RH Accelerator Inc. and leads their value adding investments in the agriculture and food innovation and startup sector.
Joe has been involved in successfully launching over 40 agri tech innovations ranging from crop protection products, seed varieties, biologicals, start up companies like Farms.com and AgCareers.com and a range of products and services. He is passionate about bringing innovation to agriculture and helping farmers improve productivity.
Joe has gained extensive corporate governance experience with several companies such as Canterra Seeds, Vive Crop Protection and as the Chair of the Board of Governors for the Western Fair Association in London, ON, where he lives with his wife Sandy and children Michael and Rachel. Joe has an Honours BSc in Chemistry from Western University and a Masters In Business Administration from Wilfrid Laurier University.
Fred is the VP, Marketing at FCC, and his portfolio includes FCC's Digital Agriculture practice, Market Analytics, Pricing, Products, Digital Services, and the AgExpert platform.