Knowledge Mobilization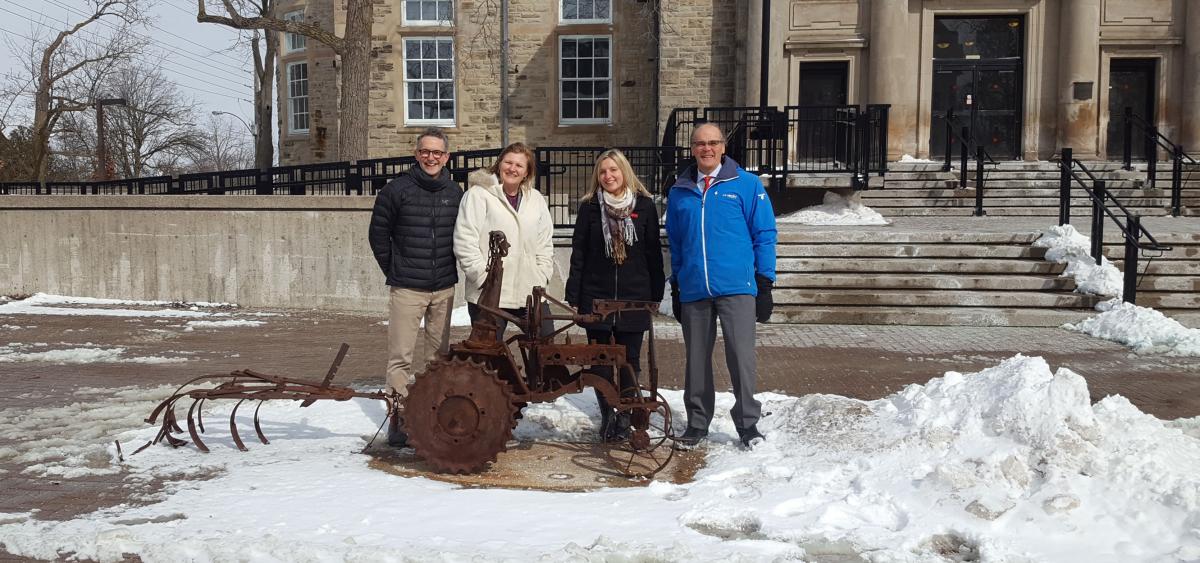 February 2019 Policy Fellowship Program cohort at the University of Guelph by Creelman Hall
While there are many definitions and interpretations of Knowledge Mobilization, it is basically about helping put research into active use. It includes a number of activities aimed at increasing the awareness and uptake of innovative research while providing valuable, real-world feedback to researchers. It makes research results accessible so that government, industry and the community can develop evidence-based policies and practices that benefit all. 
At the Research Innovation Office, staff are on hand to provide expert services and effective programs to meet your knowledge mobilization needs:
Services
Programs
Resources
For researchers:
Help with writing and executing strong knowledge mobilization strategies, which is often a requirement on research grant applications.
Training in plain-language writing and presentation skills so you can clearly communicate with a non-academic audience. In this way, your research has a greater impact and uptake.
Making connections through events, programs and individual outreach with policy makers and other stakeholders who can use your research.
Advice on evaluating the effect of your research.
For policy makers and other stakeholders:
Identifying the most appropriate people and resources at the University of Guelph to address your research needs.
Setting up meetings and discussions in which researchers can learn your organization's priorities.
Offering programs and initiatives that build two-way relationships between your organization and academic researchers.
Policy Fellowship Program
This is a three-day program of intensive meetings for senior-level decision makers in government, industry and the non-profit sector. It is tailored to help you meet your organization's challenges and gives you the opportunity to exchange ideas with the world-class researchers on the University of Guelph campus.
The idea is to build relationships between researchers and policy makers who are looking to address some of the agri-food and biodiversity sectors' most complex issues.
Fellows learn the latest in cutting-edge research, and researchers can inform current and future projects with the insights they glean from Fellows.
Everyone involved is encouraged to maintain the connections they make during the three-day program. Fellows are provided with regular updates on the university's research and innovation activities as well as invitations to major on-campus events.
Contact staff for more information.
White Paper Development Workshops
The Arrell Food Institute (AFI) is developing 10 discussion papers on food-related topics by bringing stakeholders from government, industry and other organizations together with University of Guelph researchers.
The goal is to explore the big-picture, complex issues facing the agriculture and agri-food sector and to develop discussion papers on the state of science and practice on each of these issues. The workshops will also initiate a conversation among researchers and stakeholders about the challenges and opportunities being experienced globally in areas such as health and food, food systems and emerging innovations in the food ecosystem.
The discussion papers will then be shared widely to provide cutting-edge insights to government and private sector decision-makers.
Planning Templates and Guidelines
Training
Literature and Further Reading
Want to read more research on knowledge mobilization? Check out plain language summaries of KMb literature from Research Impact.