Knowledge Mobilization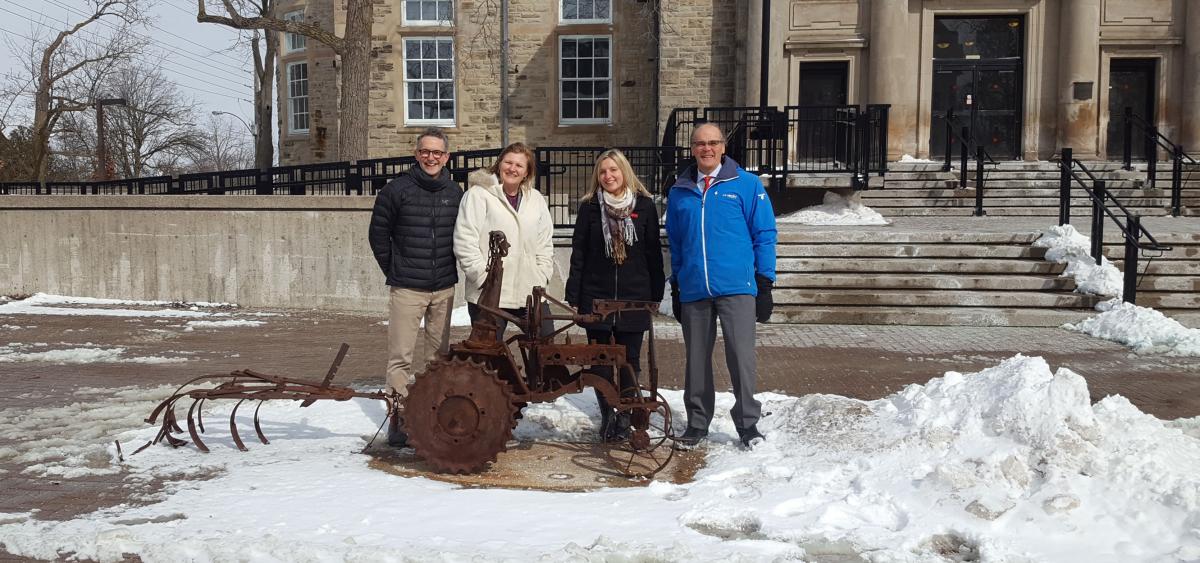 February 2019 Policy Fellowship Program cohort at the University of Guelph by Creelman Hall
While there are many definitions and interpretations of Knowledge Mobilization, it is basically about helping put research into active use. It includes a number of activities aimed at increasing the awareness and uptake of innovative research while providing valuable, real-world feedback to researchers. It makes research results accessible so that government, industry and the community can develop evidence-based policies and practices that benefit all. 
While the term Knowledge Mobilization is not widely known or used outside of academic and research institutions, this specialized branch of communications is an essential part of the research process as it supports evidence-informed decision making and accelerates the adoption and integration of new information by society at large.
To support the sharing of best practices and professional development in this specialized field Research Innovation Office staff are on hand to provide expert services and effective programs to meet your knowledge mobilization needs.
KMb Services
Help with writing and executing strong knowledge mobilization strategies, which is often a requirement on research grant applications.
Training in plain-language writing and presentation skills so you can clearly communicate with a non-academic audience. In this way, your research has a greater impact and uptake.
Making connections through events, programs and individual outreach with policymakers and other stakeholders who can use your research.
Advice on evaluating the effect of your research.
Identifying the most appropriate people and resources at the University of Guelph to address your research needs.
Setting up meetings and discussions in which researchers can learn your organization's priorities.
Offering programs and initiatives that build two-way relationships between your organization and academic researchers.
KMb Programs
This is a three-day program of intensive meetings for senior-level decision-makers in government, industry and the non-profit sector. It is tailored to help you meet your organization's challenges and gives you the opportunity to exchange ideas with the world-class researchers on the University of Guelph campus.
The idea is to build relationships between researchers and policymakers who are looking to address some of the agri-food and biodiversity sectors' most complex issues.
Fellows learn the latest in cutting-edge research, and researchers can inform current and future projects with the insights they glean from Fellows.
Everyone involved is encouraged to maintain the connections they make during the three-day program. Fellows are provided with regular updates on the university's research and innovation activities as well as invitations to major on-campus events.
Contact staff for more information.
The Waterloo Wellington KMb Community is an informal group of knowledge mobilization professionals, faculty and students seeking to share best practices, develop new skills, and connect with peers. Members are committed to bridging the gap between best available evidence and practice: we are focused on sharing resources and ideas to create a strong community and advance KTT knowledge.
A collaborative effort supported by the Research Innovation Office, the Community Engaged Scholarship Institute Agri-Food and Rural Link, Knowledge and Action Consulting Inc and the Gambling Research Exchange Ontario, he KTT Community of Practice meets on a regular basis throughout the year. Sessions typically start with a presentation on a specific topic or project, followed by broader discussion.
Community members come from diverse backgrounds, with representatives from the University of Guelph, Ontario Ministry of Agriculture, Food and Rural Affairs, Gambling Research Exchange Ontario, Public Health Agency of Canada, and the Canadian Water Network.
If you would like to join our monthly lunch and learns, please join the listserv and save these upcoming dates in your calendar.
Skills for Research Impact is a monthly workshop series for faculty, research staff and graduate students interested in enhancing the impact of their research. Through hands-on sessions facilitated by impact experts, participants will learn how to successfully plan, execute and evaluate knowledge mobilization (or knowledge translation and transfer) activities. Sessions will cover topics key to effective research communications and engagement of non-academic audiences, including policy, industry and community stakeholders.
For full session details and to register visit the Skills for Research Impact website.
KMb Resources
Lost in Knowledge Translation: Time for a Map? (2006) Graham, I.D., Logan, J., Harrison, M.B., Straus, S.E., Tetroe, J., Caswell, W. & Robinson, N. Journal of Continuing Education in the Health Professions, 26(1), 13-24.
How can research organizations more effectively transfer research knowledge to decision makers? (2003) Lavis, J., Robertson, D., Woodside, J., McLeod, C., & Abelson, J. Millbank Quarterly, 81(2), 221-248.
Assessing country-level efforts to link research to action. (2006) Lavis, J.N., Lomas, J., Hamid, M. & Sewankambo, N.K. Bulletin of the World Health Organization, 84(8), 620-628.
Progressing research impact assessment: A 'contributions' approach. (2015) Morton, S. Research Evaluation, 24(4), 405-419.
Expanding our Understanding of K* (KT, KE, KTT, KMb, KB, KM, etc.). (2012) Shaxson, L., Bielak, A., Ahmed, I., Brien, D., Conant, B., Fisher, C., Gwyn, E., Klerkx, L., Middleton, A., Morton, S., Pant, L. & Phipps, D. A concept paper emerging from the K* conference held in Hamilton, Ontario, Canada, April 2012.
Want to read more research on knowledge mobilization? Check out plain language summaries of KMb literature from Research Impact.