Food from Thought Grants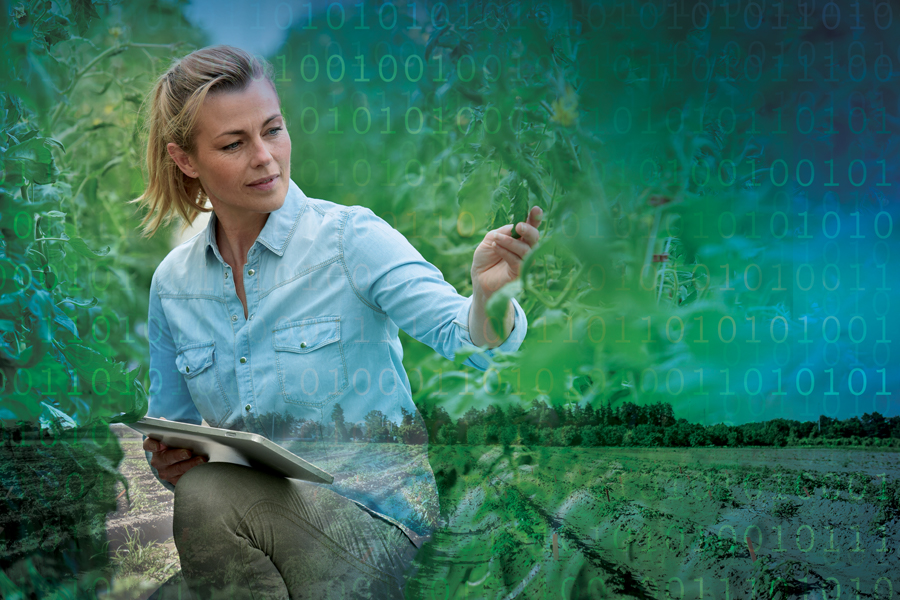 Food from Thought (FfT) has a huge, challenging mission: to make Canada a global leader in developing innovative solutions that improve the sustainability and productivity of agricultural production at global, landscape and micro scales. FfT is funded in part by a $76.6 million grant from the Canada First Research Excellence Fund.
The program's objectives are:
Developing tools, approaches and technologies to leverage data to improve food production and sustain ecosystems;
Transforming agriculture's impact on biodiversity at the global scale;
Sustainably intensifying food productivity at the landscape scale; and
Enhancing food safety and livestock health at the micro-scale.
The Research Innovation Office is dedicated to turning U of G discoveries into innovative products and services and is developing programming to support these objectives. 
U of G researchers who are working on new technologies that will propel FfT's mission forward can take advantage of funding and learning programs. Besides providing researchers with assistance in moving projects forward, these programs will enable research teams to create tools and platforms that can be adapted to solve problems in the wider agri-food ecosystem.
Advantage Workshops
Open to researchers, postdoctoral, and graduate students, the 3-4 hour Advantage Workshops are intended to give research teams the tools they need to maximize the impact of their research and to produce innovative products and tools. The workshops will expose research teams to new skills that can help them to envision and communicate solutions and to develop fruitful, long term relationships with industry.
Innovation Tool Kit
This workshop enables researchers and their teams to elevate their dynamic problem solving and communication systems to realize the full value of every team member's contribution. By embracing new ways of problem-solving and assessing risk, workshop participants will turn their ideas into valuable and well-considered solutions.
In this workshop, research teams will:
Develop skills related to assertive risk-taking; and
Investigate innovation tools such as design thinking, brainstorming and validation exercises.
Creating Persuasive Value Propositions
This workshop introduces research teams to tools that will clearly communicate the potential impact of their work and enable them to write value-focused grant applications. Teams will also discover how clear communication and persuasive value propositions can mobilize teams and external partners more successfully.
In this workshop, research teams will:
Craft project descriptions to effectively communicate pertinent information using a step-by-step process; and
Articulate, both verbally and in writing, why solving specific research problems matters and should be supported.
Advanced Collaboration Techniques
Many researchers achieve more impact and success because of long-term relationships formed with industry and external partners. This workshop will help researchers to develop a strategy for cultivating fruitful collaborations and to optimize the way they work with external partners.
In this workshop, research teams will:
Identify common expectations held by industry partners; and
Explore best practices for finding appropriate partnerships including outreach strategies, industry liaison support, legal agreements, etc.
Knowledge Mobilization (KMb) Strategy Tool Kit
A detailed knowledge mobilization strategy is an important piece of many grant applications to ensure that the research conducted has maximal impact. This workshop will make it easier for researchers to create and articulate KMb plans that not only please funders but effectively puts knowledge into action.
In this workshop, research teams will:
Discuss co-producing research knowledge with key stakeholders;
Integrate clear language into communications; and
Review KMb program design principles and best practices.
Intellectual Property (IP) Essentials
Useful for researchers at all career stages, this workshop helps inventors and creatives understand the options they have to maximize the financial potential of their work. Insights on current Canadian and International IP law as well as University of Guelph services and rules will be discussed. This session includes time for a robust question and answer period.
In this workshop, research teams will:
Discover how various types of intellectual property can be protected; and
Identify common mistakes that can jeopardize IP protection.
Research Innovation Immersion Placement Grants
Designed for research teams who identify opportunities to learn new problem-solving skills through partnerships with dynamic technology, engineering or innovative partners, a Research Innovation Immersion Grant supports the cost of researchers, postdoctoral and graduate students in 1-week to 3-month placements at innovative companies. Researchers will be placed with companies (from start-ups to multi-nationals) where they can learn skills and strategies to be brought back to campus and applied to research problems
Applications will be accepted as of April 15, 2019, please contact our Project Coordinator to receive more information.
Product Development Grants
To promote inter-collegiate collaboration in support of Food from Thought objectives, the Product Development Grants provide funds to validate concepts with external users and to develop and test prototypes that produce new tools or applications with commercial potential. Projects that have clearly identified on-campus partnerships and require graduate student involvement will be prioritized.
Grants will be announced via the University's Research Alerts. Please contact our Project Coordinator for more information.