Technology Transfer
Technology Transfer Process
Learn how the process works, from disclosure to product!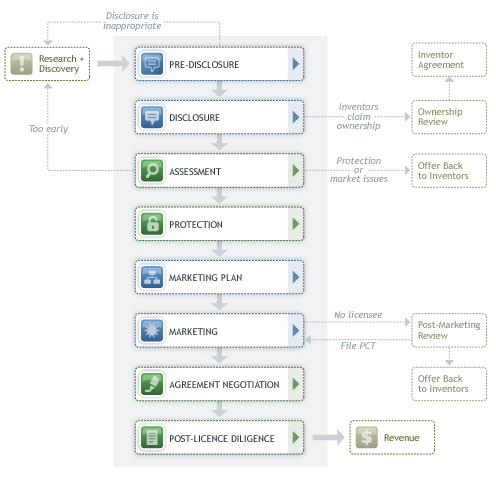 Step 1: Research and Discovery
It's never too early in the research process to think about technology transfer. Giving thought to how future results might be used and who they might benefit can help guide the eventual dissemination of the knowledge created, as well as provide ideas for partnerships. 
Step 2: Pre-disclosure
If your research is yielding interesting results, but you are unsure whether it is worth disclosing as an invention, an informal phone call or meeting with a Technology Transfer Manager can help answer your questions and explore a course of action.
Step 3: Disclosure
Whether pursuing commercialization alone or in partnership with the University, the first formal step is to disclose the invention. You are encouraged to submit an Report of Invention for all research developments that you feel might solve a significant problem and/or have significant value. The Report of Invention Form helps to provide a detailed description of the invention that will assist in completing next steps.
Ownership Review
Where inventors wish to pursue commercialization on their own, the Research Innovation Office must review the awards and contracts that contributed to the invention to make sure that the University has no obligations regarding new IP. Examples include projects that have OMAFRA funding, or funding from a company that was given rights to negotiate a licence to arising IP.
Inventor Agreement
Where inventors are commercializing an invention independently, they are asked to sign an agreement granting the University the right to use the invention for teaching and research, and to provide periodic updates to the University for reporting benefits to the economy.
Step 4: Assessment
When an inventor assigns their invention to the University, the Research Innovation Office will review the disclosure (with inventor input), and conduct a patent search and market analysis to determine the commercial potential of the invention. This evaluation will guide strategy on protection and licensing.
Offer Back to Inventors
At any time after a disclosure, if the Research Innovation Office elects not to proceed with commercialization, then ownership will be offered back to the inventors.
Step 5: Protection
Inventions are protected (e.g., by patents) to encourage investment from third parties. Patent applications must be filed prior to publicizing an invention. 
Step 6: Marketing Plan
With inventor involvement, the Research Innovation Office will develop a plan to market the invention to companies with the resources and expertise to bring the technology to market. This may involve licensing to an existing company or to a new start-up company.
Step 7: Marketing
Based on the marketing plan, the Research Innovation Office will advertise the invention to prospective partners through meetings, calls, emails and websites, among other means. Existing research relationships are often a great place to start.
Post-Marketing Review
If the Research Innovation Office is unsuccessful in finding a licensing partner, the invention will be reviewed to determine if further investment is warranted.
Offer Back to Inventors
At any time after a report of invention, if the Research Innovation Office elects not to proceed with commercialization, then ownership will be offered back to the inventors.
Step 8: Agreement Negotiation
Once a partner is found, a licence agreement is negotiated that grants rights of commercialization to a company in exchange for financial and/or other benefits. Sometimes an option agreement is entered that would give the company the right to evaluate the technology for a limited time before entering a licence agreement.
Step 9: Post-License Diligence
After a licence is signed, the Research Innovation Ofice stays in contact with the company, both through progress reports and through collection of revenues.
Revenue
Net revenue earned from a licence is shared 50:50 between the University and the inventor. The University portion is allocated to the inventor's college and department, and to a fund that helps cover the Researach Innovation Office patent expenses.