Written by:
Dana McCauley, Director, New Venture Creation, Research Innovation Office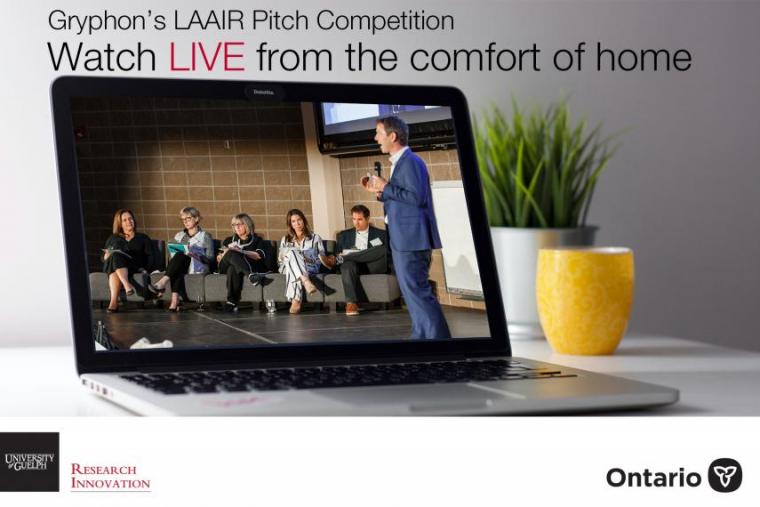 While start-up founders always need to be agile and able to pivot at a moment's notice, the recent effects of the COVID-19 crisis have made entrepreneurial life even more tumultuous than usual!  Likewise, for organizations like the Research Innovation Office who support academic entrepreneurs in their efforts to launch world changing technologies, every day is filled with new challenges.
Recently we've been grappling with how to move forward with our Gryphon's LAAIR Showcase and Pitch event. Last autumn, we announced that this year's event would happen on May 27, 2020 before a live audience. We envisioned a large group gathering for presentations by innovative researchers, a high stakes pitch competition and a celebratory afterparty. Now, given news that physical distancing rules will continue for many weeks or months, we've had to reconsider those original plans.
Over the last three weeks, we've switched gears and developed a whole new plan: the Gryphon's LAAIR Showcase and Pitch will proceed on May 27th but in a new, highly engaging online format!  Instead of an all-in-one live event, we plan to deliver our content in a variety of ways. First, we'll be sharing videos of our Showcase presenters; expect success stories told by researchers (such as Manju Misra [1], Helen Fisher [2] and Richard Preiss [3]) who have transformed U of G inventions into commercial success using Gryphon's LAAIR funding [4]. Then on May 27th, the Gryphon's LAAIR Pitch Competition will proceed as a live, interactive event. In collaboration with partners Jay Reid of the Making Box [5] and the technical experts at Straight Street Event Services [6], our first of its kind online event will blend live pitches, pre-taped interviews and online voting.
Five corporate founders will offer their best business pitches to three industry judges who will choose a $10,000 grand prize winner. Meanwhile online audience members will use their smart phones to choose a people's choice winner who will receive $7,000 in prize money to use to grow their business.
CEO of Harvest Genomics [7], Chris Grainger is for the challenge. "Being a part of the Gryphon's LAAIR Pitch competition training program is providing us with invaluable resources and the expertise necessary to take our start-up to the next level; we're excited to participate," he commented when told about the new format.
Likewise, Amanda Hutter, PhD candidate and founder of Green Feet Ecosystem Services [8], a corporation that uses drone technology to help land stewards to restore and protect environments, is keen to show the judges how the Gryphon LAAIR Pitch training program has enabled her to strengthen her business' value proposition. "Through this program I'm seeing how to bridge the gap between the potential of technology and need modern day farmers have to make informed decisions to sustainably grow food," says Hutter.
Registration is open [9]!
The Gryphon's LAAIR Showcase and Pitch are made possible by funding provided to the Research Innovation Office as part of the Ontario Agri-Food Innovation Alliance [10], a collaboration between the Government of Ontario and the University of Guelph. Likewise, the Gryphon's LAAIR funding program supports U of G researchers as they transform inventions and lab discoveries into commercially viable innovations.