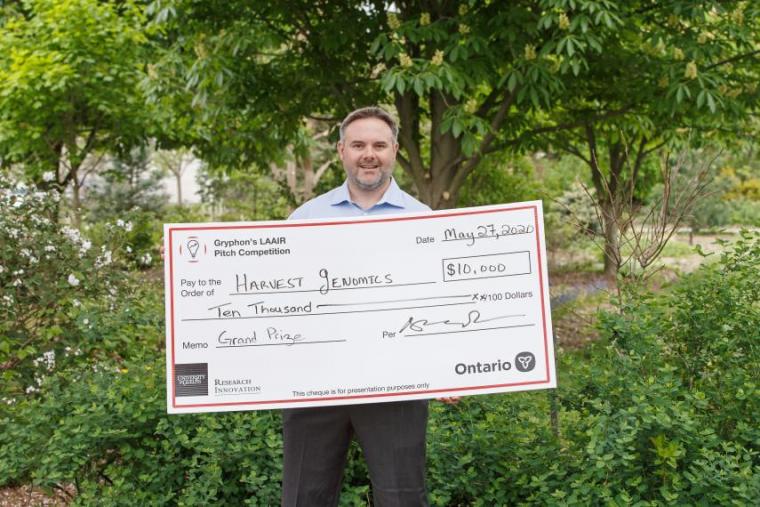 Despite the devastation of COVID-19, this has been a true breakout year for Harvest Genomics [1] (HG), the 2020 winner of the University of Guelph's $10,000 Gryphon's LAAIR pitch competition [2].
"The LAAIR competition was a tremendous platform to accelerate the growth of this exciting start-up," says Dana McCauley, Director of New Venture Creation in the University's Research Innovation Office.
Local MP Lloyd Longfield was so impressed by co-founder and CEO Chris Grainger's pitch [3] last May that he connected Harvest Genomics to Genome Canada, which led to Grainger being a member of an expert panel on discussing Canada's opportunities for genomic applications in the agricultural industry.  
The company, with its trio of inventors, really benefited from the competition exposure and have gone from strength to strength since then.
After a successful launch of genetic tests for herbicide resistance detection in various weed species, which helped contribute to a record-breaking year for revenues, Harvest Genomics participated in a bio-surveillance project funded by the Ontario Greenhouse Vegetable Growers. Their genome sequencing technology – called TomatoViroGenomics™ [4] proved extremely effective in detecting the presence of the tomato brown rugose fruit virus in a greenhouse.
The virus, first detected in 2014, has now been found all around the world and arrived in Ontario in 2019. Although it is not a threat to humans or food safety, it damages tomato and pepper plants and makes the fruit unmarketable. Eliminating just one outbreak can save $10 million in lost productivity.
"The technology opened up our minds and got us thinking about how we could develop better biosurveillance protocols," said Cara McCreary, Greenhouse Vegetable Integrated Pest Management Specialist with the Ontario Ministry of Agriculture, Food and Rural Affairs during a webinar in November, 2020. She, along with Genviève Marchand, a Greenhouse Pathology Research Scientist with Agriculture and Agri-Food Canada, carried out the project.
Harvest Genomics is grabbing attention – and export opportunities – in Mexico and South America. The European Food Safety Commission has also taken notice of the innovative technologies being developed by the team at HG.
Most recently, the company received funding from the Mitacs Accelerate Entrepreneur program [5] in partnership with Université du Québec à Montréal [6] and supported by Apollo13 [7] for a project aimed at developing a greenhouse biosurveillance platform with portable sequencing for cannabis production.
Five new corporations are vying for the top prize of $10,000 in the 2021 Gryphon's LAAIR pitch competition. Everyone can check out their pitches and vote for their favourite for the People's Choice award of $2,500 from noon on Friday May 15th to 12:59 on May 19th. The final awards ceremony will be online on May 19, 2021 at 1:00 p.m.