Written by:
Saskia Brussaard, Crave Consulting + Communications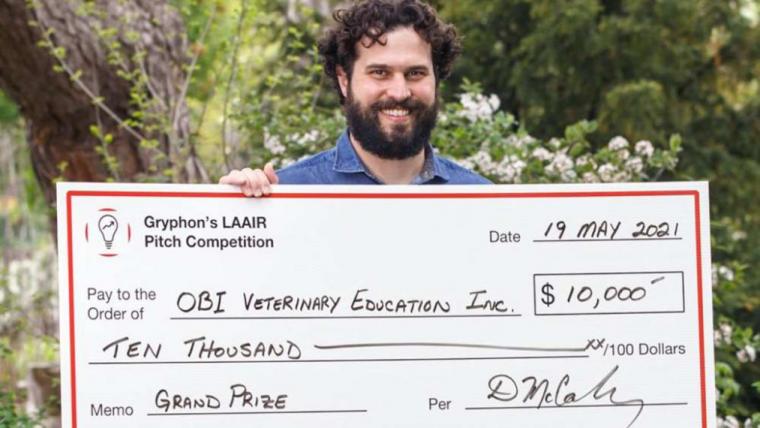 The Research Innovation Office [1] at the University of Guelph (U of G), in partnership with the Ontario Agri-Food Innovation Alliance, [2] a collaboration between the Ontario Ministry of Agriculture, Food and Rural Affairs (OMAFRA) and the U of G, hosted the Gryphon's LAAIR Pitch Competition [3], the highlight of the Research Innovation Festival.
To commercialize their research and knowledge, academic startups must collaborate and develop partnerships with organizations that will invest in their success. During this year's Gryphon's LAAIR Pitch Competition Finale Event, five corporations competed for a $10,000 grand prize awarded by an international panel of investment and industry leaders and for another $7,000 in other prizes, including a people's choice prize. This year's pitch teams included DigiTrack Systems, Obi Veterinary Education, BioFerm Functional Foods, Astra Redex and Guelph Petrographic Imaging.
Obi Veterinary Education won the $10,000 grand prize and DigiTrack Systems Inc. won the $2,500 people's choice prize.
"Congratulations to the remarkable innovators who competed in this year's Gryphon's LAAIR pitch competition," said Ernie Hardeman, Minister of Agriculture, Food and Rural Affairs. "Our government is proud to invest in an initiative that helps spur improvements in animal, human, plant and environmental health and advances research for the greater benefit of Ontario's agri-food sector."
"The Gryphon's LAAIR program launches U of G researchers' innovations into the marketplace for the benefit of the people of Ontario. Since 2014, Gryphon's LAAIR has supported more than 70 projects, involving 60 industry partners. It has transformed our researcher's knowledge into valuable outputs that have generated new enterprises, enhanced business productivity, created jobs, grown the economy, and improved prosperity and people's lives," notes Malcolm Campbell, University of Guelph's vice-president research.
"This year's Gryphon's LAAIR Pitch Competition featured five founders with value propositions that have the potential to disrupt within their sectors," said Dana McCauley, Director, New Venture Creation, Research Innovation Office. "A key reason these innovators cite for participating in our event is to attract the collaborators – funders, market test partners, and customers – who can help them to quickly progress toward acceleration." 
Dr. Mahdiyeh Hasani is co-founder of Astra Redex and one of the five 2021 Gryphon's LAAIR competitors. "Being part of this program has been a transformative journey," she says. "Preparing for Gryphon's LAAIR taught me how to envision real world applications for my research. Beyond being a researcher and inventor, I'm now also an innovator who understands how to bridge the gap between scientific discovery and final products – like our coffee cup sanitizer – that keep people safe and healthy."
---
About the 2021 Gryphon's LAAIR Pitch Competition
The Gryphon's LAAIR Pitch Competition Awards Ceremony marked the culmination of the inaugural Research Innovation Festival. Every day from May 10th to 15th, the Research Innovation Office offered new stories and videos that highlighted the many innovative companies that had their genesis in the University's Gryphon's LAAIR [4] program.
At noon on Friday, May 15th, everyone had a chance to evaluate the five founders by watching their pitches and deciding if their idea deserved the people's choice award – worth $2,500. Voting closed at 12:00 p.m. EDT on May 19th.
The big finale was broadcast live on Wednesday, May 19th, when the Gryphon's LAAIR pitch competition awards were presented.
The live event was hosted by Dan Clapson, founder and creative director of EatNorth and Globe and Mail restaurant critic and columnist for the Canadian prairies.
This year's judging panel included international investment and industry leaders:
Jenn Smith, Program Director, Grow-NY (USA)
Suhas Narayanaswamy, Investment Professional, Lewis and Clark Agrifood (USA)
Harry Ghandi, Founder & Start-up Coach (Canada)
Jim Hardin, Senior Investment Manager, AVAC Group (Canada)
David Maasz, Co-founder & CEO, INPAPAMC (Hungary)
Meet the 2021 Gryphon's LAAIR Pitch Competition Teams
Obi Veterinary Education has created an online community for veterinary professionals who want to use micro learning to maintain and improve their professional skills. ObiVet offers subscribers comprehensive but short, digestible lessons that can be accessed in the care room if required.
DigiTrack Systems
DigiTrack Systems is using Artificial Intelligence to enable innovation that will give consumers full access to food recall and food safety information by using cloud-based software to connect manufacturers, distributors, and merchants of products in the food/agricultural industry.
BioFerm Functional Foods
BioFerm Functional Foods Inc. offers a range of innovative bakery mixes to consumers in Canada and the US. With their products and online recipe videos, sugar conscious consumers can make fresh, tasty and healthy breads and cakes that suit their diabetic or ketogenic lifestyles at home with minimum effort.
Astra Redex
Astra Redex has created award winning technology that applies the high disinfection power of hydroxyl- radicals to inactivate the most resistant microbes within seconds with no negative effects on the item being cleaned.  Their disinfecting units will be used in homes and restaurants to bring the proven efficacy of systems used in the healthcare systems and disaster zones, to all Canadians.
Guelph Petrographic Imaging
Imagine if we could look deep under the surface of the soil to identify the exact geological properties of the land? What kind of information could we gather to improve decision making? Guelph Petrographic's breakthrough technology will provide new data points for those working in agriculture, energy and mining industries.
---
About The Research Innovation Office (RIO)
The Research Innovation Office [1] moves on-campus discoveries out to the communities where they will have the most impact. RIO offers four main service streams – Industry Liaison (making connections between faculty and industry), Technology Transfer (advising faculty, staff and students on intellectual property rights), Knowledge Mobilization (helping to translate UofG research into real world applications through connection and knowledge exchange with decision makers), and New Venture Creation (help bring product or service ideas developed by researchers to market).
---
About Gryphon's LAAIR
The Gryphon's LAAIR [4] (Leading to the Accelerated Adoption of Innovative Research) is an Ontario Agri-Food Innovation Alliance funding program that began in 2014 as a collaboration between OMAFRA and U of G to support the commercialization of research findings.  The program accelerates the development of new products, processes and technologies based on innovative research results, which will benefit the Ontario agri-food and rural sectors.