How can policymakers use a One Health framework for complex challenges like food safety, emerging infectious diseases, climate change, and more?
Join our Spring 2023 cohort of the University of Guelph Policy Fellowship Program, focused on One Health. One Health is an integrated, unifying approach that aims to sustainably balance and optimize the health of people, animals and ecosystems.
This program will give you the opportunity to learn about important and emerging research, discuss your pressing questions with leading experts, connect with other decision-makers, and receive a broad overview of some of the topics related to One Health, including:
Food safety and security
Antimicrobial use and resistance
Sustainable agriculture
Water quality and sustainability
Climate change
Emerging infectious diseases
Environmental toxicology
Public health and public perception
One Health competencies
And more!
Policy Fellowships are open to anyone who can make or influence decisions about issues related to agriculture, food and biodiversity in Canada. Priority will be given to applicants who are mid- to senior-career professionals working at the interface of science and policy in government, industry or NGOs (local, provincial or national in scope). Traditionally, cohorts have been composed of individuals working in food production, processing, retail, food security or environmental sustainability and biodiversity. 
The program consists of 2 days of group meetings, tours, and presentations in-person at the University of Guelph (May 11th-12th) where you will hear from experts on key thematic topics. You will be able to take advantage of networking opportunities between decision-makers working in similar areas and enjoy tours of relevant University of Guelph research facilities. In-person attendance on May 11th and 12th is required. 
After our in-person programming, you have the chance to take a deep dive into the topics of most interest to you. We will arrange a series of virtual one-on-one or small group meetings with faculty who are hand-picked to address your pressing concerns – offering you the opportunity for dialogue, knowledge exchange and networking with key experts. These meetings will take place on Wednesday afternoons (1-4pm EST on May 17, 24 and 31).
Reserve your spot by completing an online application [1] by March 17th. $499 per participant, apply by January 17th for an early bird rate of $425.
Please contact policyfellows@uoguelph.ca [2] with any questions. If you would like to nominate another candidate to become a Policy Fellow, please complete our nomination form [3] to provide us with their name and contact information.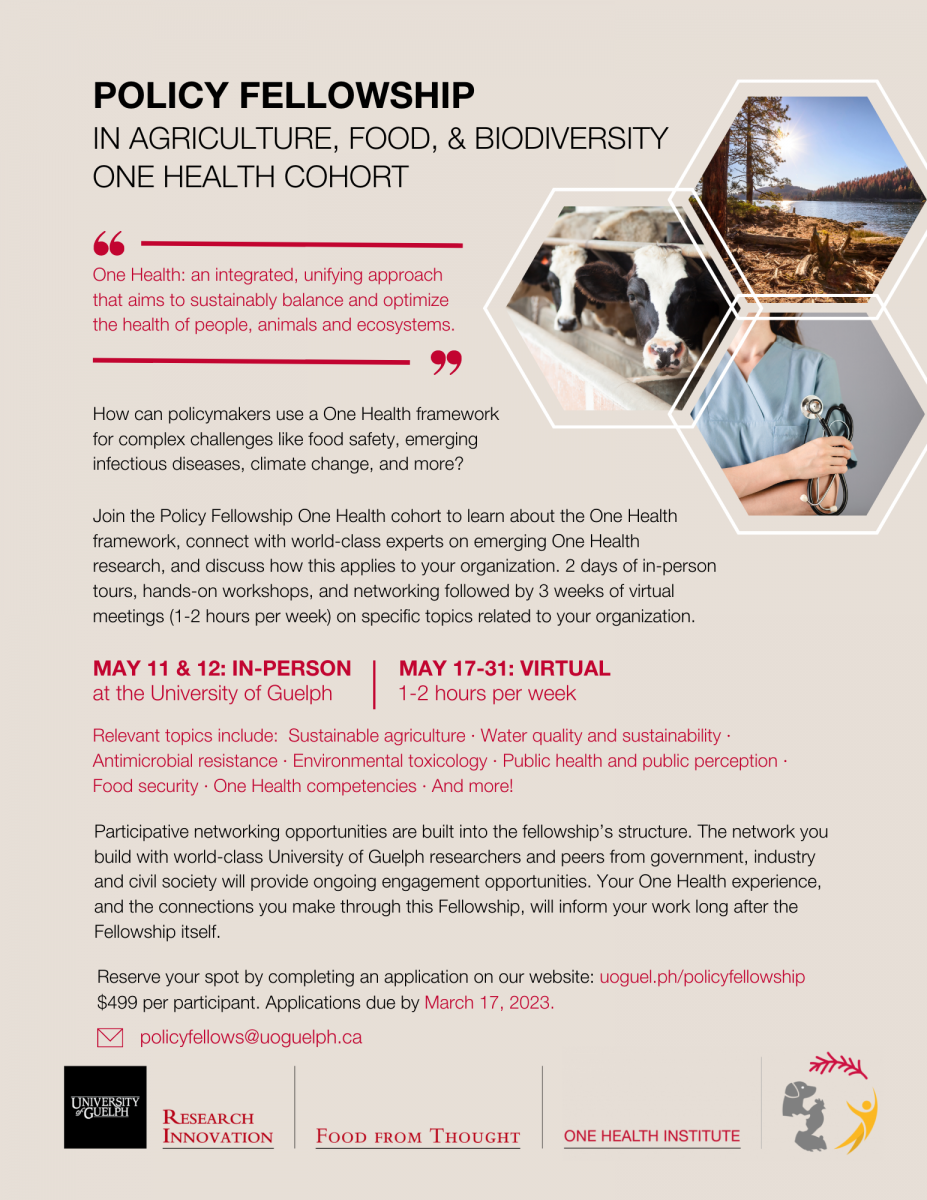 [4]