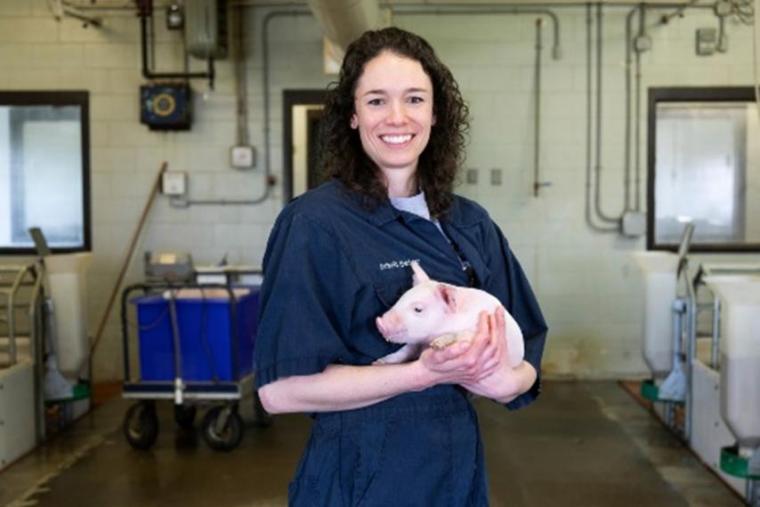 Three-time NSERC Alliance awardee Dr. Lee-Anne Huber reflected on her experience and continued success with the program. She emphasized the unique opportunity to stretch your research dollars and in turn gain the skills and expertise for future applications. Beyond leveraging partner funds, Dr. Huber highlighted the value of working with a diversity of partners, "it opens up a whole network of expertise that my students and I can access, which you can't really put a dollar value on."
In the pork industry, lactating sows are traditionally fed a single diet and feeding recommendations are largely anecdotal. Recognizing the dynamic nutrient and energy requirements during lactation and with the availability of new precision feeding technologies, Dr. Huber, in collaboration with Ontario Pork, JYGA Technologies, Wallenstein Feed & Supply Ltd., Molesworth Farm Supply and the Ontario Ministry of Agriculture, Food and Rural Affairs through the Ontario Agri-Food Innovation Alliance, received funding from NSERC Alliance to explore the effects of precision feeding on sow and offspring productivity. The goal of the study is to develop evidence-based recommendations during the pre-farrowing (transition) and lactation periods to potentially optimize sow performance (e.g., litter growth rates, lifetime productivity), reduce feed costs and environmental impact (minimize nutrient oversupply) and provide solutions to labour shortages faced by Canadian pig farms. In another NSERC Alliance-funded project, Dr. Huber is investigating whether novel feeding strategies for sows in late gestation can help mitigate pre-weaning mortality, a major welfare concern for pigs and a significant loss of revenue for industry stakeholders. The addition of soybeans and other proteins could have an impact on milk production as they're known to support mammary gland developmentand, and could thereby minimize pre-weaning mortality. Successful completion of this project could result in a reduction in the environmental footprint of pork production by maximizing the kilograms of pork produced per sow and increasing farm profitability and the economic vitality of the Canadian swine industry.
Regarding the NSERC Alliance application process, Dr. Huber encourages prospective applicants to be curious and reach out to potential partners with ideas and research questions as they arise. Once the partnership has been established, she recommends being proactive and transparent with your partners throughout the application process to ensure you're on the same page regarding submission requirements and timelines. The Industry Liaison Team is also there to support you as needed, whether you need support navigating partnership discussions, establishing clear expectations, or even reviewing drafts of your application.
If you've received NSERC Alliance funding in the past and are considering a new application, Dr. Huber encourages you to resist the temptation to copy and paste repeat elements from your last application, such as EDI and training environment considerations. It's important to challenge yourself to be on the leading edge of these approaches and there's a breadth of resources to ensure your approaches are up to date.
When asked for any final advice for completing an NSERC Alliance application, Dr. Huber cautions "don't procrastinate! When you try to throw something together at the last minute, the science might be there, but the narrative is always lacking. For NSERC, the narrative is so important and it's something that I have to think about and let percolate so that I can articulate my narrative to the best of my abilities." 
Interested in applying to the NSERC Alliance program? Reach out to our Industry Liaison Team today. https://uoguel.ph/industryliaison  [1]