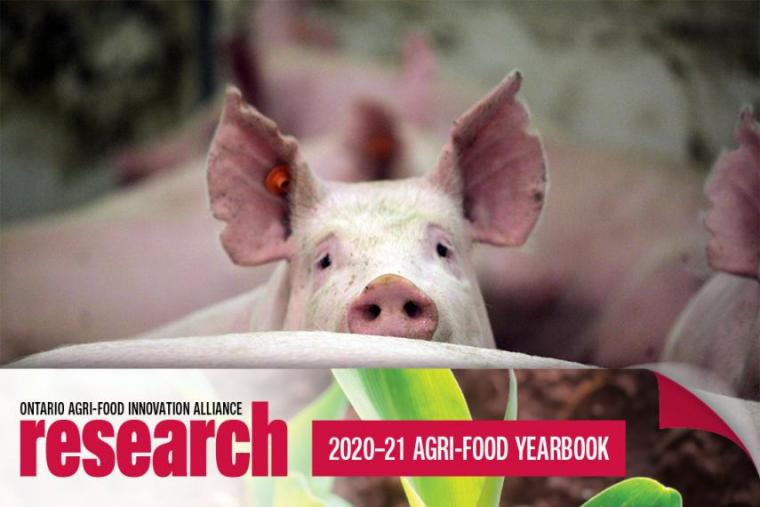 A nationwide team of researchers, co-led by Ontario Veterinary College faculty members from the University of Guelph, are pursuing the discovery of beneficial gut bacteria populations that can improve overall health and growth performance in pigs.
Dr. Vahab Farzan, Dr. Brandon Lillie and Dr. Robert Friendship are more than halfway through their five-year study, designed to help producers raise healthy pigs more efficiently through better knowledge of their gut microbiome. The project might ultimately help to reduce feed costs, which account for about 70 per cent of the cost of raising a pig.
"We are optimistic that by discovering beneficial gut bacteria in pigs, we will be able to help pig farmers tremendously in the long run," says Farzan.
For their study, researchers have collected thousands of fecal samples from 24 farms in Alberta, Saskatchewan, Manitoba, Ontario and Quebec. They collect seven samples per pig throughout their lives from birth to market. By weighing the pigs at each stage, the team hopes to identify which bacterial populations were most important in the animals' development.
The researchers use a genetic sequencing method to determine which bacterial populations are present in the pig gut microbiome. (A microbiome consists of all microorganisms — such as bacteria — in a particular environment.) They are now focusing on better understanding that microbiome.
Ultimately, they hope to find bacteria that promote pig health and growth, and lessen farmers' reliance on antimicrobial drugs, in turn reducing antimicrobial resistance.
"Our hope is to have what we discover down the line assist in the development of a probiotic that promotes the growth of beneficial bacterial populations found in pigs, ultimately cutting farmers' costs," says Farzan.
This research is funded by Swine Innovation Porc. Other co-leaders on this project are Dr. Andrew Van Kessel and Dr. Mathew Links from the University of Saskatchewan, and Dr. Ben Willing from the University of Alberta.
In Ontario, livestock at the Arkell Swine Research Facility serve as one of the herds in this study. The facility is part of the research centre network owned by the Government of Ontario through its agency, the Agricultural Research Institute of Ontario, and managed by the University of Guelph through the Ontario Agri-Food Innovation Alliance.
This article originally appeared in the 2021 Agri-Food Yearbook edition of  [1]Research magazine. [1]
Written by Otaiba Ahsan.