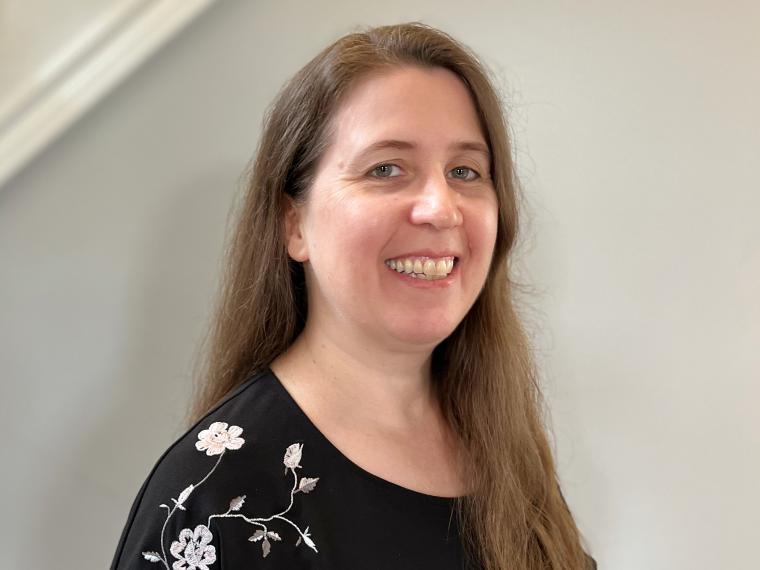 We spoke with Lisa (Barrucco) Stansfield, mathematics grad, about her career in tech and supporting math students through a new scholarship.
Lisa (Barrucco) Stansfield, a University of Guelph (U of G) mathematical science grad (M.Sc. '97, B.Sc. '95) is passionate about problem solving and leverages her skills to lead new solutions and overcome challenges for Thermo Fisher Scientific, a scientific research supplier. We spoke to Lisa about her career using tech to make life easier for her stakeholders and her decision to start a bursary to support U of G mathematical science students.
Tell us about your work and your role.
I am a Senior Software Developer and Canada IT Lead at Thermo Fisher Scientific Inc., the world leader in serving science.  Our Mission is to enable our customers to make the world healthier, cleaner and safer. Whether our customers are accelerating life sciences research, solving complex analytical challenges, increasing productivity in their laboratories, improving patient health through diagnostics or the development and manufacture of life-changing therapies, we are here to support them.
I entered the world of programming during the lead up to Y2K, starting my career with the Royal Bank of Canada. Over the next nine years, I gained valuable experience as a Technical Systems Analyst. My time with RBC allowed me to hone my skills, giving me an appreciation of everything it takes to make a project succeed. Moving to Ottawa, I can use all that knowledge and experience in my current position.
Tell us about a recent complex or interesting project you led.
Our Canadian IT Team supports all business functions, and my personal area of expertise focuses on customer orders and the distribution processes. I have been involved in projects to implement company-branded carriers, improved Serial/Lot tracking, and support the Canadian IT team as we transitioned to a common platform for business support.
Currently, I am involved with a global project to integrate a Product Master Data Management (PMDM) system for Europe, Canada and the United States into our respective business processes. This will be a game changer for how quick our portfolio managers can make new products available to our customers. With supplier partners being worldwide, our products must go through multiple levels of enrichment and review before they can be approved for sale in Canada. With a PMDM solution, our business partners will be able to leverage the regulatory and trade compliance information gathered globally, streamlining the process. Very exciting!
What do you enjoy most about what you do? What drives you?
The heart of what I do is problem solving, whether as a team member on a large-scale global project or helping a colleague with an issue. Using my skills and experience to overcome an obstacle is incredibly satisfying. 
Every day brings a new challenge as we develop technical solutions or integrate new technologies into existing systems. Learning new skills keeps life interesting, but my motivation really centres on making things better for our colleagues and customers. 
How did your education at U of G contribute to your career and journey after graduation?
My years spent at U of G had a huge impact on my career and my life. Math was always my favourite subject growing up, so spending six years in university (including one semester in Budapest, Hungary) dedicated to math was a dream come true! But my math degrees were so much more than working with equations and formulae; more than problem solving, analysis and logic. The University of Guelph environment was extremely supportive of the students. We were fortunate to have smaller classes, where we could connect and collaborate, supporting and helping each other. We also benefitted from the mentorship of some amazing professors, who were happy to help with a particularly challenging lesson, or just discuss sit and chat. 
Outside of class, Guelph provided lots of opportunities to unwind. I loved trying something new at the Athletic Centre, grounding myself in yoga class, gaining confidence through self-defence, or rolling a kayak in the pool! I also enjoyed being a Safe Walk volunteer for a few years, strolling around such a beautiful campus, getting to meet other students and hearing about their own personal journeys!
With a career in IT, some people are surprised to learn that I only took a handful of Computer Science classes while at university. But Guelph gave me a strong set of professional and personal skills, everything I needed to succeed in my career.
I have heard you are planning to start your own scholarship to benefit U of G students. Tell us about the motivation for this, and what you hope this will achieve.
Studying mathematics at U of G was such an incredible opportunity. The moment I stepped on the campus, it was such a welcoming and friendly environment, I knew it was where I wanted to study. I was extremely fortunate that my parents were there to support me. Post-secondary education can be life changing, but it's also expensive! I very much appreciated receiving scholarship funds when I first applied to university. It means a lot to me, giving back to the community that was such an integral part of my life. I hope the Barrucco Inspire Mathematical Science Bursary will help support other math students on their life journey! 
Is there a quote, saying, or philosophy that you look to for inspiration/support?
Life can be so hectic, so demanding. My family helps me keep things in perspective. I take time to appreciate the little things, those moments of joy all around us.