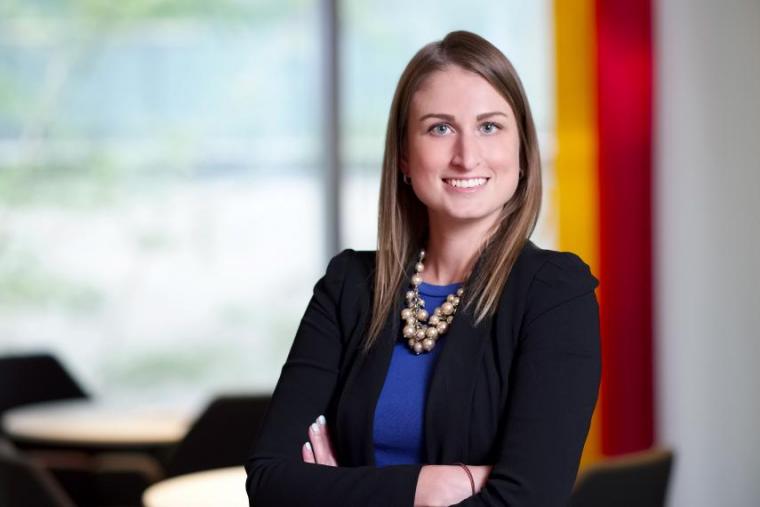 We chatted with mathematics graduate Liz Warner about her career in finance and technology.
Liz Warner graduated from the University of Guelph with a B.Sc. majoring in Mathematics and minoring in Statistics and Biology ('07). She then pursued graduate studies, obtaining her M.Sc. in Mathematics at U of G in 2009. She is now playing a key leadership role in a financial technology company to prevent financial crime. We chatted with Liz about her career.
Tell us about your work and your role.
As Director of Cybersecurity, Privacy, and Financial Crime at PwC Canada, I help clients like banks, insurance companies, and real estate companies meet their regulatory requirements to detect and deter money laundering activity within their organization.
I apply my background in mathematics, statistics, and machine learning to detect patterns of transactions or customer behaviour that are indicative of someone attempting to hide their source of funds within the financial industry, whether the money is a result of drug trade, terrorist financing, human trafficking or other illicit behaviour.
The use of analytics allows us to help our clients identify money laundering more efficiently and effectively in order to reduce the time-consuming and costly effort of manual investigation. 
You have an interesting career journey with significant advancement throughout. Can you tell us about that and how you got to where you are today? 
My first "real job" after leaving U of G was at Rogers Communications on their Credit Risk Modeling team. I worked at a Rogers store in Guelph while I was still a student, so I was able to apply to a job in their head office as an internal employee. That, plus my technical education, gave me a competitive edge.
As a credit risk analyst, I really honed my programming skills. Prior to working in industry, I had only done programming on small datasets for university projects. Now working for a big company, I was doing analysis on millions of customer records and having to solve for data quality issues that comes with big data. I learned a lot at this job, but after almost two years, I felt I was coming to a plateau in my learning curve so decided to explore other opportunities. One of my co-workers from Rogers had recently moved to TD as a member of their Global Anti-Money Laundering (AML) Analytics group, so I was able to network my way to a job on a growing team. At that time, the Analytics team was in its infancy, so it allowed me to grow and learn doing something that was not so well established.
While at TD, there was a shift in leadership which allowed me to apply to be the Manager of the team I was on; this afforded me the experience of managing a team of analysts and gaining leadership experience. However, again, I felt I was reaching a plateau in my learning so started exploring opportunities outside the bank. I turned to consulting firms as I felt it would give me the opportunity to learn new things, from working for different organizations to working on different types of projects.
As it turned out, consulting was the perfect career for that need. I've been with PwC for almost six years and every day is a new challenge. I'm never doing the same thing, plus I get to help our clients with complex problems and deliver clear outcomes that help them not only to be compliant with AML regulations, but to reach compliance in a smarter, more efficient way. 
How did your education at U of G contribute to your career and journey after graduation?
I came to the University of Guelph with the intention of going to the Ontario Veterinary College. I felt like I needed to memorize a lot, which was not a strength for me, but was a key component to a lot of biology courses (hello vertebrate zoology). So, I made the decision to switch majors to Mathematics (I was much better at mathematical problem solving).
At the time I had no idea what I would/could do as a job with a math degree, but I was much happier doing something I enjoyed and was really good at. When graduation arrived, I didn't feel ready to enter the real world yet, so I applied to be a master's student with my professor that taught "Evolutionary Computation," an undergrad course that I really loved.
What drew me to AI and machine learning was that it was completely different than any of the other courses I was taking, and at the time, it wasn't something a lot of people were doing. To my advantage, over the last decade, machine learning became a major hot topic, and now has even moved into the realm of AML compliance.
Looking back, what stands out to you the most about your experience at the University of Guelph? 
I love the sense of community not only at the University of Guelph, but also within the City of Guelph. I still love visiting Guelph and hanging out downtown at places I used to frequent when I was a student (pre-COVID, of course).