Sabrina Di Ilio and Melanie Barham
Animal Health Laboratory, University of Guelph, Guelph, ON.  
AHL Newsletter, Volume 24;(2):5. 
The Ontario Animal Health Network has been busy throughout the spring, releasing new infographics, reports, videos, and COVID-19 resources.  Read on to find links and descriptions of what we've been working on.
Anti-Parasitics Tables for Dogs and Value of a Postmortem in Your Sheep Flock Video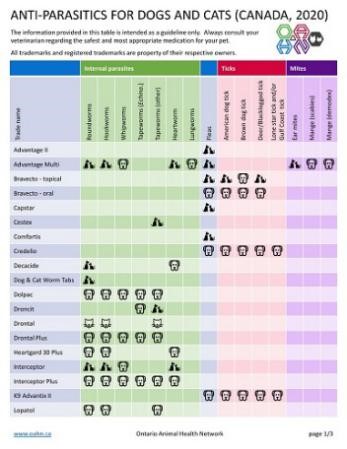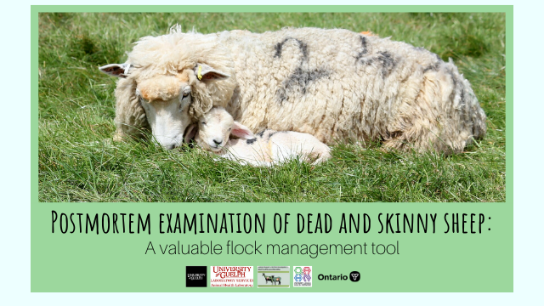 The OAHN Companion Animal Network created 2020 anti-parasitics tables for dogs and cats outlining which species different anti-parasitics are used for, and what type of parasite they treat. A simplified table was created for pet owners [1] in addition to the veterinary [2] version.
The OAHN Small Ruminant Network created a new video: The Value of a Postmortem in Your Sheep Flock [3]. This video outlines the value of performing a postmortem on sheep that die unexpectedly as a tool to improve flock management.
OAHN Small Flock Poultry Video Series
OAHN has been working with Dr. Victoria Bowes, a diagnostic avian pathologist with a special interest in small flock medicine, to produce a series of videos to assist veterinarians treating small flock poultry. The completed series has a total of 8 lectures, and can be accessed here: https://oahn.ca/small-flock/ [4]
Completed Research Projects
The most recently-completed research project was released by the OAHN Swine Network: Ongoing investigation of an outbreak of Senecavirus A: https://oahn.ca/resources/oahn-swine-network-project-ongoing-investigation-of-an-outbreak-of-senecavirus-a/ [5]
New Reports and Resources
The latest network reports for companion animals, bovine, swine, poultry, and equine have been posted to the OAHN site under "Network Reports". OAHN released an Ontario Animal Health Annual Update [6] in both English and French outlining research and highlights of 2019.
The OAHN Bovine Network and Equine Network put together resources for veterinarians during the COVID-19 pandemic:
We have lots of other new reports, lab data, and resources. Be sure to check out OAHN.ca [11]