Murray Hazlett, Josepha DeLay 
Animal Health Laboratory, University of Guelph, Guelph, ON.   
AHL Newsletter 2020;24(2):10. 
Disease monitoring in pet pigs is important for improving health and welfare in these and other swine species. Pet pigs are susceptible to diseases that also affect commercial swine, including foreign animal diseases such as African swine fever and classical swine fever. They are also susceptible to zoonotic pathogens including rabies virus and influenza virus. Premises with pet pigs may have minimal biosecurity, making these animals a potential portal of entry for these devastating diseases. Increasing awareness of swine diseases and biosecurity issues among pet pig owners and veterinarians can help to ensure the health and welfare of all Canadian swine. 
Although not a common submission to the AHL, we have received 206 submissions of pet breed pigs between May 2007 and April 2020.  These included 176 Pot-bellied pigs (85%), 27 Miniature pigs (13%), and 3 Micro-mini pigs (2%). Of these 206 submissions, 48 (23%) were pathology submissions: 27 (13%) were postmortems carried out at the AHL and 21 (10%) were biopsies or samples collected for histopathology from field postmortems (Graph 1.). 
Among these 48 pet pig pathology cases, urinary and reproductive system diseases were the most common categories (6 cases each) with urolithiasis (3) being the most common disease entity. There was 1 case each of ethylene glycol toxicosis and pyelonephritis, and 2 cases of non-specific nephritis. Reproductive system diagnoses were more heterogeneous and included 2 uterine smooth muscle tumors, and miscellaneous inflammatory conditions. Three other diagnosed tumors included a hepatocellular carcinoma, an interstitial cell tumor and a mandibular osteoma. These results are in contrast to those observed at the AHL for commercial pigs, in which respiratory and gastrointestinal diseases are most frequently diagnosed.  
 
Zoonotic pathogens identified from the pet pig submissions included Streptococcus suis (5 cases) and Ascaris suum (2 cases).  
 
Some animals were tested for common swine pathogens including porcine respiratory and reproductive syndrome virus / PRRSV (2 animals), porcine circovirus 2 and PCV3 (2), Brachyspira spp (4), gastrointestinal coronaviruses (6), and rotavirus (1). All PCR results for these pathogens were negative.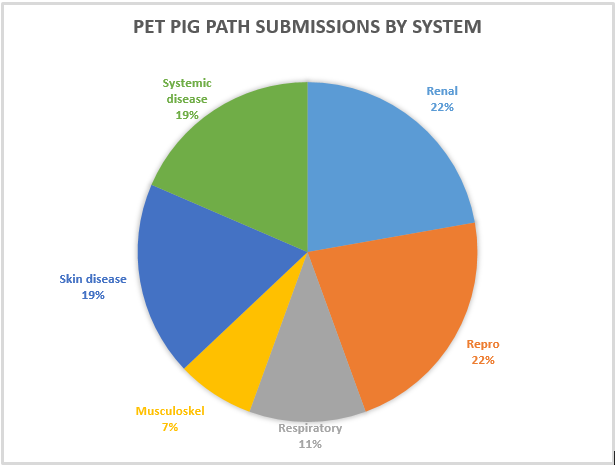 Graph 1. AHL pet pig pathology submissions: May 2007 – April 2020.