Animal Health Laboratory, University of Guelph, Kemptville, ON. 
AHL Newsletter, 2020;24(2):15. 
Pet fish are particularly popular pets in North America and similar to our other domestic animal species, they are also afflicted by various disease conditions that could affect their health and wellness or that of their cohorts. As such, it is not surprising that the AHL often receives inquiries from concerned owners and veterinarians about the submission of pet fish for postmortem examination and diagnostic testing. There are well over 33,000 known species of fish and in addition, countless variations in shape, size, and specialized anatomic structures that easily generate uncertainty on how to best submit these cases to the lab. To address these uncertainties, here are a few general recommendations for submission of pet aquarium fish for diagnostic evaluation at the AHL. 
Chilled, recently dead fish (<12-24hours) or live sick fish can be submitted directly for fish processing and sampling which includes gross dissection and evaluation, and tissue subsampling for ancillary testing and histopathology. This procedure also includes fish specific testing such as gill clips, fin clips and skin scrapes for cytological evaluation for the presence of parasites, filamentous bacteria, or diatoms. Although this appears to be the easiest option for submission, there are a few important factors to consider. Fish undergo particularly rapid postmortem degradation and autolysis, and even with overnight courier shipping, this can often significantly affect the quality of downstream testing and may even preclude valuable histopathological evaluation. External parasites also rapidly disappear following death, leading to negative cytology results while postmortem overgrowth stemming from the particularly rich aqueous commensal bacterial environment often complicates interpretation of bacteriology results. Although targeted specific disease agent testing assays (e.g. viral PCRs) are common fodder for the typical farmed finfish aquaculture species, such specific disease agent testing assays in pet fish are limited to a few very select agents; e.g. koi herpes virus (KHV), viral hemorrhagic septicemia virus (VHSV). Given these limitations, histopathology represents the single most valuable test for pet aquarium fish and therefore, submission of in-clinic sampled formalin-fixed tissue samples or whole formalin-fixed fish for histopathology is recommended as the first step for diagnostic evaluation. Archiving of freshly-frozen tissues (kidney, spleen, and liver) and/or concurrently submitting sterile swabs or tissues (coelomic, kidney, spleen, or skin ulcers) for bacteriology will allow for follow up or ancillary testing if indicated.  
Whole formalin-fixed fish are best submitted in sealed screw top containers with a preferred volume of fixative as close to 10 times the volume of tissue as possible. To ensure adequate formalin infiltration and rapid fixation of internal organs and tissues, the coelomic cavity should be opened by cutting a large wedge section out of the coelomic wall (arrows; Fig 1). In larger fish (> 6 cm long), the intestine can be detached at the anus and the internal organ mass loosened and pulled out slightly. The gill surfaces should also be exposed by removing the overlying opercular plate from at least one side of the fish (asterisk; Fig. 1).  If in doubt, we encourage you to contact us and discuss your disease investigation so that we may assist you in getting the most out of your diagnostic laboratory submissions.   AHL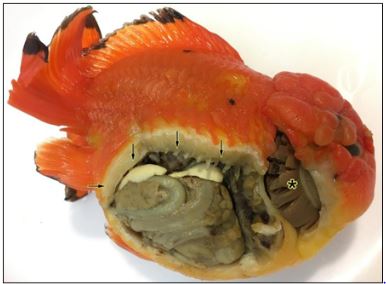 Figure 1. Formalin-fixed pet fish for histopathology submission with the coelomic wall and opercular plate removed for better penetration of formalin.