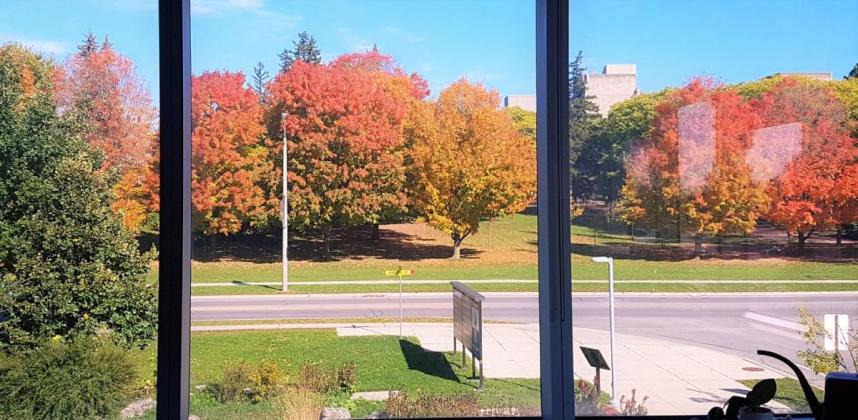 The view from the Director's office
As fall and the back-to-school period approaches, life is shifting into an altered homeostasis dictated by COVID-19.  People and organizations are still learning how to modify plans and processes, based upon our most up-to-date understanding of how to prevent the spread of SARS-CoV-2.  At the AHL, we are fortunate in being able to work in a well-equipped facility with sufficient PPE supplies available to protect staff.  Masks are worn by all staff members in the laboratory, as mandated by the Wellington-Dufferin-Guelph Public Health unit.  Since the current level of COVID-19 infection in Ontario is low, AHL laboratory sections have resumed normal work hours rather than the split teams approach employed during the early weeks of the pandemic.  In addition, the AHL Virology section has restarted virus neutralization (VN) testing.
Similar to many of you, we are cautiously optimistic about the current stage of recovery and re-opening in Ontario.  Laboratory submissions that were reduced during the early stage of the pandemic because of restricted veterinary activities have recovered to normal levels over the summer months.  These include diagnostic and surveillance submissions from veterinary clinics, in addition to research samples from OVC, other University of Guelph departments and agricultural industries.  We thank you for your patience over the past 6 months as AHL modified business operations to adjust to fluctuating requirements for maintaining a safe working environment for laboratory staff, supply chain disruptions and inconsistent courier deliveries. 
Check out the improved mobile functionality of our LIMS (laboratory information management system) at https://sapphire.lsd.uoguelph.ca:8443/labservices/logon.jsp [1].  The pages will adapt to the screen size on whichever tablet or mobile device you choose to use.  When your web browser contacts our secured website, it is now an encrypted connection.  You will see a padlock beside the link to indicate all communication sent from your browser to our server is secure.  You will be able to access test results in addition to information about every test AHL performs in a user-friendly format while on the road.  Thanks to our hard-working IT staff for completing this important initiative!      
We wish you, your staff, and families continued health and safety.
Maria Spinato, Director
Animal Health Laboratory, University of Guelph, Guelph, ON.