Murray Hazlett, Maureen Anderson, Jim Fairles
Animal Health Laboratory, University of Guelph, Guelph, ON (Hazlett, Fairles); Veterinary Science Unit, Animal Health and Welfare Branch, OMAFRA (Anderson).  
AHL Newsletter 2020;24(3):18.
Getting a diagnosis on fatal neurologic disease in horses can be difficult.  Even if rabies is considerably low down on the list of considerations, it is often a concern; however, submission of the brain directly to CFIA for a rabies test can mean samples for more likely causes of encephalitis cannot be collected.  Often the owner does not want to pay for transportation for a complete autopsy at the lab.
As per the OMAFRA web page regarding rabies: if there is any human exposure risk, contact the local public health unit http://www.health.gov.on.ca/en/common/system/services/phu/locations.aspx [1].  If exposure of other domestic animals (e.g. herd-mates) is a concern, veterinarians can contact an OMAFRA veterinarian for assistance with the risk assessment by calling the Agriculture Information Contact Centre (AICC) at 1-877-424-1300.  If testing of the suspected rabid animal is warranted, veterinarians must contact OMAFRA for shipping and laboratory submission information.  Please see http://www.omafra.gov.on.ca/english/food/inspection/ahw/rabies.htm#17 [2] for additional information.
Some veterinarians opt to perform brain removal on the farm.  Brain removal should always be done with proper PPE, including mouth/nose, and especially, eye protection.  Details of two different brain removal techniques for large animals can be located on the AHL website: https://www.uoguelph.ca/ahl/rabies-sample-collection-veterinarians [3].
If submitting brain, it is often a good idea to call ahead to advise the lab it is coming so that it can be unpackaged promptly and flagged for the duty pathologist's attention.  A removed brain should be submitted chilled if it can reach the lab within 24 hours of death; otherwise freezing prior to transport is likely the best option.  Please pack with the submission form on top within a separate plastic bag.  For cases within a reasonable driving distance of either the Guelph or Kemptville laboratory, the horse's entire head can be submitted directly instead, although fees for brain removal and disposal of the rest of the head may apply.
Once the AHL pathologist receives the brain (or removes the brain from the head), the pathologist prepares brain slices that meet the requirements for the rabies fluorescent antibody test (FAT) at the CFIA rabies lab, in the event that rabies testing is required (Fig. 1 A-C).  This allows the remainder of the brain to undergo sample collection for other neurologic diseases.  Samples are collected – usually from cerebral cortex and medulla – for virology (PCR for EEE, WNV and EHV-1) as well as for histology.  If the sample is anatomically disrupted or autolyzed and rabies testing is required as per the public health or OMAFRA risk assessment, then only small samples are collected for virology and the remaining (almost entire) brain is submitted to the CFIA rabies lab.  All ancillary tests of brain samples – other than histology – are held until rabies has been ruled out.
It is a good idea to also submit fixed liver, kidney and colon in cases of "encephalitis" in horses, as hyperammonemia (hepatic encephalopathy – Fig. 1 D) can be mistaken for encephalitis and can have a fairly rapid clinical onset.  Serum samples and whole blood collected prior to euthanasia, when possible, can also be submitted for IgM testing for WNV and EEE (depending on the season), and PCR for EHV-1, respectively.  A compilation of equine CNS disease diagnosed at the AHL can be found on page 20 of the June 2016 AHL newsletter https://www.uoguelph.ca/ahl/sites/uoguelph.ca.ahl/files/ANwsl20-2-Jun2016-pub2010.pdf [4] .   AHL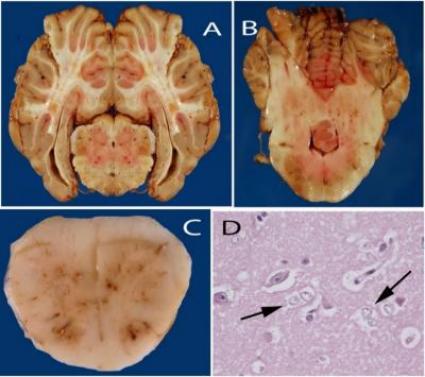 Figure 1. A,B – sections of brain containing required bilateral areas of brain required for rabies testing, including hippocampus (A) cerebellum (B) and brain stem (A and B). C. Spinal cord should be submitted in cases of ascending myelitis. D. Alzheimer type II astrocytes seen cases of hepatic encephalopathy (arrows).