Jim Fairles  
Animal Health Laboratory, University of Guelph, Guelph, ON
Courier Shipping through December
As many of you are aware, shipping during the COVID-19 pandemic has been trying at times.  We have been made aware of a backlog in sorting at the local Purolator depot (this affect ALL couriers and is not specific to Purolator).  Packages may/will be delayed!!  With the Black Friday weekend, Christmas, and overall increase in online shopping, we have some recommendations to keep in mind when shipping your specimens to AHL-Guelph.
Package your specimens with the expectation that the shipment will take 2 days (use extra freezer packs, absorbent materials, sturdy container/box).

Ship your specimens to AHL-Guelph Monday - Wednesday when possible.

Take note/make a copy of your waybill tracking number each time that you submit and track your package.

Purolator is no longer guaranteeing Saturday delivery.  AHL will not be providing Saturday waybills unless under special circumstances.  If sending a sample on Friday, expect Monday delivery at the lab.  Alternately, if you cannot drive the sample in to the lab on Friday, hold it for Monday shipment to avoid the specimen sitting in a warehouse for the weekend.  We are not responsible if your package does not arrive until Monday.

The AHL specimen reception is available for sample drop-off between 7AM to 10PM daily.

During this time, Post mortem submissions should not be sent via courier.  Please call us for updates around handling of PM submissions and drop off. AHL Kemptville PM drop off continues 24/7 as usual.

AHL does have some local courier options – please call us to discuss (fees may apply).

Please also take note of our cold weather shipping reminder.  Courier warehouses are not temperature controlled and as we enter winter, samples may freeze.
Cold weather shipping reminder
At this time of year, we need to start thinking about preventing samples from freezing.  Specimens such as EDTA blood are rendered useless when frozen.  Formalin will also freeze, which creates artifacts in fixed tissue.
It can be difficult to protect samples that are shipped during the winter from severe cold.  To inhibit or reduce formalin freezing, add 1 mL of ethanol per 10 mL of formalin.  Samples that should not be frozen can be shipped inside insulated containers with minimal cold packs.  Use of room temperature cold packs will help prevent temperatures from dipping too low. If you have any concerns about the best way to ship critical samples, please contact the AHL.  ahlinfo@uoguelph.ca [1]
AHL holiday hours 2020/202

1
Except for Wed. Dec. 25 (closed – no service), AHL-Guelph is open every day from Wed. Dec. 23 until Sun Jan 3, 2021 with limited services.  The University of Guelph is officially closed during this period.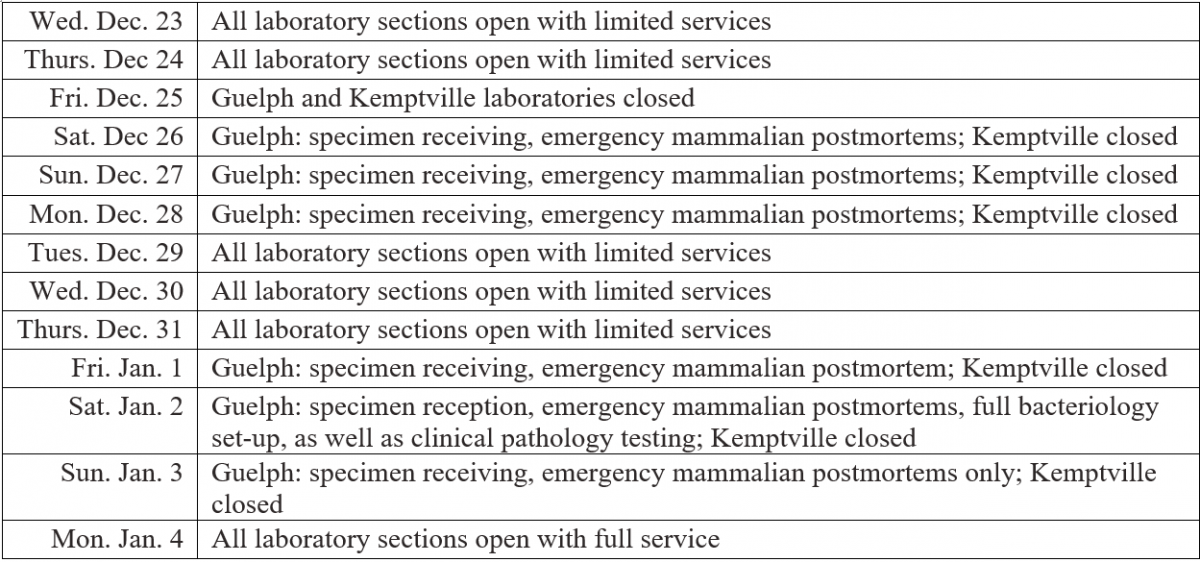 Guelph drop box and fridges available 7AM to 10PM and Kemptville drop box and/or fridges are available 365/24/7 for specimen drop off.
For full details, please see our website – www.ahl.uoguelph.ca [2]