Margaret Stalker, Jenn Megens
Animal Health Laboratory, University of Guelph, Guelph, ON (Stalker); Cannington Veterinary Services, Cannington, ON (Megens)
AHL Newsletter 2021;25(1):10.
An aborted mixed-breed sheep fetus from a flock of 175 commercial ewes in the Durham region was submitted for postmortem examination.  This near-term fetus exhibited several somewhat subtle skeletal anomalies, including: inferior brachygnathia with an abnormally thickened and flattened skull; scoliosis and flexural limb deformities; as well as brain and spinal cord malformation and hypoplastic hind limb musculature (Fig. 1).  There was also a mild placentitis evident on histologic examination.  RT-PCR testing at the Texas Veterinary Medical Diagnostic Laboratory (TVMDL) was positive for Cache Valley virus (CVV).  Other additional tests were negative for significant pathogens.  The flock, which lambs all year round, experienced seven abortions with similar fetal anomalies during the month of December 2020.  A wave of similar abortions had also occurred in December of 2019.
We periodically see small clusters of ovine abortion cases associated with CVV infection submitted to the AHL, often on a 3-5 year interval.  CVV is a mosquito-borne, potentially zoonotic Orthobunyavirus considered to be endemic in Ontario.  Although rarely diagnosed, infection in humans can cause fever, headache, meningitis or encephalitis.  In veterinary species, CVV infection can cause infertility, abortion, stillbirths and congenital anomalies in sheep and goats.  Fetal malformations in sheep are associated with infection of the ewe at 28-48 days of gestation.  The population of infected mosquitos reaches its height during late summer/early fall, therefore, abortions/stillbirths typically occur during December/January.  The TVMDL offers both PCR testing (placenta, fetal brain) and virus neutralization (VN) assay (fetal thoracic cavity fluid, serum samples from ewes).  This case was unusual in that the PCR testing was positive.  The virus is typically cleared by the time the fetus is aborted, and fetal VN testing is often more reliable.  Titres in the ewes confirm exposure, and animals exposed to the virus may have lifelong immunity.   AHL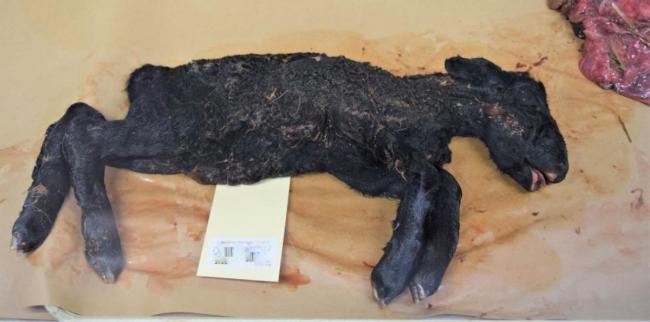 Figure 1. CVV positive aborted ovine fetus with inferior brachygnathia, an abnormally thickened and flattened skull, scoliosis and flexural limb deformities.