Animal Health Laboratory, University of Guelph, Guelph, ON; The Alcohol and Gaming Commission of Ontario (AGCO)
AHL Newsletter 2021;25(1):17.
The Alcohol and Gaming Commission of Ontario (AGCO; formerly the Ontario Racing Commission, ORC) continues in its proactive approach to advance racehorse welfare and safety of human and animal participants. In 2003, Ontario became one of the first North American racing jurisdictions to require mandatory reporting of racehorse deaths in order to monitor, research and improve knowledge of why these events occur. Postmortem (PM) exams conducted at the Animal Health Laboratory (AHL) through the ORC Death Registry (DR, 2003-2016) and Equine Incidences in Ontario Racing (EIOR, 2016-current) programs continue to provide comprehensive data regarding the causes of morbidity and mortality in racehorses in this province. To date, PMs have been carried out on 1213 horses through these programs (Table 1). Annual variation in the number of PM cases reflects the discretionary requirement for PM of reported deaths on the part of the Registrar of AGCO.

A summary of significant PM findings is provided in Table 2. A comprehensive review of AGCO PM cases was recently conducted as part of a separate retrospective study (1). As a result of this study, some cases have been reclassified from data presented in previous editions of the AHL Newsletter.
Since 2015, computed tomography (CT) of fractured and contralateral limbs has been carried out on select DR and EIOR postmortem cases through collaboration with the Diagnostic Imaging section of the Ontario Veterinary College Health Sciences Center. The goal of this in-depth examination is to identify pre-existent lesions, primarily in bone, that contribute to catastrophic fractures. The protocol was continued in 2020, with CT imaging of all 19 limb fracture cases submitted for PM exam. Pre-existent lesions in bone were identified by CT and considered potentially predisposing to fracture in 12 of 19 (63%) cases.
Exercise-associated sudden death continues to be of special concern in the racing industry. At the AHL, a modified in-depth PM protocol is used in the evaluation these cases, with special emphasis on cardiovascular and respiratory systems. In 2020, the cause of death was investigated in 10 horses that died while exercising. Death was attributed to multiple causes including: significant pulmonary hemorrhage (3 horses); aortic rupture (1 horse); myocardial fibrosis and possible cardiac dysrhythmia (1 horse); and abdominal hemorrhage (2 horses; associated with pelvic fracture in 1 horse). No definitive cause of death was identified in 3 horses that died while exercising. Among all sudden death cases from 2003-2020, significant pulmonary hemorrhage was identified in 96/197 (49%) horses. The term 'equine exercise-associated fatal pulmonary hemorrhage' (EAFPH) is currently used to categorize these cases, in which extensive pulmonary hemorrhage and edema is identified postmortem. In 46/197 (23%) exercise-associated sudden death cases from 2003-2020, no potentially fatal lesions were identified, and the cause of death remained undetermined. It has been speculated that exercise-associated cardiac dysrhythmia, leading to acute heart failure and pulmonary hypertension, may be the underlying cause of death among many of these horses, and may also contribute to pulmonary hemorrhage in these animals (2). Typically, no morphologic lesions are detected in heart as a cause or result of fatal ventricular dysrhythmia, and the diagnosis cannot be confirmed based on PM findings. Studies of exercise-associated sudden death cases from other jurisdictions have not identified gross or histologic lesions in heart that are considered significant to the cause of death, based on comparison with control animals (3). In addition, no genetic contribution to the syndrome has been identified to date (3). AHL
Table 1. Breed distribution of AGCO EIOR submissions to the AHL, 2003-2020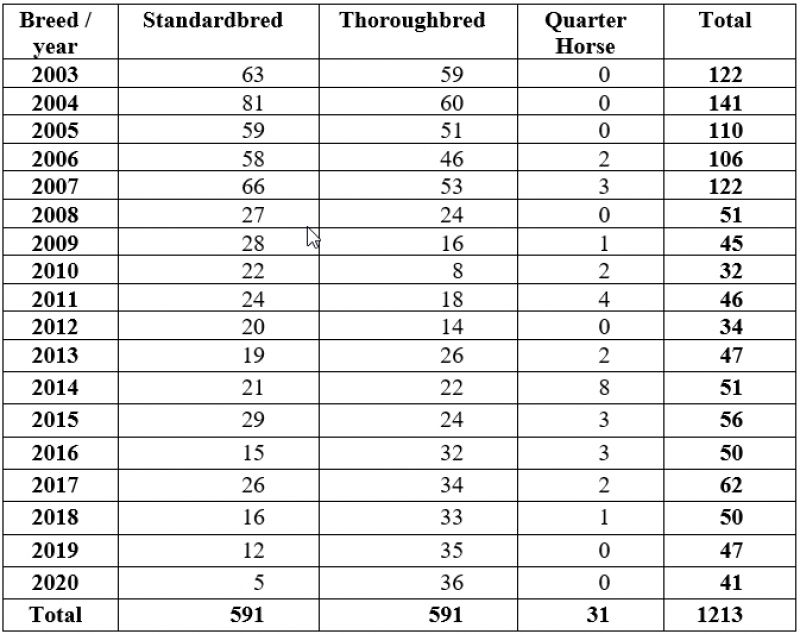 Table 2. Significant postmortem lesions identified in AGCO EIOR submissions to the AHL, by body system, 2003-2020.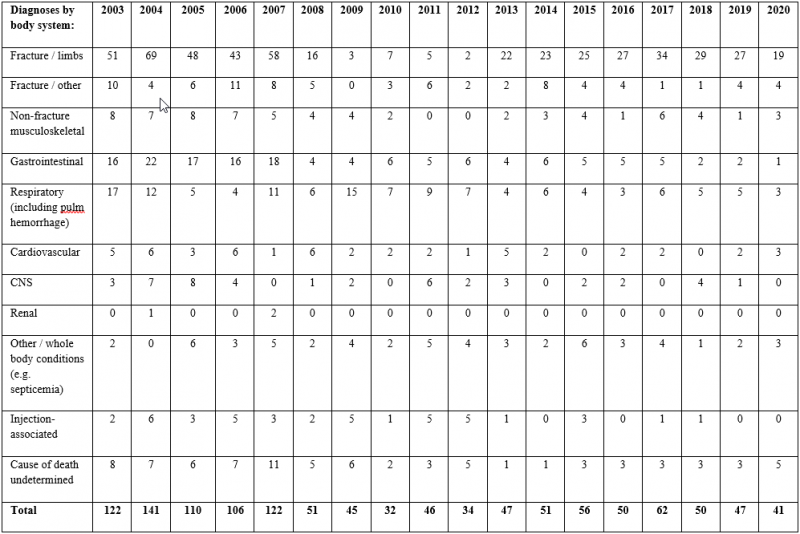 References
1. DeLay J. Postmortem findings in Ontario racehorses, 2003-2015. J Vet Diagn Invest 2017;29(4):457-464.
2. Physick-Sheard PW, McGurrin MKJ. Ventricular arrhythmias during race recovery in Standardbred racehorses and associations with autonomic activity. J Vet Intern Med 2010;24:1158-1166.
3. Molesan A, Wang M, Sun Q et al. Cardiac pathology and genomics of sudden death in racehorses from New York and Maryland racetracks. Vet Pathol 2019;56(4):576-585.