Mike Deane and Melanie Barham
Animal Health Laboratory, University of Guelph, Guelph, ON
AHL Newsletter 2021;25(2):8.

The Ontario Animal Health Network has been busy throughout the winter and spring, with the completion of many research projects, new info sheets, reports, and a disease alerts page.  Read on to find links to all the exciting animal health and disease research and resources we have been working on.
New OAHN Resources
Have You Seen Me? An Emerging Fish Parasite in Ontario
The OAHN Fish Network has created a valuable resource for identifying fish lice in Ontario. You can access the resource here: https://www.oahn.ca/resources/an-emerging-fish-parasite-in-ontario/ [1]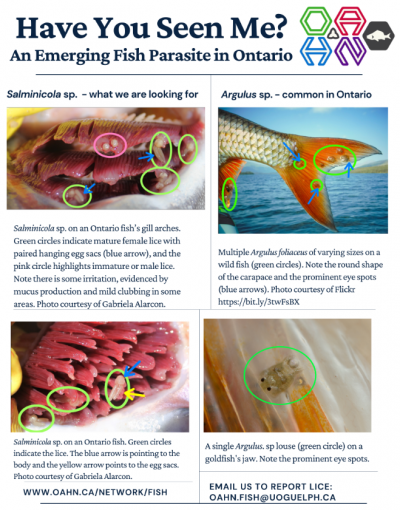 Ontario Equine Disease Alerts Page
The OAHN Equine Network has created a new page in the OAHN website that contains up-to-date Ontario equine disease information.  This resource is for both veterinarians and owners, and gives details on all known cases since the spring.  Access this page here: https://www.oahn.ca/resources/ontario-equine-disease-alerts/ [2]
OAHN Project Reports
This spring saw the completion of many OAHN-funded projects. We currently have many other projects on the go, including this project on SARS-CoV-2 in pets [3]. Find details and links below for recently completed projects: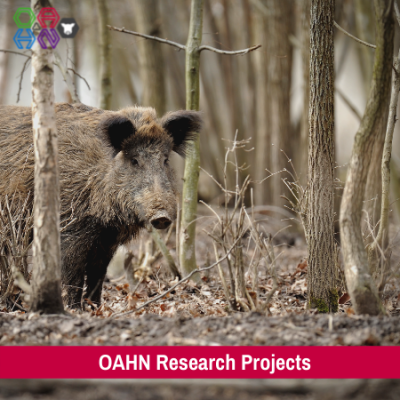 2 New Bovine Podcasts
The OAHN Bovine Network created two new podcasts for Ontario bovine veterinarians and producers:
New Reports and Resources
The latest network reports for companion animals, bovine, swine, poultry, and aquatic animals have been posted to the OAHN site under "Network Reports".  Be sure to check out OAHN.ca [12]!