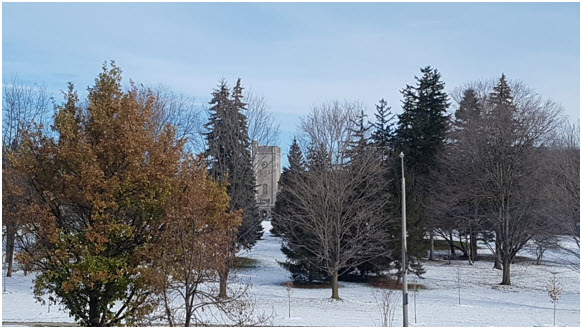 The view from the Director's office
This fall has been a very busy period at the AHL.  It has been very satisfying to view the return of students to the University of Guelph campus.  Scientific meetings and conferences have proceeded, albeit still virtually for now.  While on-line meetings enable more people to access the most recent scientific information safely and inexpensively, most of us agree that they are a poor substitute for in-person meetings.  The hallway conversations and information discussions during refreshment breaks that occur when we gather together produce an expanding network of personal connections that strengthen and support our animal health sector.
Together with our colleagues at OMAFRA, CFIA and the Canadian Animal Health Surveillance Network (CAHSN), we observe with concern the spread of African swine fever and highly-pathogenic avian influenza around the world.  We continue to hold discussions with our partners to ensure a high level of emergency preparedness should one of these high consequence diseases reach Canada.  Preparedness includes working to ensure a stable source of materials and reagents during the world-wide supply shortages that we are all experiencing.  A dedicated group of AHL staff are also reviewing and updating protocols for emergency testing.  We are ready!
This fall, we added two new professionals to the AHL team.  Dr. Tanya Rossi is the OAHN and data manager, and Ms. Erika Chadwick is the clinical pathology technical supervisor.  You can view their biographies in the OAHN update and Staff highlights section.  Welcome Tanya and Erika!
Despite the concern posed by yet another variant of SARS-CoV-2 virus (hello omicron), we are still approaching the end of 2021 with some degree of optimism and hope.  From all of us at AHL, we extend our very best wishes to you and your families for the holiday season, and for a safe and healthy 2022. 
Maria Spinato, Director
Animal Health Laboratory, University of Guelph, Guelph, ON.