Ðurđa Slavić
 Animal Health Laboratory, University of Guelph, Guelph, ON                       
 AHL Newsletter 2021;25(4):7.
When performing antimicrobial susceptibility testing (AST), all diagnostic labs in North America are expected to follow the standards and guidelines established by Clinical Laboratory Standard Institute (CLSI).  The goal of the institute is to promote accurate and reproducible AST results, as well as appropriate reporting and interpretation by standardizing all aspects of AST.  A sub-committee on veterinary antimicrobial susceptibility testing (VAST) establishes guidelines for veterinary laboratories that include: testing methods, bacterial density, media and drug types, drug dilutions, incubation times, quality control (QC) requirements, and - most importantly - interpretative criteria.  Some of these recommendations will be discussed in an antimicrobial susceptibility testing series in AHL newsletters, starting with this article on test methods.  The full document is available in Labnote 64: https://www.uoguelph.ca/ahl/ahl-labnote-64-antimicrobial-susceptibility-testing-ast [1] 
Test methods
There are two different methods frequently used by veterinary diagnostic laboratories to determine in vitro susceptibility of bacteria to antimicrobial agents: disk diffusion and microbroth dilution.
The disk diffusion test, also known as Kirby Bauer (KB), is a test where a standardized bacterial suspension is plated on different plate types and disks impregnated with specific antimicrobials are placed on top of it. The drug concentrations on the disks are based on plasma steady-state drug concentrations in humans after IV dosing, although many have now been assessed in veterinary species (see Part 5). However, other than as indicated for bovine mastitis, the pharmacology may not reflect the relevant site of infection. After a specific incubation time, the inhibition of bacterial growth is measured and expressed in millimeters (Fig. 1).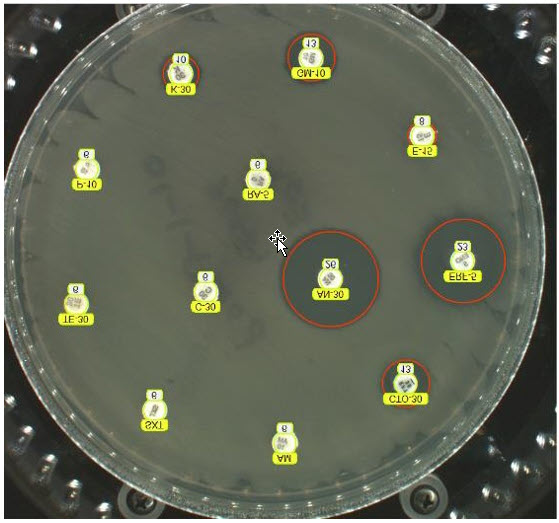 Figure 1.  Disk diffusion plate demonstrating disks impregnated with antibiotics placed on an agar plate with the bacterial species of interest.  Note the red circles highlighting the zones of inhibited bacterial growth.
Microbroth dilution, also known as minimal inhibitory concentration (MIC), is a test where a standardized bacterial suspension is dispensed on a 96 well commercially available plate with each well containing different dilutions of antimicrobial agents.  After a specific incubation time, the first well with no growth (Fig. 2) in a series of wells with different antimicrobial concentrations of the same agent denotes the minimal inhibitory concentration and it is expressed in µg/ml.  MIC data need to be interpreted with pharmacokinetic data from the literature or the antimicrobial product data to estimate the drug concentration that is achievable at the site of infection.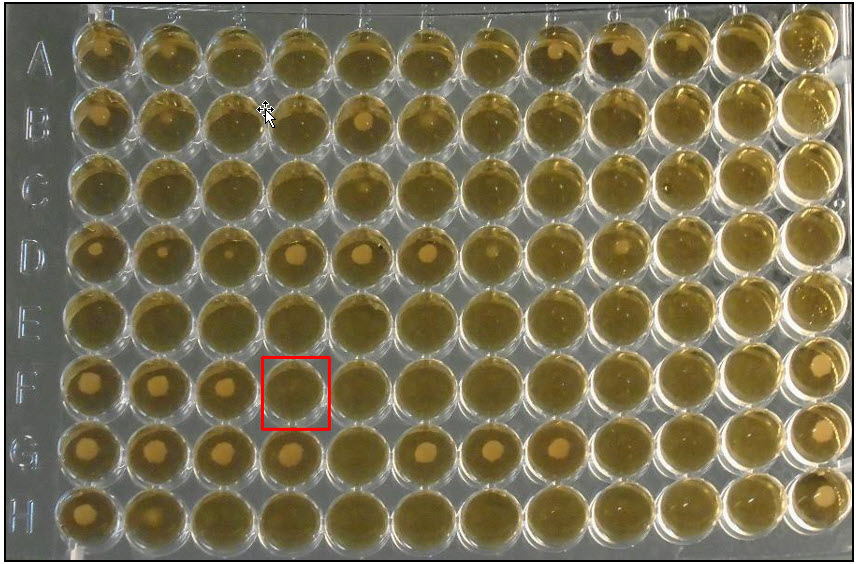 Figure 2.  Microbroth dilution plate demonstrating a series of wells containing "buttons" of bacteria growing in broth.  The first well in each row containing no growth (button) indicates the minimal inhibitory concentration for that particular antibiotic.  For example, red square in row F.