Felipe Reggeti, Kendra Katsoulis, Kristiina Ruotsalo, Dorothee Bienzle
Animal Health Laboratory, University of Guelph, Guelph, ON (Reggeti, Ruotsalo); Harwich Veterinary Clinic PC, Blenheim, ON (Katsoulis); Department of Pathobiology, University of Guelph, Guelph, ON (Bienzle)
AHL Newsletter 2021;25(4):22.
An 18-year-old Clydesdale female horse was examined for vague signs of colic.  The mare was agitated and painful during urination.  A complete blood count (CBC) revealed a mild neutropenia [1.78 x10e9/L (RI 2.8-7.7 x10e9/L)], mild regenerative left shift [bands: 0.59 x10e9/L (RI 0.0-0.2 x10e9/L)], moderate lymphocytosis [14.65 x10e9/L (RI 1.3-4.7 x10e9/L)] and mild to moderate monocytosis [2.57 x10e9/L (RI 0.1-0.8 x10e9/L)].  Upon examination of the blood smear, the lymphocytes were heterogeneous suggesting a reactive cell population, although the lymphocyte count was considered unusually elevated and monitoring was warranted.  The biochemistry profile revealed a mild to moderate hyperproteinemia due to hyperglobulinemia [53 g/L (RI 26-41 g/L)].  Urinalysis on a free flow sample showed 2-5 leukocytes/400x and 3+ bacteria; Escherichia coli, Enterococcus casseliflavus and Enterobacter cloacae were isolated on bacterial culture.  These findings, along with elevated serum amyloid A [765 mg/L (RI 0-20 mg/L)], indicated inflammation, antigenic stimulation and possible urinary tract infection (UTI).
A follow-up CBC showed a marked leukocytosis [60.5 x10e9/L (RI 5.1-11.0 x10e9/L)] due to marked lymphocytosis (41.75 x10e9/L) and marked monocytosis (13.92 x10e9/L).  The lymphocytes were variably sized, with basophilic cytoplasm and round to indented/lobulated to convoluted nuclei with coarsely clumped chromatic pattern and no visible nucleoli (Fig.1).  Some of the larger lymphoid cells were probably misidentified as monocytes.  These findings are consistent with leukemia, probably of lymphocytic origin (chronic lymphocytic leukemia vs. leukemic phase of lymphoma).
Since laboratory findings supported both inflammation and neoplasia, serum protein electrophoresis (SPE) was performed to characterize the hyperproteinemia.  A relative hypoalbuminemia [26 g/L (RI 30-37 g/L)] was noted.  The hyperglobulinemia was characterized by increased beta-2 globulins [29 g/L (RI 2-9 g/L)], outlined by a narrow-based peak, consistent with a monoclonal gammopathy (Fig.2).  These findings were consistent with an immunoglobulin-producing B-cell or plasma cell neoplasm.  To further investigate B-cell origin, immunophenotyping by flow cytometry (FC) was performed on EDTA blood.  This method identified a population of variably-sized cells that were moderately positive for CD18 and CD21, and uniformly positive for MHC II.  These findings are most consistent with a B-cell chronic lymphocytic leukemia (B-CLL).
An interesting feature noted in this case was the deep nuclear indentation and convolution of the neoplastic cells, which is more commonly associated with T-cell neoplasms; however, SPE and FC were confirmatory for B-cell origin.  Also, the paraproteins resulting in a monoclonal peak migrated in the beta-2 region, suggesting an IgM or IgA gammopathy, although immunoglobulin isotype characterization was not attempted.
Clinical signs improved after treatment with TMS and enrofloxacin for the presumptive UTI, and owners considered chemotherapy for the leukemia.  However, the mare lost a significant amount of weight, clinical signs recurred, and the owners elected humane euthanasia.  Chronic lymphocytic leukemias have been infrequently reported in horses (1,2), and information on clinical outcome is sparse.  Chemotherapy with prednisolone-chlorambucil was attempted in one horse with B-CLL; however, due to inadequate response to treatment and poor prognosis, the animal was euthanized 6 weeks after initial presentation (2).  Differentiation between lymphocytic leukemia and stage-V-lymphoma can be challenging or impossible. In the case reported here, clinical presentation (lack of lymphadenopathy) and cytological and immunophenotypic features of the neoplastic lymphocytes strongly suggested B-CLL; however, primary lymphoma (e.g. GI tract) with secondary bone marrow/blood involvement could not be entirely excluded.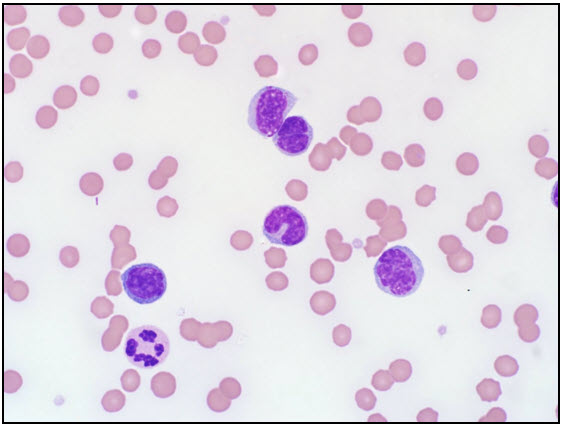 Figure 1: Blood smear examination. There is a population of atypical lymphocytes with frequent nuclear indentation. Wright's stain (400X).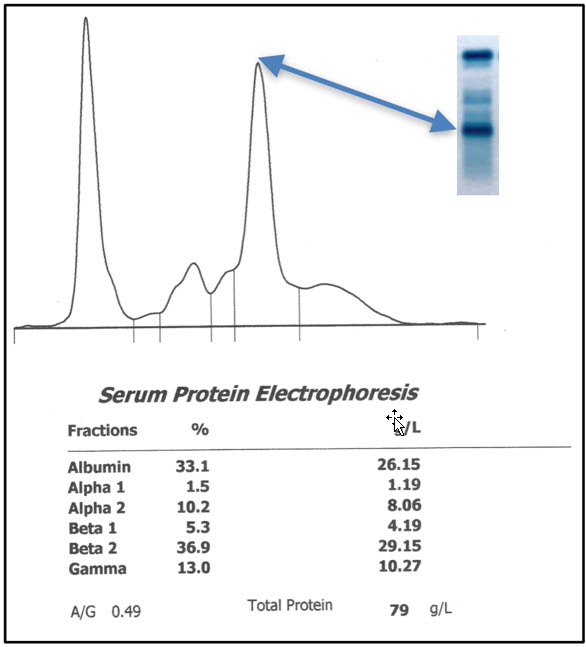 Figure 2: Serum protein electrophoresis. The discrete band noted on the cellulose acetate strip (insert) is represented by a narrow-based peak in the beta-2 globulin region of the densitogram, consistent with a monoclonal gammopathy.
References
1. Cian F, et al. Leukemic small cell lymphoma or chronic lymphocytic leukemia in a horse. Vet Clin Pathol 2013;42(3):301-306.
2. Long AE, et al. Rapid progression of B-cell chronic lymphocytic leukemia in a horse. J Am Vet Med Assoc 2019;255(6):716-721.