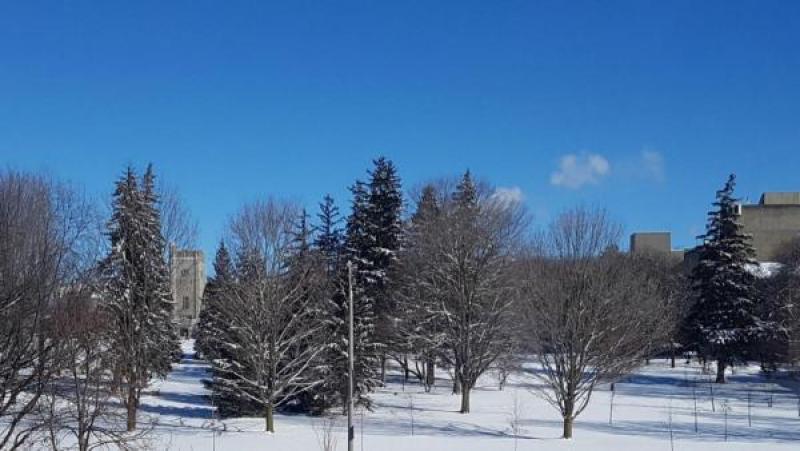 The view from the Director's office
The recent COVID-19 Omicron wave certainly caused some challenges in lab operations during January and February.  In some ways, this spike was the most difficult to manage due to the rise in post-holiday infections, the marked communicability of this particular variant, and the isolation requirements for families.  Although some lab sections were short-staffed for brief periods, we were able to maintain satisfactory turnaround times.  We thank our clients for their patience and understanding during this time. 
Our recent focus has been on preparing the lab for a possible outbreak of highly pathogenic (now called notifiable) avian influenza.  H5N1 influenza has been circulating in Europe and other countries for several years and is spread predominantly by wild waterfowl.  This infection causes high mortality in poultry, and outbreaks are therefore subject to OIE notification, quarantine and eradication.  In December 2021, H5N1 was diagnosed in wild birds in both Canada and the USA, and is now infecting commercial poultry and backyard flocks in both countries.  It is theorized that infected birds from Europe reached North America and are now traveling the Atlantic flyway: https://www.biorxiv.org/content/10.1101/2022.01.13.476155v1 [1].  As a member of CAHSN (Canadian Animal Health Surveillance Network), AHL supports the CFIA response by testing negative flocks for movement through the control zones. 
This issue of the AHL newsletter contains the second section of our antibiotic sensitivity LabNote 64 that describes how antibiotic sensitivities are performed at the lab, and how results should be interpreted to support prudent use of this class of antimicrobial drugs.  This is also the annual issue in which we provide a summary of zoonotic pathogen test results, and a comprehensive list of new lab tests and test panels developed over the past year. 
We hope that the arrival of spring will accompany the return of a more normal life than we have experienced over the past two years.  We wish you all good health and renewed optimism.
Maria Spinato, Director
Animal Health Laboratory, University of Guelph, Guelph, ON.