Andrew Brooks
Animal Health Laboratory, University of Guelph, ON
AHL Newsletter 2020;24(1):6-7.
This winter, the AHL and the Ontario Animal Health Network (OAHN) received multiple reports of increased rates of respiratory disease in cattle, including outbreaks of pneumonia in lactating dairy cattle. The OAHN Bovine Network will summarize a recent survey of bovine practitioners about the problem in its next quarterly report in March 2020. This article summarizes the frequency of detection of viruses associated with bovine respiratory disease (BRD) at the AHL from Jan. 2017 to Jan. 2020.
Bovine respiratory syncytial virus (BRSV) was the most commonly detected virus. Bovine coronavirus (BCoV), bovine herpesvirus-1 (BoHV-1) and bovine parainfluenza virus-3 (BPIV-3) were detected sporadically. The frequencies of BRSV, BCoV, BoHV-1, and BPIV-3 detected by PCR are summarized in Fig 1.
Peak detection of BRSV occurs in the winter months. From Oct. 2019 to Jan. 2020, the proportion of positive BRSV PCR results increased to 33%, compared to 24% positive in 2018/19 and 15% positive in 2017/18. Approximately the same number of BRSV PCR tests were performed during this same 4 month period in all 3 winters.
BRSV is an important cause of pneumonia in calves and adult cattle. Acute herd outbreaks are often associated with high morbidity. Mortality rates may vary depending on the severity of co-infections with other pathogens such as Mannheimia haemolytica. In uncomplicated BRSV pneumonia, the lesions typically have a cranioventral distribution and the affected lung tissue is red, depressed, and firm. Histologically there is bronchointerstitial pneumonia with syncytial cells, and viral inclusion bodies may be visible depending on the stage of infection (Fig. 2). Concurrent bacterial infection may result in severe fibrinous bronchopneumonia. 
Although clinical signs and lesions may suggest BRSV infection, further laboratory testing is often required to confirm the diagnosis. BRSV can be detected by PCR performed on nasopharyngeal swabs (in virus transport medium) or fresh lung tissue. Note that BRSV is included in the bovine respiratory virus panel PCR test along with BoHV-1 and BPIV-3. BRSV antigen can be detected in formalin-fixed tissues by immunohistochemistry (Fig. 3). To detect seroconversion to BRSV, submit paired sera for the virus neutralization test.  Please refer to the AHL User's Guide and AHL website https://www.uoguelph.ca/ahl/diagnostic-plans/diagnostic-plans-bovine [1] for more information pertaining to sample and test selection.  AHL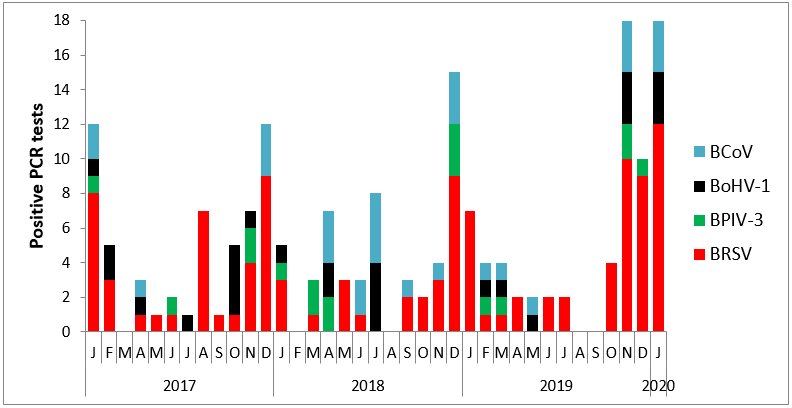 Figure 2. Bronchointerstitial pneumonia in a calf due to BRSV. Note syncytial cells with intracytoplasmic inclusion bodies (arrows).
Figure 3. Detection of BRSV in formalin-fixed tissue by immunohistochemistry. Note BRSV (brown chromogen, arrows) within the inflamed bronchiole.
Reference
1. Peek SF, Ollivett TL, Divers TJ.  Respiratory diseases. In: Rebhun's Diseases of Dairy Cattle, 3rd ed. Peek SF and Divers TJ, eds. Elsevier, 2018:124-128.