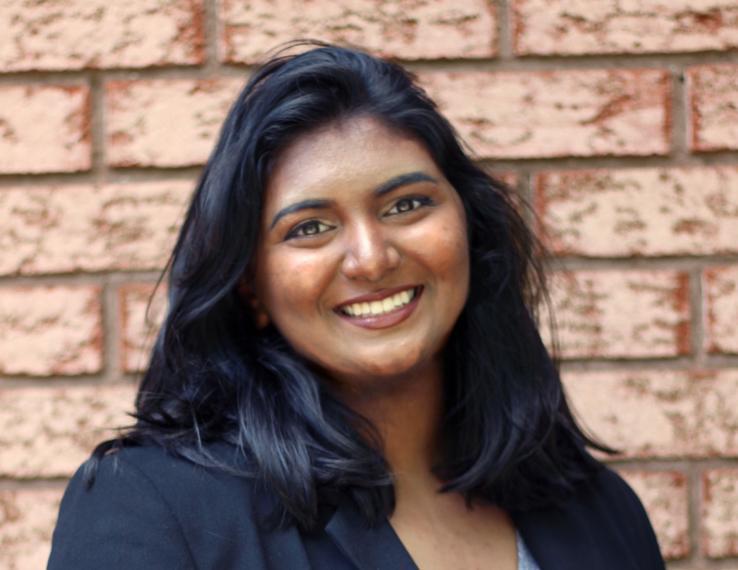 Vinuli De Silva has a long history with U of G, and is now in mathematical sciences with an area of emphasis in computer science.
Many students report a special connection to the University once they step onto its picturesque campus or connect with its inviting community of faculty, staff and fellow students. For third-year mathematical science student Vinuli De Silva, that feeling was even more tangible.
"I spent a large portion of my childhood in Guelph and on campus. My aunt and uncle were both students here and lived in West Residence. As a kid, I would spend my weekends riding my bike around Branion Plaza and learning how to do cartwheels on Johnston Green."
A visit to campus when considering options for her postsecondary education renewed De Silva's affinity to the University.
"I always loved the community here at the University of Guelph. Seeing the diverse and welcoming atmosphere when I visited campus during my grade 12 year only reaffirmed that Guelph was the school for me."
De Silva has always had a natural curiosity and love for learning. Growing up, she was drawn to both the sciences—because there were always ample opportunities for discovery—and the arts, because she could express herself and be creative. While she focused on arts in high school, her interest in the sciences ultimately pulled her in a different direction for university.
"There are so many different topics that interest me," says De Silva. "I specifically like mathematics and statistics because the patterns and concepts are so interesting to me. I can also use my statistics knowledge and apply it to all my favourite subjects and fields!"
De Silva enjoyed the flexibility of having an area of emphasis, for which she chose Computer Science. Her favourite course so far has been CIS*2430: Object Oriented Programming, where she learned the programming language "Java"—her new favourite language—and was able to blend her interest in coding and design for a final project.
De Silva has also taken an active role in student life and leadership. Currently Vice-President, Communications of the CEPS Student Council (CEPSSC), she helps foster connections and bring the student community together. She is also a general member of several CEPS-connected clubs, including Women in Science and Engineering (WiSE), Guelph Women in Computer Science (GWiCS) and the Math & Stats Club.
"As a member of CEPSSC, I am so grateful to be able to contribute to the University of Guelph community," says De Silva. "I hope that the events, activities and resources we provide will ensure that students receive a university experience that is as close to normal as possible during COVID-19."
Although she is not set on her path after graduation, De Silva is interested in pursuing topics in data science and analytics, computational biology, and software development.
This article was originally published in the CEPS 2019–20 annual report: Big Picture [1].