2011 - January - December
DEC 15: Professor Marion Joppe Publishes in JCRT
The Journal of China Tourism Research (JCRT) has published a special issue on "Mainland China's Outbound Tourism", including Dr. Marion Joppe's submission, "Chinese Perceptions of Seven Long-Haul Holiday Destinations:  Focusing on Activities, Knowledge, and Interest".
Link [1]

DEC 12: Add period for Winter Semester 2012 begins today! 

DEC 8: Notable Awards Organized by HTM Grad
Julian Brass, an HTM 2006 graduate, organized the inaugural Notable Awards in Toronto which celebrated Canada's top young professionals.
See Story.  [2]
2011 Notable Awards Video [3]

DEC 6: Meridian Reservations Systems Wins TIAC Award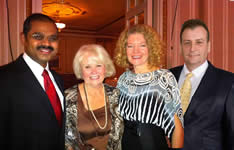 The School's partner "Meridian Reservations Systems" has won a TIAC 2011 Canadian Tourism Award, "The Hilton Small Business of the Year Award". HTM's research has supported the work of Meridian Reservation Systems to develop an innovative dashboard for destination management organizations, featuring top-level analysis of central reservation data. TIAC showcased the dashboard at TIAC on Nov. 23rd, the system is used in the HTM*3080 class. Professor Statia Elliot attended the gala and Professor Marion Joppe was one of the judges. 
Story Link [4]
NOV 29: Professor Trent Tucker Featured in At Guelph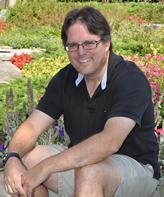 Prof. Trent Tucker has an unusual way of starting each class: he plays reggae music, which might make his students think they're learning music theory instead of introductory business. "It kind of puts me in the mood to teach," says Tucker, explaining his choice of music. See Entire At Guelph Article [5]

NOV 28: What's Cooking in the Archives? 

Professor Tanya MacLaurin quoted in the Toronto Star after the "What's Cooking in the Archives" event held last week in the U of G Library.
See Article [6]
NOV 18: Young Hotelier Summit Competition in Switzerland

Young Hotelier Summit is a competition in Lausanne, Switzerland for 4th-year hotel-focused students at the world's finest hospitality universities. If you are a 4th-year HTM student/hotelier interested in representing Guelph in Switzerland then we hope you apply to take part in this prestigious competition! The application process requires you email your resume and a one-page answer to the following question: "Why should you be chosen to represent Guelph at this hotel conference?" to Prof. Justin Taillon (taillon@uoguelph.ca [7]) by December 1st. Be creative with your answer! The competition takes place March 17-22, 2012. Your trip is partially subsidized, but there will be fundraising involved on the chosen students' part. Please do not hesitate to email or speak with Prof. Justin Taillon about this opportunity if you have any questions.
More [8]
NOV 15: PJ's Listed on OpenTable's "Most Booked Restaurants in Southern Ontario"

PJ's is also noted under the following categories:  "Best Food", "Best Ambiance", "Neighborhood Gem" and "Best Overall" in the top "10 Diners' Choice Winners"!!!
OpenTable [9] 

NOV 15: PJ's Restaurant Goes Green

"In order to reduce waste, you have to know what's contributing to it".....
See Full Ontarion Story  [10]
NOV 14: Garden2Table Receives $10,000 from Hellmann's
Story by: Susan Bubak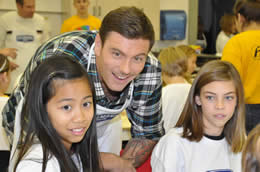 Food Network celebrity chef Chuck Hughes spent his day off at U of G's food lab, where he gave cooking lessons to a group of Grade 7 students from St. Ignatius of Loyola Catholic School. Host of Chuck's Day Off, Hughes showed off his culinary skills on Nov. 10 as part of U of G's Garden2Table, a student-led program that invites local school children to visit the on-campus organic garden, where they can pick fresh produce and learn how to cook in the food lab.
Garden2Table received a $10,000 Real Food Grant from Hellmann's, which awarded a total of $110,000 to 24 healthy food initiatives across Canada this year.
"The main focus is to get kids to cook," says Hughes. "It's a life skill that pays off dividends. Eating is so important. It brings us together."
Poor eating habits that start in childhood often continue into adulthood and can lead to health problems like cardiovascular disease, diabetes and obesity. That's why it's important for kids to learn how to prepare healthy meals.
Hughes's mother taught him how to cook. "She loved to cook real food," he says. "There was never anything frozen at our house."
Too busy to cook? That's no excuse, says Hughes, adding that it's just as easy to make a meal from scratch than heat up a frozen dinner.
Hellmann's Facebook  [11]
Guelph Tribune [12] 
Canada AM Video  [13]
Media - Newswire  [14]
Media - Toronto Sun [15]
NOV 14: HTM 2010 Grad, Justin Toth wins a PCMA Award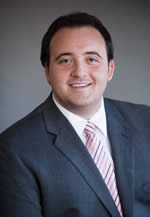 Justin Toth, Operations Associate, 2015 Pan American and Parapan American Games, is this year's winner of PCMA's new "Emerging Leader Award". This award honours a member who has demonstrated extraordinary service and leadership early in their career. Justin demonstrated superior leadership since he accepted his position with the 2015 Pan Am/Parapan Games, a very important role as Toronto moves to impress the rest of the world with these events. Justin has worked with the PCMA Canada East Chapter Committees and currently serves as Director of Student Affairs on the Chapter Board of Directors. Congratulations from HTM…so proud!
PCMA [16]
NOV 11: What's Cooking in the Archives?

OPEN/FREE EVENT:  "What's Cooking in the Archives?"  is designed to raise awareness about the University Library's fabulous culinary collection made up of over 13,000 cookbooks and archival materials.  The chefs from Borealis will be cooking up some dishes to allow students and faculty to get a taste of the collection
LOCATION:  U of G Library
DATE:  Wednesday, November 16th
TIME:  2:00 – 3:00 p.m.
NOV 10: Celebrity Chef Chuck Hughes in HTM TODAY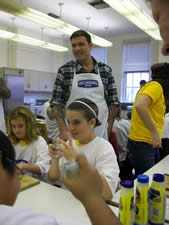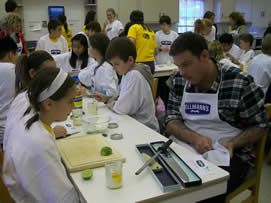 This morning, twenty-six Grade 7 children from St. Ignatius of Loyola School in Guelph attended the Apiary on campus to learn how bees are important in growing gardens and how honey is made. After the Apiary, it was off to our kitchen lab to cook with Celebrity Chef Chuck Hughes (Winner of Iron Chef America, Host of "Chuck's Day Off"), and the Hellmann's crew, learning about "Real Food" (Hellmann's real food movement) as well as cooking with honey. Chuck demonstrated some of his famous recipes, and after cooking, everyone was able to enjoy their finished products. 
Garden2Table [17]
Chuck Hughes 
Photos on HTM Facebook  [18]
NOV 10: Oliver & Bonacini Interviews

Oliver and Bonacini will have "open" interview sessions on Thursday, November 17th in MACS 243. Feel free to drop in anytime between 9:00 a.m. - 5:00 p.m. Dress for success! Interviews will be for summer positions at Windermere House; Front of the House Supervisors, Servers, Bartenders, Server Assistants, Sous Chefs, Line Cooks and Prep Cooks.
NOV 8: HTMSA T-Shirts for Sale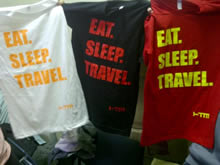 The new EAT SLEEP TRAVEL T-SHIRTS are here!! Stop by the HTMSA Office today (MINS 149) or tomorrow (MINS Facs lounge) to pick up an awesome looking t-shirt for just $20 or 2 for $35!
NOV 7: Think Pink Breast Cancer Fundraiser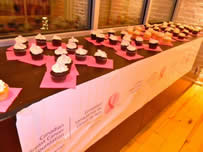 The HTMSA's 8th Annual Think Pink evening was a success! The HTM Community contributed almost $800 to the Canadian Breast Cancer Foundation. A great thank you goes out to everyone for their support and donations! Watch for details in 2012 regarding the HTM Canadian Cancer Society Relay For Life team, EAT. SLEEP. TRAVEL. FIGHT CANCER.
NOV 3: Head of the China Tourism Research Institute Visits HTM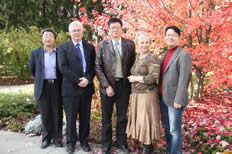 Prof Zheng Xiangmin, the Head of the Tourism Research Institute and the Tourism College at Huaqiao University in Fujian Province, China visited HTM on October 28th. Zheng (centered) is accompanied by Professors Hou, Godfrey, Joppe and Choi.

OCT 31: Certificate in Coaching for Leadership 
Earn a University of Guelph Certificate in Coaching for Leadership within one year.
Link [19]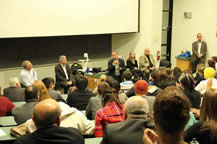 OCT 31: A Very Successful National Panel
The University of Guelph Sustainable Restaurant Project (UGSRP) hosted a very successful National Forum on Sustainability in Food Service on Wednesday evening. Panellists provided perspective on a variety of issues to an overflowing room.
Panellists [20]   
 
OCT 28: Professor Joan Flaherty in the Chronicle of Higher Education
I'll Mannered Students Can Wreck More Than Your Lecture.
Story [21]
OCT 28: Professor Justin Taillon to lecture at U of Waterloo
Professor Justin Taillon has been invited to lecture on Friday, October 28th, at the University of Waterloo's Department of Geography and Environmental Management. His presentation is entitled "Sustainability in Hotel Certification: Problems and Progress". Justin's experiences as a consultant and manager in hotels in urban areas, rural towns, and the Amazon lend themselves toward a fascinating discussion of the problems and progress sustainability has made in each level of the hotel industry in recent years.

OCT 25: UoG CAFP Student Chapter Meeting
The Toronto Branch invites you to learn more about environmental sustainability within our industry and experience Guelph's hospitality!
Tuesday, November 22nd
hosted by the the U of G's Guelph Student Branch
1388 Gordon Street, Guelph (Borealis Grillhouse & Pub) 
Details [22] 
OCT 24: Restaurants Need to Go Green
If you think you're doing your part for the environment by eating at a restaurant that serves local food, think again. How much water and energy did the restaurant use to prepare your meal?
atGuelph Story [23]
OCT 21: HAFA/HTM Networking Event
Thank you to all alumni and faculty that attended the networking event at the Toronto Board of Trade on Wednesday. The evening was a great success.
Photos [24]
OCT 17: HTM Faculty & Staff Lace Up Their Running Shoes
Get Ready...Get Set.... 2 HTM teams of 5 are participating in the U of G's 4th Annual Pedometer Challenge this week, including (Kerry, Brigid, Brenda, Carrie, Mike, Justin, Bruce, Val, Lisa and Tanya). Over 25 U of G teams have been formed competing for the most distance covered during the work week. GO HTM GO!!!!
OCT 11: CARA Operations Networking Evening
Tuesday, November 15th
6:00 p.m.
Milestone's Guelph
40 Tickets will be sold for the event. See Lisa Fodor, MACS 203 or ext. 56116.
Details [25] 
OCT 11: Advertisers Must Cater to Young Shoppers
Professors Joe Barth and Statia Elliot have discovered that young consumers will choose a bottle of wine with a flirtatious personality, rather than one that emphasises the reputation of the vineyard.
See Full 'atGuelph' Story [26]

OCT 6: Join the HFTP, a New Student Organization
HFTP (Hospitality Financial and Technology Professionals), a new student organization for students interested in working in the hospitality field, will hold its inaugural meeting on October 18th at 5:30pm in the FACS Lounge. Don't let "Financial" scare you away - this could be a great opportunity for those lacking a Finance background to gain resume-enhancing experience. There are even a few remaining Executive Committee positions available. Contact Prof. Justin Taillon directly if you are interested in serving on the board or being one of 10-12 members for HFTP's inaugural year on campus. You can gain leadership opportunities, free travel to conferences (such as Baltimore in May '12), and fantastic free networking events in Toronto where you will rub elbows with industry professionals simply by joining! 
Email Justin Taillon [7] 
OCT 5: Tickets on sale for student New York Trip
HTMSA is organizing a student trip to New York City from November 10 - 14, 2011. Tickets are on sale today and tomorrow from 11:00 a.m. - 2:00 p.m. in the FACS Lounge/MINS Building. 
Contact Info [27] 

OCT 5: HTM Keynote Speaker at Simcoe Conference
Professor Joe Barth will be giving the keynote address "Finding Opportunity in the Rural Urban Divide" at the Simcoe & District Chamber of Commerce Conference on October 18, 2011.
More Info. [28] 
OCT 5: Vista Hospitality V.P. on Campus - Oct. 25th
Alim Adatia, the V.P. of Hotel Development & Operations for Vista Hospitality, a North American hotel, retirement home, and land use management and ownership company based in Kitchener-Waterloo will be on campus on October 25th in MACS Room 205 from 7:00 - 8:30 p.m.. Any students interested in meeting him should contact Prof. Justin Taillon directly (taillon@uoguelph.ca [7]). The company is based locally, but they own and/or manage hotels and retirement homes throughout Canada and in South Beach and Miami, Florida and various locations in New York state including New York City, Syracuse, and Buffalo.
OCT 4: HTM United Way Draw Winners
Congratulations to the following winners, Ruth Lesins, Sandra Campbell, Alison Crerar, Kelly Beitz, Jane Hudson and Ken Smith who have all won a Chrysanthemum. Emma Lamb, PJ's Assistant Manager Intern drew the winning tickets. Thank you to everyone for supporting United Way.
OCT 4: Guest Speaker Gives Students a Tour of Parks Canada
In celebration of World Tourism Day, the School of Hospitality and Tourism welcomed Andrew Campbell, Director General, External Relations and Visitor Experience at Parks Canada, which celebrated its 100th anniversary as the oldest parks service in the world. Best known for its national parks, Parks Canada also maintains national historic sites and marine conservation areas.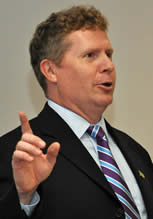 "We create this connection between the people of Canada and their treasured places," says Campbell, adding that Parks Canada strives to connect people in two ways: to their natural environment and to the places where historic events took place.
Recent conservation efforts by Parks Canada have included restoring trout to Morrissey Provincial Park in BC and bison to Grasslands National Park in Saskatchewan. Parks Canada also works with China to establish national parks there. "We're one of the signatory members of the World Heritage Convention, which helps with tourism and conservation around the world," says Campbell.
In 1980, the United Nations World Tourism Organization designated Sept. 27 as World Tourism Day to recognize the importance of tourism and its impact on the global economy.

OCT 4: HTMSA Supporting the Canadian Breast Cancer Foundation
HTMSA's Annual Event "Think Pink", a social evening in support of Breast Cancer will be held on:
Friday, October 21, 2011 
9:00 p.m. - 12:00 a.m.
Bikram Yoga Guelph
126 Woolwich Street
EVERYONE WELCOME!
Attend and show your support by wearing pink!
The lovely night will feature oh-so-smooth live jazz, alcoholic and non-alcoholic beverage by donation, delicious hors d'oeuvres, dessert from Wellington Cakes and of course, you, dressed to impress! Suggested donation of $5 at the door. 
Questions: Contact Michelle Chan at mchan03@uoguelph.ca [29]
OCT 3 : Oliver & Bonacini Restaurants Info Session
Open to all HTM Students. Please join O&B for their Windermere House Job Fair.
Monday, November 7, 2011
5:30 - 6:30 p.m.
MACS Room 121
Poster [30]  
Positions Available  [31]  

OCT 3 : Starwood Hotels & Resorts Info Session
Open to all HTM students. Please join Starwood to learn more about their Management Trainee Program and other opportunities.
Monday, October 17, 2011
5:30 - 6:30 p.m.
MACS Room 121
Poster [32] 
OCT. 1: Join us for a National Panel Discussion
HTM and the University of Guelph Sustainable Restaurant Project (UGSRP) present a National Panel Discussion on "Sustainability in Canadian Foodservice"
Wednesday, October 26, 2011
5:30 - 7:00 p.m.
Lifetime Learning Centre, OVC Room 1714 at the University of Guelph
Discussing Current & Future Issues of Sustainability, such as; Energy Conservation, Local Food, Foodservice Design and Certification.
Guest Speakers:
Janine Bolton, President, Leaders in Environmentally Accountable Foodservice (LEAF)
Bob Desautels, President, Neighbourhood Group of Companies 
Doug Feltmate, President, Designed Food Systems
Brad Long, Chef and Restauranteur, Cafe Belong at Evergreen Brick Works, and
Chris Roberts, Director of Corporate Citizenship, Sodexo Canada
See Poster [33] 
SEPT 30: Four Seasons Hotels & Resorts Info Session
Are you a 4th year HTM Student? Four Seasons will be presenting in Prof. Bruce McAdams' 4190 class on Tues. Nov. 1st from 8:30 - 9:30 a.m. and 10:00 - 11:00 a.m. in MACS 121. RSVP required. Please contact Bruce McAdams directly at bmcadams@uoguelph.ca [34] or ext. 56597. 
Poster  [35] 
SEPT 27: HTM United Way Fundraiser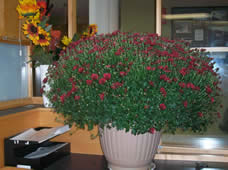 Win one of six enormous chrysanthemums (measuring approximately 30" across). Gorgeous! Tickets are $2 each or 3 for $5. Draw will take place on Mon. Oct. 3rd. The mums can be viewed in MACS 101 as well as the MACS foyer. Tickets can be purchased from Brigid (MACS 202, ext. 56117), Lisa (MACS 203, ext. 56116) or Brenda (MACS 101, ext. 53703).
SEPT 26: World Tourism Day
The School invites you to a celebration of World Tourism Day on Tuesday, September 27, 2011. Guest speaker, Andrew Campbell, Director General, External Relations & Visitor Experience from Parks Canada will present from 1:00 - 2:20 p.m. in J.D. MacLachlan Bldg, Room 102. A tree planting/plaque ceremony will follow at the School at 2:30 p.m.
Poster [36]   
Press Release  [37]
Event Photos [38]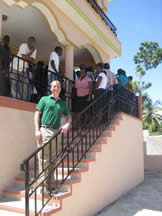 SEPT 23: HTM Alumnus in Haiti
Adam Fikis, an HTM graduate (BComm HAFA in 2002 and MBA in 2008) and a former sessional faculty member, left last Wednesday, September 14th to help with rebuilding Haiti's hospitality industry. He is part of a partnership between the Yele Haiti Foundation and the hospitality consulting firm HVS. The partnership was created by Derek Johnson, CEO of Yele and Parris Johnson, Managing Director of the HVS Caribbean office.
More Information [39]
SEPT 21: HAFA/HTM Alumni Association Fall Networking Event
Wednesday, October 19th, 2011
6:30 - 9:00 p.m.
Toronto Board of Trade 
Dress is business casual 
RSVP [40]   now to reserve your spot at this annual gathering of HAFA/HTM grads.
For more info, contact: Jacqueline Watty  [41]  
Connect with fellow graduates, industry, faculty and the Dean of CME 
SEPT 19: Carrie Herzog recognized amongst 100 Volunteers for Parks Canada's 100th Anniversary
As part of its centennial celebrations activities, Parks Canada is recognizing 100 volunteers who have contributed significantly to the achievement of the Agency's mandate by participating in volunteer activities at Parks Canada places. They will receive regional recognition and a laminated certificate signed by the Agency's CEO.
See Volunteer List [42]
Become a Volunteer [43]
SEPT 16: A Passion for Wine
HTM had the honour of having Angela Aiello speak in Professor Bruce McAdams 4th year Hospitality and Tourism Operations Planning class yesterday.  As Founder of iYellow Wine Group Inc., Angela comes from a family of entrepreneurs.  A true city girl with country roots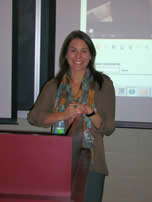 who has a passion for building wine confidence.
Angela manages iYellow Wine Group which has over 6500 members. She hosts regular events, conducts classes and arranges tours to allow members to congregate and learn about wine in a fun, friendly, open and casual atmosphere.
Angela has appeared in the press and on television, including, Steven and Chris, Cosmopolitan TV, Global Toronto, CBC Television and Canada AM.  She is an avid blogger and also writes for the Niagara Grapevine Magazine, Winefox.ca (part of the Toronto Star) and Sweethome.ca, amongst others.
Find her latest commercial (Sept. 2011) filmed with the LCBO to promote their goLocal campaign below. 
U-Tube Video [44]
SEPT 16: New HTM Professor Justin Taillon Values Real-World Experience
Justin was eating a banana in the TRC Hotel, an eco-lodge near the Amazon River in Peru when a large macaw flew in......
See Story [45]

SEPT 16: PJ's Restaurant Fall Opening
PJ's will be open for lunch regularly, Monday - Friday, starting on Thursday, September 29th! Book your reservation soon.
PJ'S [46]
SEPT 14: MPI Meeting Scheduled
The first Meeting Professional International (MPI) meeting will take place on September 22nd at 5:30pm in the MINS Student Lounge. If you're interested in networking with high-ranking hospitality industry professionals around the world at conferences and local events then we urge you to join us for an informational session. MPI is one of the world's most established resume-boosting professional networks with more than 25,000 members worldwide. Give your resume a boost by joining now and getting a leg up on the job market! (P.S. Everyone is invited, no matter your year or major).
SEPT 14: Exchange Agreement Signed
We are pleased to announce that an exchange agreement between the University of Guelph and the Universidad de San Andres has been signed. This paves the way for student and faculty exchanges, study abroad courses and collaborative research with the Universidad de San Andres in Buenos Aires.
www.udesa.edu.ar/ [47]  The Universidad de San Andres is one of the top-ranked Universities in South America.  UdeSA offers programs in business and economics, education, sociology, law, mathematics and the humanities. It boasts modern facilities in both the Victoria and Downtown campus.  The Department of Business and Administration offers an undergraduate and MBA program.  UdeSA faculty are highly qualified and among the best in Latin America.
www.udesa.edu.ar/Sobre-San-Andres/cuerpo-docente [48]
Recent faculty sabbaticals (Joe Barth 2010; Stephen Lynch 2011-12), Administrator visits (John Walsh, Kris Inwood, 2010), Directorial visits (Sebastian Garcia-Dustugue, 2010, Gustavo Murmis, 2011) have established a good relationship between CME and UdeSA.  A study abroad course (Guelph Humber University) is being planned for May 2012.

Students, faculty and administrators interested in participating in this relationship may contact Joe Barth or Kris Inwood for further information.  While Spanish language skills are helpful, approximately 25% of courses are taught in English, and most business faculty are bilingual.
SEPT 14: Great Volunteer Opportunity in Food Service for Community Event
The Guelph Community Health Centre is hosting a Downtown 5K run on September 24th and they need volunteers to help prepare food for the event.  Orientation is provided and all you need to do is fill out the volunteer form below and send to kmann@guelphchc.ca [49].
Poster [50]  
Volunteer Agreement [51] 
SEPT 13: Professor on Radio-Canada
Professor Marion Joppe who holds a Research Chair in Tourism was on Radio-Canada radio and television programs on Friday talking about the destination marketing fee in the Niagara Falls area.
SEPT 12: HTM Grad Gives Welcome Speech
Jody Chrobak, HAFA 2006, gave the alumni welcome at the President's 'Welcome for the new students' last Wednesday afternoon.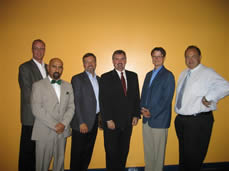 SEPT 12: HTM represented at "Future of Food"
"Future of Food", a panel discussion held at George Brown College included the following presenters, HTM Professors, Bruce McAdams (Topic: "The Sustainable Restaurant: from Theory to Practice", Mike Von Massow (Topic: "The Value in Value Chains and the Granulation of Local Food Demand") and CME Associate Dean, Academic, Sylvain Charlebois (Topic: "Outlook 2035: The Future of Agriculture").
SEPT 8: Fairmont Hotels & Resorts Information Session
Tuesday, September 27, 2011
5:30 - 6:30 p.m.
Rozanski Hall Room 103
Register Here [52]
SEPT 8: World Tourism Day
The School invites you to a celebration of World Tourism Day on Tuesday, September 27, 2011. Guest speaker, Andrew Campbell, Director General, External Relations & Visitor Experience from Parks Canada will present from 1:00 - 2:20 p.m. in J.D. MacLachlan Bldg, Room 102. A tree planting/plaque ceremony will follow at the School at 2:30 p.m.
Poster [36]   
Press Release [37]
SEPT 7: Guest Speaker Angela Aiello
On Thursday, September 15th, Angela Aiello from IYellow Wine Group will be presenting in HTM 4190's class. Angela is a brilliant young entrepreneur who has utilized social media to create a wine education empire. She has recently been recognized as a Top 40 under 40.
See Bio [53]
SEPT 7: New Student Orientation
HTM faculty, staff and current students welcomed new students to a informational fun-filled day in Rockwood yesterday afternoon. 
Facebook Photos [18]
SEPT 7: Two HTM Students Receive NEWH Toronto Scholarships
Congratulations to Alex Marconi and Liat Weiss! They have been selected to receive NEWH Toronto's Hospitality Scholarship Awards for 2011 and will be recognized at a special presentation in Toronto on September 22nd.
AUG 18: Published Tourism Article
Dr. Marion Joppe has released a top tier journal article in tourism entitled,"Migrant Workers: Challenges And Opportunities In Addressing Tourism Labour Shortages". 
Article [54]
AUG 3: Joe Barth featured in Ontario Restaurant News 
See Full Story on "Managing Wine Lists"  [55]  

AUG 3: Study Abroad to Austria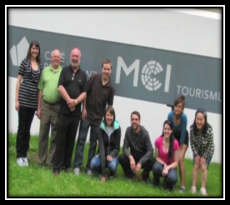 HTM Professor Joe Barth and John Walsh (a former Director of HTM), taught a course entitled "Entrepreneurship in Tourism Destinations" in Innsbruck, Austria.  Six study abroad students from Guelph-Humber University joined the class of approximately 60 other international students at Management Centre Innsbruck, with whom HTM has an exchange agreement.

AUG 2: New Faculty
The School officially welcomes two new faculty members, Justin Taillon who will be teaching HTM 3060 - Lodging Management and Trent Tucker teaching MGMT 1000 - Introduction to Business.
JULY 27: CME Supports Food Day Canada
What are you going to eat on July 30? Whether it's salmon from British Columbia or potatoes from Prince Edward Island, Food Day Canada founder Anita Stewart wants you to eat food that was grown, produced or raised in Canada.
Poster [56] 
JULY 19: First Impressions Count for Managers
Professor Jamie Gruman and U of T colleague share some practices that they say are most likely to make new employees highly engaged with their organization.
See Globe and Mail Story [57]
JULY 14: How do Dietitians Perceive Their Roles in Food Safety?
The Canadian Foundation for Dietetic Research (CFDR) has approved eight research grants. One of these grants, will focus on "How Dietitians Perceive their Roles in Food Safety". The research team consists of Dr. Judy Sheeshka, Mary Dick and HTM's Dr. Tanya MacLaurin.
See Announcement [58]
JULY 12: The University of Guelph Sustainable Restaurant Project is featured in "The Natural Step"
Project leaders, Bruce McAdams, Simon Day and Lauren Zimbalatti attend the "Sustainability for Leaders Course". Lauren also shares her experience and thoughts in her blog "Passion for the Project". 
Article in "The Natural Step"  [59]
JULY 11: Do You Work in a Restaurant?
HTM Professors and Researchers, Bruce McAdams and Mike von Massow are studying work relationships between Restaurant Front and Back of House and the Implications for Service Delivery. Please take part in this short survey. Results will be available for your time. Many thanks!
Survey [60]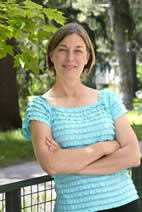 JULY 6: Professor Tanya MacLaurin's Article Accepted for Publication Today
"Who is Telling Pregnant Women About Listeriosis?" The article (Dick, M.A. and MacLaurin, T. L.) will be published in the Canadian Journal of Public Health. Congrats!
JUNE 24: Professor's Visit to German Flour Mill will be Shared with Students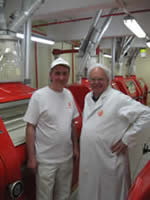 Professor J.E. (Joe) Barth recently visited Hildebrandmuehlen in Mannheim, Germany.  Hildebrand is a large flour mill capable of transforming over 160,000 tons of wheat (primarily from Canada) into a variety of products for the baking, pasta, chemical and pharmaceutical industry each year.  Often taken for granted, modern flour milling is a highly technical process, and extensive monitoring ensures that the end products are safe from Aflatoxin (a powerful, naturally occurring carcinogenic substance), insect eggs, rodent hair, droppings, metal filings, etc... all of which are found in the grain it receives.  Joe will use the materials and photos obtained during the visit in his Operations management, supply chain and food safety lectures.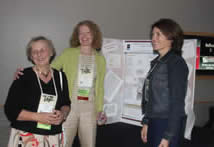 JUNE 23: TTRA Conference
Members of the Travel & Tourism Research Association (TTRA) Board of Directors Statia Elliot (Canadian Chapter) and Marion Joppe (International) represented HTM at the association conference in London, Ontario this week. Over 300 tourism academic and industry delegates from 24 countries attended the 3-day event, which also featured the first TTRA International Student Symposium, proudly sponsored by HTM.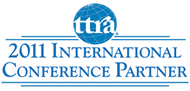 JUNE 23: Professor Teaches in a Study Abroad Course in Austria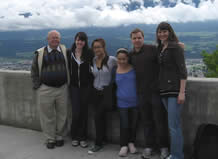 Professor J.E. (Joe) Barth recently returned from a study abroad course taught by himself and John Walsh at Management Centre Innsbruck, in Austria.  The program featured a combined class of 60 students from Canada, Austria, Germany, Italy, Spain, Russia and the Phillipines.  It was an extraordinary opportunity to learn, share experiences and make new friends.  In addition, the Canadian students travelled to Neuschwanstein (King Ludwig's castle), the Riedel Glass factory, Swarovski's Krystallen Welt and other world-class tourism destinations.
JUNE 21: Should Restaurants Stop Serving Food Baskets? Bruce McAdams shares his research in the Globe and Mail.
Bruce reveals that 25 to 35 per cent on average of bread served in restaurants is wasted.
Read More [61]
JUNE 20: The University of Guelph Sustainable Restaurant Project Blog Officially Launched
The project began in May of 2011 with the hopes of achieving three goals. 
The first goal is to incorporate more 'sustainability' focused curriculum at 
the University of Guelph's School of Hospitality and Tourism Management 
(HTM).  The second goal is to take steps to move our student-run restaurant 
PJ's towards a more environmentally sustainable model.  Our last goal will 
be an ever evolving one as our project team and students look to connect 
with, and become part of other projects that involve restaurants and 
sustainability.
Bruce McAdams, Simon Day and Lauren Zimbalatti are the initial project team 
and will be working and collaborating with others throughout the course of 
the project.
SUSTAINABLE RESTAURANT PROJECT BLOG [62]
JUNE 16: Professor Gruman's Latest Published Article
Jamie Gruman and his U of T colleague Alan Saks have published an article entitled "Manage Employee Engagement to Manage Performance" in the latest edition of the journal "Industrial and Organizational Psychology: Perspectives on Science and Practice." The article discusses how performance management practices in organizations can be enhanced by focusing on fostering employee engagement.
JUNE 16: Professor Gruman's Latest Published Article
Jamie Gruman and his U of T colleague Alan Saks have published an article entitled "Manage Employee Engagement to Manage Performance" in the latest edition of the journal "Industrial and Organizational Psychology: Perspectives on Science and Practice." The article discusses how performance management practices in organizations can be enhanced by focusing on fostering employee engagement.

JUNE 15: Summer 2011 Convocation
On Tuesday, June 14th, 116 HTM students graduated at War Memorial Hall. The Convocation Address was given by Honorary Degree Recipient, Anita Stewart. 
More photos on HTM Facebook. [18]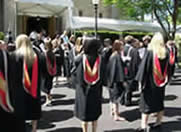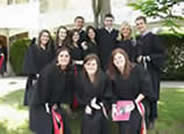 JUNE 8: Honorary Degree Recipient, Anita Stewart to Deliver Convocation Address
Anita Stewart is an expert on Canada's food life. She has published 14 books on culinary traditions, ingredients and cooks from coast to coast. She consults for Agriculture and Agri-Food Canada; the Canadian Tourism Commission; the University of Guelph, including the Ontario Agricultural College; the Ontario Ministry of Agriculture, Food and Rural Affairs; and the Ontario Ministry of Tourism. She was the lead author of Ontario's culinary tourism strategy and has written for most major Canadian publications.

JUNE 7: GCUOF and Garden 2 Table Hosting St. Ignatius Elementary School
The Guelph Center for Urban Organic Farming (GCUOF) and HTM's Garden 2 Table initiative have teamed up to host a Grade 7 class from St. Ignatius Elementary School in Guelph. Students along with volunteers from the University's HTM and Agriculture programs have started on the much needed weeding, and planting in the organic garden. Garden 2 Table is a program that helps teach and inform children about healthy and sustainable eating choices, through hands on experience in our local garden, as well as cooking and tasting what they have grown! 
More [63]
JUNE 1: Marion Joppe and Colleagues Receive OMAFRA Grant
The HTM Tourism Research Collaborative, led by Marion Joppe, has received a $122,500 grant from the Ontario Ministry of Agriculture, Food and Rural Affairs to study innovative best practices that will foster place-based tourism development in Ontario's rural communities. The researchers will create a framework for development that aligns with the resource strengths of rural Ontario - food tourism, festivals and events, nature-based attractions and more.

MAY 30: Professor Cathy Ralston Retires 
From everyone in HTM, thank you Cathy for your contributions to the School over the past 28 years. Wishing you the very best in your retirement years.
See photos of the May 26th retirement celebration. [64]  

MAY 27: Professor Jamie Gruman's Upcoming Research Presentations/Discussions 
Professor Jamie Gruman will be presenting some of his current research on "organizational socialization and psychological capital" at the annual meeting of the Canadian Psychological Association in Toronto next week. Later this summer, he will be speaking at the Administrative Sciences Association of Canada conference discussing two of his papers: one on "Socialization Preferences of Organizational Newcomers" and another on "Applied Learning and the Development of Psychological Capital Among Undergraduate Business Students."

MAY 26: You can now follow HTM on Facebook.
'Like' Us [18]
MAY 25: HTM Students featured in "Canadian Lodging News"
David Humphrey, Vanessa Graves, Jordan Minaar and Derek Beirnes appear in the May 2011 issue of "Canadian Lodging News" after attending the Young Hoteliers Summit in Switzerland.
Full Story [65]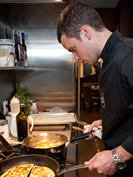 MAY 20: "He's Got a Flair for Food"
'The Portico' features HTM 2007 Alumnus, Adrian Niman who owns his own catering company called "The Food Dudes" in Toronto.
Full story. [66] 
The Food Dudes Website  [67]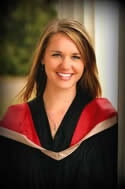 MAY 19: HTM Student Receives the B.Comm Leadership Prize 
Katie Depooter (HTM 2011 graduate) has been selected to receive the B.Comm Leadership Prize for her contribution to the B.Comm program through extracurricular leadership activity and academic achievement. She will be presented with a plaque and certificate on June 14th at the luncheon prior to the 2:00 pm convocation ceremony. Congratulations Katie!

MAY 19: HTM/HAFA Annual Golf Tournament
Despite the cold and rainy weather, Alumni had a great time at the Annual Golf Tournament, which took place on Monday, May 16th at the Blue Springs Golf Club in Acton.
 
MAY 18: Visiting Director from Universidad de San Andres 
Yesterday, Gustavo Murmis, Director of the MBA Program at Universidad de San Andres visited the School of Hospitality & Tourism Management.  Universidad de San Andres is home to one of the top-ranked MBA's in Latin America. Professor Joe Barth first established the relationship with Universidad de San Andres during his sabbatical. During that time, visits by Department of Business Chair Sebastian Garcia-Dastugue (UdeSA), John Walsh, Vice Provost, University of Guelph-Humber and Professor Kris Inwood, Economics have continued to build a promising relationship between the two institutions.
MAY 18: Professor Statia Elliot Speaks at the 2011 TEFI World Congress 
On Saturday, May 21, 2011, Professor Statia Elliot will speak at the 2011 Tourism Education Futures Institute (TEFI) World Congress in Philadelphia, PA.  Statia will be co-presenting with an industry partner, John Pinter, CEO 
of Meridian Reservation Systems on "CATALYSTS TO UNIVERSITY-INDUSTRY PARTNERSHIPS".

MAY 17: 50th Anniversary Celebrations with Four Seasons Hotels and Resorts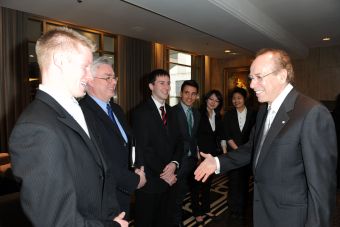 Dr. Kerry Godfrey, along with five HTM students, Cameron Kilner, Matt Jenkins, Alex Marconi, Ksenia Em and Jie Liu had the opportunity to meet Isadore Sharp, Founder and Chairman of Four Seasons Hotels and Resorts at their 50th Anniversary celebrations on Monday, March 21st.
Four Seasons 50th Anniversary Celebrations [68]
MAY 17: Professor Joe Barth Develops a Better Way to Manage Wine Inventories 
The recent economic recession hit consumers where we wine and dine, especially where we wine. Expensive bottles were suddenly going nowhere. "Restaurant managers found themselves with huge inventories that were costing them money," says Prof. Joe Barth. 
Full Story [69]
MAY 13: Fulbright Scholar Lecture
Bradford Hudson discusses Fairmont's Marketing of History during his May 12th lecture in the School.
 
MAY 12: Professor Cathy Ralston Retires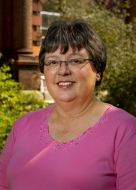 On June 1, 2011, Cathy will have contributed 28 years of service to the School. Congratulations!
We invite you to attend a celebration on:
Thursday, May 26, 2011
PJ's Restaurant in the Atrium (Macdonald Stewart Hall)
4:00 - 7:00 p.m.
Please RSVP by Thursday, May 19, 2011
519-824-4120, Ext. 53703 or by email: Brenda Kupferschmidt [70] 

MAY 11: Professor Marion Joppe, serves on the TTRA 
Marion has been elected to serve a 3-year term, ending June 2014, on the Travel and Tourism Research Association (TTRA) International Board of Directors. The TTRA seeks to improve the travel and tourism industry through education, publications and networking activities.  
Marion's Profile [71]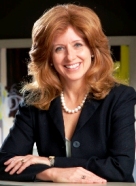 MAY 9: CME Dean awarded a "Woman of Distinction" 
Dean Julia Christensen Hughes was named a 2011 Woman of Distinction at the gala ceremony at the River Run Centre on Thursday night. Julia was honoured in the Education and Training category.
Full Story [72]
MAY 9: CAFP Student Chapter President Awarded
HTM Student, Brianna Barraco has been awarded a National Bursary. She will be attending the Canadian Association of Foodservice Professionals (CAFP) National Conference in Montreal, where she will receive her award. Brianna is President of the CAFP student branch representing the University of Guelph.
MAY 4: Former HTM Grad in the News
Michael Stauffer, a 2005 HAFA BComm alumnus appears on "TOP CHEF CANADA". He is currently top chef at Celli's restaurant in downtown Ancaster. Congratulations Michael! 
Full Story [73]
APR. 28: Professor Bruce McAdams: One of Six Recipients to Receive Support from the UofG's Learning Enhancement Fund
The six projects are aimed at strengthening undergraduate engagement and academic success.  Bruce will receive $15,000 to use HTM's student-run PJ's restaurant as a vehicle for student learning and research in sustainability.
Full Story  [74]
APR. 26: Presentation by Fulbright Visiting Research Chair Bradford Hudson 
Thursday, May 12 , 2011
MACS Room 129 
HTM's visiting professor Bradford Hudson will discuss his ongoing research about the iconic Canadian chateau hotels built by Canadian Pacific and now operated by Fairmont. This presentation is a sequel to his earlier lecture on the concept of brand heritage and its application at the historic Cunard cruise line.   Brad is the Fulbright Visiting Research Chair while on sabbatical from Boston University. His specialty is heritage marketing, which involves historical references in current marketing by older companies.
APR. 18: Alex Marconi, an HTM student awarded an Attractions Ontario Scholarship
Each year Attractions Ontario awards $1,000 scholarships to second or third year students in post-secondary tourism programs at Ontario colleges or universities. Congratulations Alex!
APR. 18: HTM Student Magazine "The Hornblower" launches the 2011 edition 
The Hornblower team is happy to announce that the 2011 magazine can now be viewed online! http://www.uoguelph.ca/hornblower/2011/ [75]Thank you to the 2011 Hornblower Team (Katie Buchanan - Ksenia Em - Laura Milton - Gillian Sanger) for an amazing job! 
APR. 5: Young Hoteliers Summit Presentation to be held on Apr. 7

HTM Students, David Humphrey, Vanessa Graves, Jordan Minaar and Derek Beirnes, will be making a presentation on their experience in attending the Young Hoteliers Summit in Switzerland a couple of weeks ago. A Q&A session will follow. 
Thursday, April 7th, 2011
MINS Room 129
2:00 - 3:00 p.m.
APR. 5: Why Restaurants Use Sexy Servers 
Two fourth year HTM undergraduate students, Rebecca Ham and Julie Walsh (under the guidance of faculty advisor, Bruce McAdams) will present their findings in regards to their independent research topic on the role physical attractiveness plays in a restaurant setting.
PRESENTATION: Wednesday, April 6th at 5:30 p.m. in Room 209, Macdonald Stewart Hall
Press Release  [76] 
MAR. 29: Homeless Campaign Exceeds Goal
For five days, five CME students, including HTM Student Andrew Cumpson lived outside, braving the winter weather to raise awareness and money for the homeless. More than 20 universities participated in 5 Days for the Homeless, a nationwide campaign to raise $200,000 for local charities.
From March 13 to 18, the students lived in a cardboard shelter in Branion Plaza with no food, money or access to showers. They relied on the kindness of strangers, who donated meals. They were also required to stay on campus and attend all of their classes, extracurricular activities and work.
"It's important to tackle this initiative because homelessness can affect anyone, and everyone deserves a place to sleep," said Tom Beckett, a first-year hotel and food administration student.
The students exceeded their $5,000 goal, raising more than $5,500 for Wyndham House, a local organization that provides co-operative housing for youth.
MAR. 25: HTM Student Wins Creativity Challenge in Switzerland 
At the Young Hoteliers Summit in Lausanne, Switzerland, Derek Beirnes' team won the creativity challenge, which was to develop a new social media strategy for the Rezidor Group.  As a prize, he received an all-expenses paid trip to Copenhagen to complete a five day business program, developed by Rezidor.
Four students from the University of Guelph, David Humphrey, Vanessa Graves, Jordan Minaar and Derek Beirnes (all BComm HAFA students), attended the summit, which was held on March 21 and 22. 
The Young Hoteliers Summit is the first hospitality summit bringing together students and industry leaders from around the world. It provides an opportunity for all participants to exchange knowledge and ideas, foster creativity, profile competence and expand their professional networks.

MAR. 19-20: Garden 2 Table at College Royal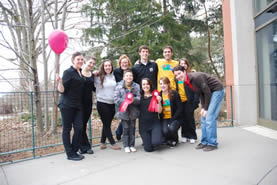 University of Guelph's College Royal Open House Weekend runs this weekend: Saturday, March 19th, 2011 from 9:00am-5pm and Sunday, March 20th, 2011 from 11am-4pm. The Garden2Table Exhibit will be located on the North End of campus. (Free shuttle busses available from the University Centre).
Garden2Table is a student-run learning initiative that has school- aged children, families, and the Guelph community, collectively participating in aspects of sustainable food production and healthy consumption.
The School will be offering students the opportunity to visit a real food laboratory in Macdonald Institute (room 214) for an exciting culinary experience. Families will learn how to prepare delicious, healthy food, fit for royalty! Participate in fun, educational activities and collect recipes to start a family cookbook. Educational activities will run all day Saturday and Sunday.
Also, please visit Garden 2 Table's Royal Café! located in PJs Restaurant in the Atrium in Macdonald Stewart Hall. Royal Café! will offer seasonal, locally sourced bistro cuisine, featuring lunch combos for $10/adult and $5/child under 10 (taxes not included).
Cafe hours of operation are Saturday and Sunday from 11:30am to 3:00pm.
Questions? Email Julia Withers jwithers@uoguelph.ca [77]  More Info [78]
MAR. 17: HTM Awards Ceremony 
The HTM Awards Ceremony was held on Tuesday, March 17th at Cutten Fields to honour our student awards winners. Congratulations to all!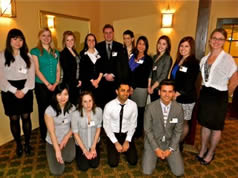 MAR. 1: HTM Director Honoured with Prestigious Fellowship 
Professor Kerry Godfrey has been named a "2011 Fellow of the Institute" of the prestigious Ontario Hostelry Institute (OHI). The fellows of the institute exemplify their outstanding contributions to culinary hospitality, tourism and the hospitality industry. It also acknowledges their personal and professional industry accomplishments. 
Individuals such as Professor Godfrey best demonstrate excellence and personal professionalism along with an unwavering support of industry-specific and professional institute training.
MAR. 1: HTM Launches New Professional Development Program
The School is proud to launch it's new Professional Development Program for hospitality managers from May 29 - June 2, 2011. Building on over 40-years of educational excellence, this new and improved program continues in the tradition of industry engagement and advancing the careers of Canada's leading managers.
"Real Problems … Real Solutions", effective problem solving for hospitality managers, is a 5-day course designed to enhance the problem solving skills of hospitality managers in your regular work environment. The course focuses on a number of business issues, examining the root cause and seeks to find solutions that will lead to positive change.
Topics include: evidence-based decision making; critical analysis; negotiation and influence; leadership and group dynamics; change management and 'bigger picture' financial implications.
The program is designed specifically for hospitality managers looking to enhance their management effectiveness and prepare people for increased responsibility and career advancement.
Prior participants in the Hospitality Manager's Development Course (HMDC) are encouraged to attend this new and improved professional development program.
Take advantage of early-bird rates by March 31st.
Further Information [79]
MAR. 1: HTM Grads Dominate OHI's "Top 30 Under 30"
Six graduates of the School of Hospitality and Tourism Management were recognized as the Ontario Hostelry Institute's (OHI), "Top 30 Under 30." Jenn DiRaddo (Human Resources Specialist, Oliver & Bonacini Restaurants), Stephanie Guth (Line Cook – The Ritz Carlton, The Four Seasons, Toronto), Todd Hand (Acting Director, Foodbuy Canada - Compass Group), Sasha Saladziuk (Instructor, University of Guelph), Kylee Vankoughnet (Operations Standards Manager, Tim Horton's Inc.) and Robin Wilson (Manager - Events, Oliver & Bonacini) will be honoured in Toronto at the OHI's annual gala. 
Congratulations to all recipients!
MAR 7-11: ePORTFOLIO WEEK
March 7 - 11, 2011
Featuring HTM's Alison Crerar as one of the presenters.

FEB 7: HTM Student at World University Games 
Tourism Management student, Jessica Zerafa, and fellow Guelph student Jackie Sollis are coming home from the World University Games with a gold medal. Jessica was a forward on the Canadian women's ice hockey team which took part in the games from January 26th to February 6th in Erzurum, Turkey. With one day left in the games, the Canadian team reached for the gold medal as it defeated Finland by 4-1.  Jessica scored one of team's winning goals in the 2nd period. 
CONGRATULATIONS Jess and to the entire Canadian team!
More Info  [80]
ANNUAL ALUMNI CAREER NIGHT 
Tuesday, January 25, 2011
Alumni Arrival - 5:45 p.m. 
Info Sessions for Students - 6:30 - 8:00 p.m. 
PJ's Restaurant in the Atrium 
Alumni Reply Form [81] 
12TH ANNUAL HTM JOB EXPO 
Wednesday, January 26, 2011
10:30 a.m. - 3:00 p.m.
Peter Clark Hall
More Information [82]
NOV 5: Jamie Gruman's study cited in Globe and Mail story on new hires 
A story in yesterday's Globe and Mail references the work of Jamie Gruman, associate professor of organizational behaviour in HTM. The story by Wallace Immen examines the orientation practices of organizations in welcoming new hires. In it, Immen cites a survey-based study co-authored by Prof. Gruman and Prof. Alan Saks of the University of Toronto in which the pair conclude many organizations are not doing enough to help new hires adjust and become productive employees from day one. Read more [83] 

NOV 4: PJ's Restaurant named top Diners' Choice for lunches
PJ's Restaurant in the Atrium has topped the Diners' Choice "Great for Lunch" list in the Toronto/Ontario section of Opentable.com. The restaurant guide website states the top 10 list was derived from the choices of "more than 85,600 diners." 
Facing strong competition from across the Greater Toronto Area, PJ's was ranked higher than top restaurants such as Mercatto, FOUR and Oliver & Bonacini's. Among the 10 restaurants chosen, PJ's was the only one located outside the GTA.
PJ's is a student-run restaurant in the School of Hospitality and Tourism Management at the University of Guelph. Each day features a new menu and theme as created by the student groups running the events. PJ's is open for lunches Mondays through Fridays in the Fall 2010 semester.
 
NOV. 3: Joan Flaherty comments on technology-based pedagogy for Academic Matters 
The current issue of Academic Matters features an article by Joan Flaherty, assistant professor in HTM, on the pros and cons of adopting technology in the classroom. Academic Matters is the biannual magazine of the Ontario Confederation of University Faculty Associations, and is mailed to 17,000 professors, academic librarians, and others interested in higher education issues across Canada.
OCT. 21: Marion Joppe presents model for tourism growth to OECD conference in Israel 
Professor Marion Joppe presented a paper today to the Tourism Committee of the Organization for the Economic Co-operation and Development. The committee was meeting at the organization's conference in Jerusalem, an event hosted by the OECD Centre for Entrepreneurship, SMEs and Local Development.
Prof. Joppe's paper outlined a model for education and training to drive growth in global tourism and covered topics such as productivity and migrant labour issues.
"It has been a fascinating project because it has allowed me to scour the literature as well as get insights through extensive questionnaires answered by 27 countries and case study information from another six countries," said Prof. Joppe, a University Research Chair in tourism. "The project has gone on for well over a year and will culminate in a two-day workshop in Hurghada, Egypt, at the end of November, where I deliver the keynote and then the chapters of my report from the panel presentations and discussions."
Calling it "very exciting" work, Prof. Joppe, hopes her work will help bring about changes to the global tourism industry.
"Organizations such as the World Tourism Organization and the International Labour Organization will take part, so hopefully some of my policy recommendations will actually see the light of day," Joppe said.
For more on Prof. Joppe and her research interests, visitwww.htm.uoguelph.ca/marion-joppe.shtm [71] For more on the OECD, visitwww.oecd.org [84]
OCT. 7: Congratulations Katrina Bin! 
Former HTM student, Katrina Bin wins four of the top five awards at CME's Department of Business, Annual Academic Excellence in Accounting awards evening.
SEPT. 27: World Tourism Day 

Hosted by the School of Hospitality & Tourism Management.
Join us for the launch of The Tourism Research Collaborative and a presentation of research
Monday September 27 2010 
3:30-4:30 pm 
Macdonald Institute (MINS) 300
Naked Foods: Canadians' Taste for the Authentic by
World Tourism Day Video [85]
SEPT. 25: WELLINGTON RURAL ROMP SELF GUIDED FARM AND MARKET TOUR 
Saturday, September 25, 11 a.m. - 4 p.m.
www.guelphwellingtonlocalfood.ca/wellington-rural-romp [86]
SEPT. 25: GUELPH CENTRE FOR URBAN ORGANIC FARMING OPEN HOUSE 
Hosted by: Garden2Table: a real food program for kids which is run by students of the School of Hospitality & Tourism Management 
Saturday, September 18th, 2010, 12:00 - 4:00 p.m.
Admission is FREE 
A $10 Food Passport can be purchased to sample our Chef's organic fare (all proceeds to the GCUOF and G2T) 
- Guided 'tasting tours' of the organic garden, a great way to introduce young and old to the joys of fresh food!
- Top Ontario Chefs prepare mouth watering cuisine using organic produce from the gardens seasonal bounty
- Live music, corn roast, educational demonstrations and children's activities throughout the day
- The 'Garden Market' will be open so bring your shopping bags! 
Click here for more information and exact location on campus [87]