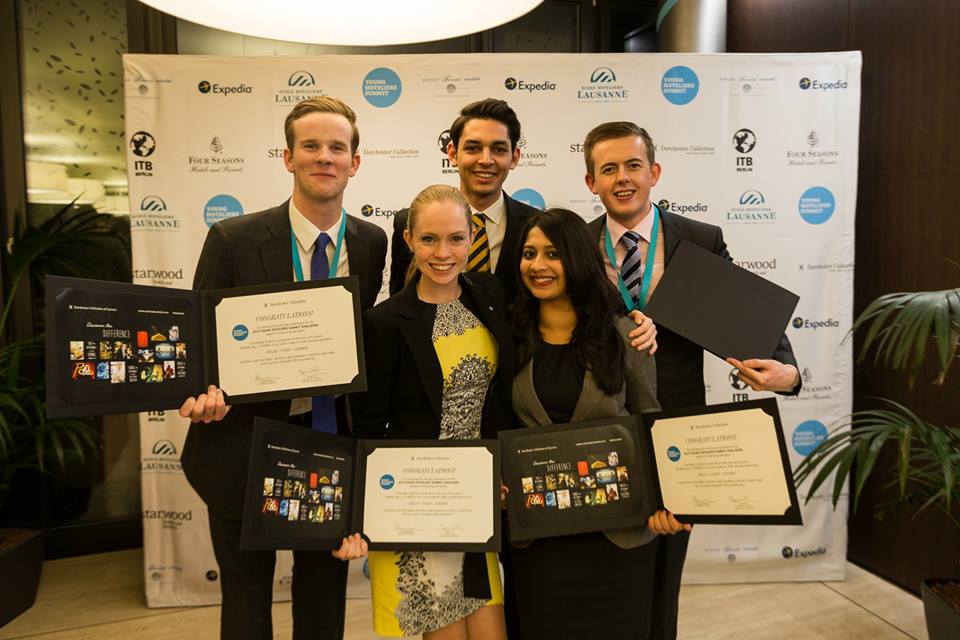 HAFA Co-op students, Aaron Laurie and Brittany Ho were the two delegates representing the University of Guelph at the 2015 Young Hoteliers Summit [1] hosted by Ecole hôtelière de Lausanne. At the Summit, student delegates from the top hotel schools around the world were broken out into teams of five and presented a case challenge. The Dorchester Collection - the head sponsor of the Summit and the challenger provider tasked each team with redesigning the organizational structure of the company from a hierarchy to a network.
The Young Hoteliers Summit was honoured to welcome Mr. Christopher Cowdray, (CEO, Dorchester Collection) to join the panel of esteemed judges and Mr. Eugenio Pirri (Vice President of People & Organisational Development, Dorchester Collection), Ms. Ana Brant (Director, Global Guest Experience & Innovation, Dorchester Collection) and Ms. Rakhee Patel (People & Talent Lead, Dorchester Collection) for the Challenge presentations. After countless hours of preparation, the 12 teams were selected at random and given 10 minutes to present their concept and convince the panel that their idea was the best way to break down silos, promote communication and collaboration, and empower the most connected individuals.
The winning group was chosen based on the innovation behind their solution, their perspective of looking inwards to outwards, the way they involved everyone in the solution and its sustainability as they could reposition the people they already have.
Congratulations to HAFA student, Aaron Laurie and his team for delivering the winning presentation at the 2015 Young Hoteliers Summit!  Aaron was accompanied by his teammates: Anna Church (Ecole hôtelière de Lausanne), Nirmitee Mehta (Ecole Hoteliere Lavasa), Donal Ennis (Shannon College of Hotel Management), and Maruan Elana (MODUL University Vienna GmbH) who have been rewarded with the ultimate experience. Each group member has been granted a seven-day, all-expense paid trip to visit three of the Dorchester Collection's iconic hotels in Milan, Paris, and London. Each member will also have the opportunity to visit the Dorchester Collection corporate office in London following their trip.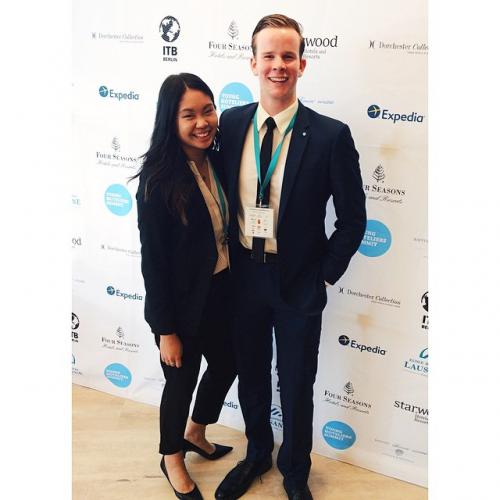 HAFA Student Competitors, Brittany Ho and Aaron Laurie Media: Canadian Lodging News [2]