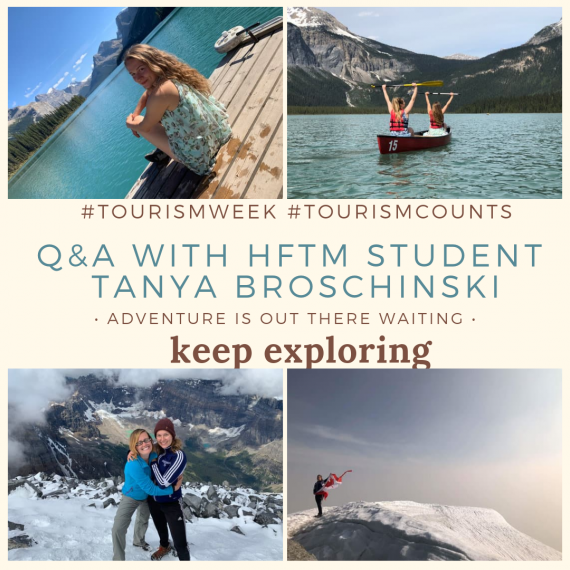 In support of Tourism Week, we reached out to Tanya Broschinski, a 4th Year HAFA Co-op student and previous director of corporate relations for the Hospitality, Food & Tourism Management Student Association for a Q&A session.
#TourismWeek #TourismCounts #HFTMproud #LangBusiness
What it means for you to travel in Canada?
Growing up with very little means of travelling always made me curious of the world beyond my tiny hometown. As my travel opportunities increased, I have been able to explore some of Canada's incredible landscapes from the great plains to the rocky mountains to the ocean, Canada really has it all! To me travelling in Canada means exploring and supporting my beautiful country that I am so fortunate to live in. It means meeting up with friends and family across different provinces and it means new adventures around every corner of our great country! 
Where will you be travelling to within Canada when restrictions are lifted?
When Canada's travel restrictions are lifted, I plan to explore the east coast. I have never been east past Quebec and I'd love to see the Magnetic (Moncton) Hill in New Brunswick. 
How have you supported local tourism destinations and businesses?
Wherever I travel I try to avoid chain food restaurants and instead look for the best 'hole-in-the-wall' places that are locally owned! Not only do they usually have much better food made with love, but I also feel great about supporting local families with my purchases. Some of my favorite local restaurants across Canada include:
Nikkei Ramen-Ya in Courtenay, BC where the owner also pays his employees a living wage instead of minimum wage.
Roastmastir's in Vancouver, BC.
House of Funk Brewing in Vancouver, BC.
Earnest Ice Cream, Vancouver, BC. 
Trailhead Cafe, Lake Louise, AB.
Park Distillery Restaurant and Bar, Banff, AB.
Wicked Cup, Jasper, AB. 
Remedy Cafe, Edmonton, AB.
Matt's Pizza in High Level, AB.
Jack's Pizza Crepe Frappe, Unity, SK.
Three Treasures Tonics, Saskatoon, SK
Fools & Horses Coffee Company, Winnipeg, MB.
Miijidaa Cafe, Guelph, ON.
Stillwaters, Paris, ON. 
Harpers Burger Bar in Kingston, ON.
Bar Darling, Montreal, QC.
Cafe Nocturne, Montreal, QC. 
I can't wait to get back out and explore more of what Canada has to offer!