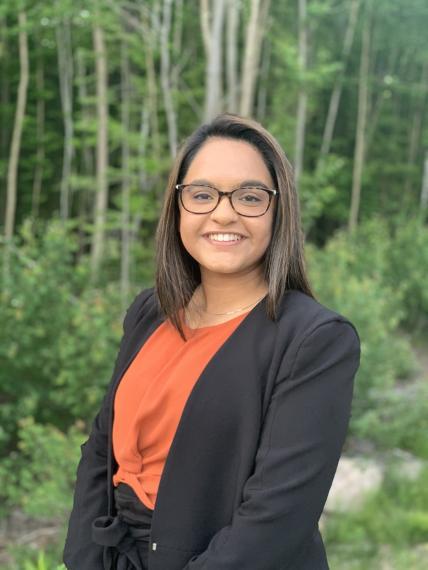 The Young Hoteliers Summit (YHS) is a gathering of students from the top hotel schools from around the world. The competition event includes panel discussions, keynote speakers, workshops and more.
The goal of the summit is to increase international collaboration within the field of hotel management by connecting students from around the world and developing strong relationships between students and the international hotel industry.
The 3rd virtual edition 'Breaking through the Tide' competition was held from March 7th - 9th, 2022.
Shruti Kukreja, a 5th year Hospitality & Tourism Management (HTM) co-op student from the School of Hospitality, Food and Tourism Management (HFTM) at the University of Guelph was selected to participate in the annual YHS case competition. 
Shruti earned her position to represent HFTM by demonstrating consistently high levels of academic achievement, experience in the lodging field, and some outstanding leadership skills, including roles as current President of the HTMSA and past-President of the School's Hotel Association of Canada's student chapter.
In this Q&A session, Shruti describes her YHS experience, highlights, presentation and advice for future students interested in the competition.
Describe your YHS experience.
YHS was undoubtedly the most awaited conference of my university career. I was always amazed hearing the experience of past Guelph delegates and now I know why. The conference brought in industry professionals and hosted panels and fireside chats to initiate challenging and important conversations among delegates.
As this year's University of Guelph's delegate and team leader, I was paired with 5 students from 5 different time zones across the world. Despite diverse backgrounds, we got along so well and named our team 'More than Suits' (putting our twist on which of course is our beloved TV show). I had the best time learning from and working with passionate and talented young professionals.
I am extremely grateful to Professor Murray for his continuous support, guidance, and mentorship throughout the summit and the School of HFTM for choosing me to represent the University of Guelph.
What was your presentation about? 
Marriott was this year's case challenge provider and they presented us with the challenge of talent acquisition and retention. We know that the biggest problem our industry is facing right now is exactly that and our presentation focused on the factors responsible for people leaving the industry and how to tackle them. It was exciting to see many creative solutions and worldwide perspectives on the issues we are currently facing. 
What was the highlight of the Young Hotelier Summit?
One of the highlights of YHS was the keynote from Craig Smith, Group President & Managing Director, International Division of Marriott. His advice on growing leadership qualities and attitude along with the skillset was remarkable. It speaks to the fact how important is to it have soft skills in our industry no matter which department you are working in.
Do you have any advice for students considering this competition in the future?
My advice is simply to apply to be a YHS delegate - this is once in a lifetime opportunity you don't want to miss out on! You get to meet, work with and learn from students all around the world, listen to industry professional discussions, and gain insights on how the industry is resolving the challenges on a global scale. I'm hoping that next year's delegates will get to go to Switzerland in person to experience this amazing conference.
Shruti, we are #HFTMproud of you!