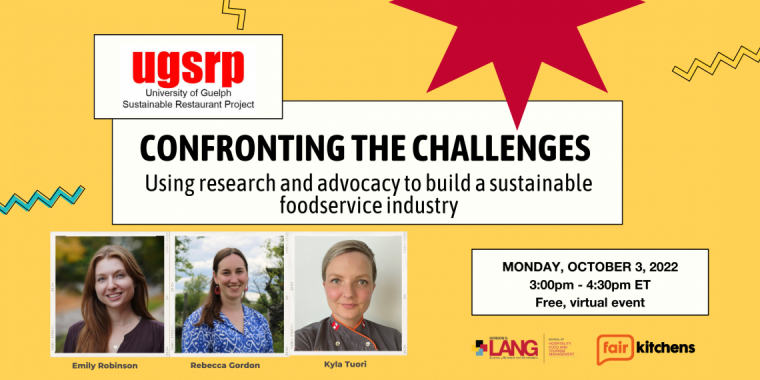 You're invited to attend the University of Guelph Sustainable Restaurant Project's 10th annual symposium on Monday October 3. This year's theme is confronting foodservice industry challenges through research and advocacy.
The symposium will feature presentations by Emily Robinson and Rebecca Gordon of the University of Guelph and Kyla Tuori, the Corporate Chef of Unilever Food Solutions and the Fair Kitchens Ambassador. Emily Robinson and Rebecca Gordon have spent the last 2 years conducting groundbreaking research on restaurant sustainability issues while completing their MSc. degrees and they look forward to sharing their findings with you. Emily Robinson will be speaking about how to overcome barriers to implement environmental sustainability initiatives and Rebecca Gordon will give a presentation on how the foodservice industry can eliminate extreme work conditions to retain restaurant workers. We are also excited to have Kyla Tuori joining us who will be sharing how Fair Kitchens [1] is creating change in the industry through advocacy and education of fair employment practices. Fair Kitchens provides free tools, support and training for foodservice and hospitality professionals to help build positive working environments.
This is a free, virtual live event taking place from 3-4:30pm ET.
To receive the viewing link, please register here [2].
For more information, please contact us [3].