1.0 Biohazard permit
University of Guelph's Biohazard Permits give authorization to conduct research or teaching projects and/or manage diagnostic laboratories utilizing biohazardous materials. 
They are issued to Principal Investigators based on local risks assessment and required containment levels/ They are not issued by:
the number of micro-organisms
laboratory room 
granting agency 
2.0 Biosafety program policy 
All persons undertaking work with biohazardous materials must have: 
work approved by the Biosafety Committee
a valid permit

before obtaining the biohazardous material through (purchase, transfer and/or import)
before commencing the work
throughout the entire period that the biohazardous material will be manipulated and/or stored (including long-term storage of microbial isolates or tissues)
3.0 Permit Validity
University of Guelph's Biohazard permits:
are valid for 2 years.
any changes during the 2-year period must be approved through submission of a (BSC -8) Change Request form to the Biosafety Officer
Can be renewed/extended only once upon expiry using 

BSC -8 Change Request form

A new full permit application is required every four years even if biohazard used and scope of work remains the same
4.0 Permit application – DO's
Regardless of the risk group - an application is always required to ensure appropriate risk assessment and containment levels.  
Review "New Biohazard permit holders" document under FAQ on biosafety page
Follow instructions for completing biohazard permit application
Forms must be completed in full and submitted to the Biosafety Officer (BSO) via email bso@uoguelph.ca

[1]

. Hard copies of the form are not required
All fillable forms are now accessible on the Biosafety Program and Forms page

[2]

 through your UofG central login account 
If it is a new biohazard permit application, please do not compile all forms as one file as it takes extra time to segregate the files to upload on our internal portal for Biosafety committee review. 
If desired, you can upload files on one drive or drop box and provide a link to the BSO. For examples of completed forms, refer to resources – full biohazard permit application form.
4.1 Naming convention for files
Follow these instructions to label each form in accordance to their name and function, e.g. as follows:
Main application – "title of project (can be shortened to give gist of it)
BSC-1 - "Name of Organism"
BSC -3 – "Name of material"
BSC-4 – "Name of cell line"
BSC-7 – "Name of animal (e.g. chicken/ mice)"
PSDS – "Name of organism" 
Reference 1 – "topic of article"
Lab Safety manual – "name of PI" (always review and updated manual, SOPs etc. in accordance to the current requirements and safe practices)
Supplementary forms must always be submitted along with the permit application.
5.0 Change request/amendment
A change request is an application requesting changes to the approved and valid UoG issued Biohazard Permit. Change requests can be used for changes such as:
permit extension or renewal after two years term
pathogen addition or deletion (same or lower Risk group)
procedure modification (without too much deviation from approved procedure)  
onboarding and off boarding of authorized workers 
lab location (including storage areas), project title or funding agency info
Note: If the changes are substantial (e.g., addition of animal work, adding a new pathogen that carries different or increased risks), a full application may be required. For examples of completed forms, refer to resources – Change request form.
Change request – DO's 
All forms pertaining to the Biohazard program are now available and accessible to the users through their University of Guelph login on the Biosafety Program and Forms page [2].
For permit renewal (expiry extension requests), always check the boxes to confirm:

SOP review and update
Inventory of biohazard update
Training assessment review and update
Note: if there are no changes in SOPs, clearly state that there are "No Changes in SOP".
For onboarding investigative staff request, indicate dates of training for:

Biosafety
WHMIS
Lab Safety
Supervisor or Worker (as applicable) Health and Awareness training
And include an Agreement on Biosafety (AOB) for the PI and each investigative staff
Note: Additionally, you can provide lab specific or work specific or College of Biological Sciences training records or certificates. This same checklist can be used while submitting full biohazard permit application to confirm training records for investigative staff.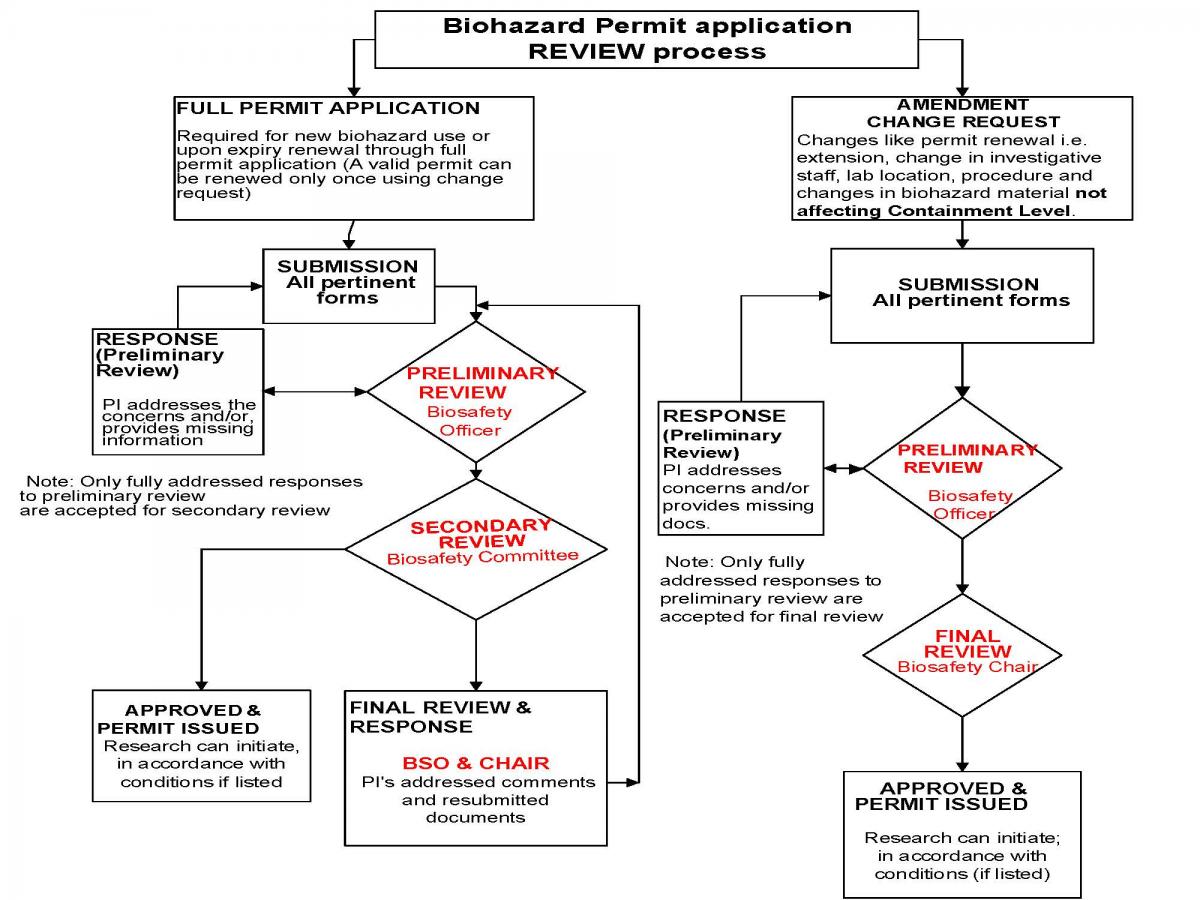 Outline of Biohazard Permit Application Review Process
Full Permit Application:

Required for new biohazard use or upon expiry renewal through full permit application (A valid permit can be renewed only once using change request)

Submission
When full biohazard permit application is submitted for review, the process followed for review is as follows:
Preliminary Review - Biosafety Officer 

This review includes administrative review for document checklist completion, risk assessment and its proposed mitigation.  

Administrative review can also include previous permit application, their status, performed inspections, corrective action plan response and relevant documentation.
Review of risk and proposed mitigation includes assessment in accordance with Canadian Biosafety Standards

[3]

and industry best practices.

Response To - Preliminary Review 

PI addresses the concerns, provides missing information
Note: Only fully addressed responses to preliminary review are accepted to move the application to secondary review

Secondary Review - Biosafety Committee 

The committee reviews for inherent risks and proposed mitigation practices.
If committee members have any comments, the BSO collates and forwards the comments to the applicant to address them and/or meet deficiencies for the required containment

Final Review & Response 

BSO & CHAIR reviews the PI's addressed comments and resubmitted application documents

Approved & Permit Issued 

Research can be initiated, in accordance with conditions of the permit if listed. 
In this stage, the PI biosafety records are created; a PI is sent a copy of biohazard permit via email and the Local Joint Health and Safety committee representatives are copied as well

Amendment/Change Request 

Changes like permit renewal i.e. extension, change in investigative staff, lab location, procedure and changes in biohazard material not affecting Containment Level. 

Submission
Preliminary Review - Biosafety Officer 

This review includes administrative review for completeness of the Change Request form, relevant documents, status of approved permit, review of changes proposed with regards to earlier approved risk assessment and mitigation. 

Response (Preliminary Review)

Based on the review of the change request application, the PI may need to address the concerns and/or provide missing documents
Note: A full permit application may be if required if deemed necessary based on the scope of change requested.

Final Review (Biosafety Committee Chair)  

Chair completes reviews for the suggested changes and approves via email and/or signs off on amended permit as appropriate

Approved & Permit Issued 

Research can initiate, in accordance with conditions if listed. 
In this stage, the PI's biosafety master records are updated; the PI is sent either an amended copy of the biohazard permit via email with representatives from their Local Joint Health and Safety Committee cc'd or the PI is sent an email confirmation of the approved amendment.