Welcome to Human Resources at the University of Guelph!
Human Resources supports the University's commitment to excellence in teaching, research and community service through the provision of quality HR programs and resources.
We create and sustain partnerships that enable the University of Guelph to achieve its vision through innovative and supportive people practices, including cultivating sound core leadership and management practices.  We strive to be leaders in fostering excellence, productivity, respect and fairness as we work to strengthen the University's ability to attract, develop and retain talent in this diverse, work and learning environment.
Working in collaboration with the University of Guelph community, Human Resources dedicates time, energy, creativity and resources to ensure the University as a workplace is healthy and sustains the need for learning and challenge.
Martha Harley
Associate Vice-President (Human Resources)
Announcing the Launch of GOAL 2.0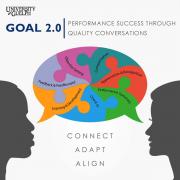 We are excited to announce the launch of GOAL 2.0 -  U of G's customized performance success framework.  GOAL 2.0 is a simpler, more impactful and evidence-based framework for supporting employee success.   For more information check out the GOAL 2.0 website https://www.uoguelph.ca/hr/goal-2.0  It is a valuable resource for all employees and managers to learn about GOAL 2.0, and what is expected of managers and employees. It will be a source of tools, learning, and resources that will support effective implementation.