Awards & Recognition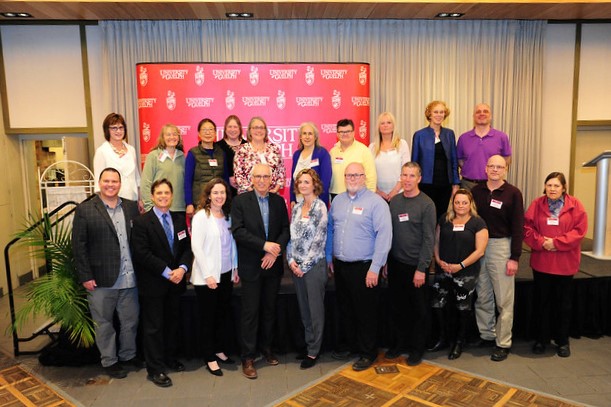 The University of Guelph celebrates its faculty and staff through formal recognition programs such as the Long Term Service Awards and the President's Awards for Exemplary Staff Service.
The University of Guelph acknowledges the commitment and valued contributions of its long term service employees. All employees with 25 years of service and more are invited to attend the 25 Year Club Reception, held annually and hosted by the President.  At this event, employees with 25 Years are formally recognized. This year's 25 Year Honourees are listed below:
25 Year Honourees
25 Year Honourees

Rhonda Alger
Gregory Arndt
Monica Bertolo
David Bezanson
Kim Jo Bliss
Dominique Bureau
Shu Chen
Deborah-Lynn Cloutier
Margaret Curzon
Diane Dobbins
Douglas Doel
Lelio Fulgenzi
Byron Good
Janice Grinberg
Robert Guthrie
Robert Hasson
Sally Humphries

 

Andrea Kacer
Wendy Keenleyside
Gordon Kirby
Mary Lake
Bonnie Lambert
Yanping Lou
Lisa Mamuza
Melody Melzer
Elisabeth Nicol
Lori Partridge
Barbara Reid
Mary Schnurr
Patricia Shaver
Judy Smyth
Cindy Wells
Julie West
David Wilson
---
The Annual President's Awards for Exemplary Staff Service celebrates employees who have demonstrated outstanding service to the University community and/or who have made extraordinary contributions to the University community beyond what is normally expected in their job.  Visit the Office of the President's web pages to learn  more about the awards and the nomination process.
The 2018 award winners are listed below by category:
Award for Excellence in Wellness, Health and Safety
Betty-Anne McBey, technician in the Department of Pathobiology, has spent more than 25 years ensuring the safety and operations of the department's research and teaching labs.
Hidden Hero Awards
Yanping Lou, research associate in the Department of Animal Biosciences, has helped numerous students with research projects and coursework over the past 25 years. She is known as "Lab Mom" by many of the students she helps.
Ken O'Krafka, groundskeeper for Physical Resources, has spent many years at U of G, ensuring a positive first impression of our public spaces, especially at the north end of campus.
Innovative Leadership Award
Amy Atkinson, senior development manager in Alumni Affairs and Development, inspires colleagues with her creative vision and commitment to building relationships.
Service Excellence Awards
Jodie Salter, acting manager in the McLaughlin Library's Writing Services, oversees services and resources for more than 5,000 students each year. She also supports a number of departmental and campus-wide initiatives.
Martha Gay Scroggins, coordinator of the Guelph Centre for Urban Organic Farming, runs all operations at this experiential learning site, including fostering partnerships with local groups on and off campus.
Exemplary Team Award
The OVC Health Sciences Centre Oncology Service Team of Amanda Bridge, Melanie Brooks, Laura Furness, Helena Hartona, Geri Higginson, Jeanette Jones, Bojena Kelmendi, Vicky Heinbecker-Marsili, Vicky Sabine, Kaya Skowronski, Jeannie Wetheral and Katie Carter is a strongly bonded group whose members provide comprehensive care and compassion for pets with cancer and their families. In 2012, the team built the centre that won the Practice of the Year award in 2017 from the Canadian Veterinary Medicine Association.