Awards & Recognition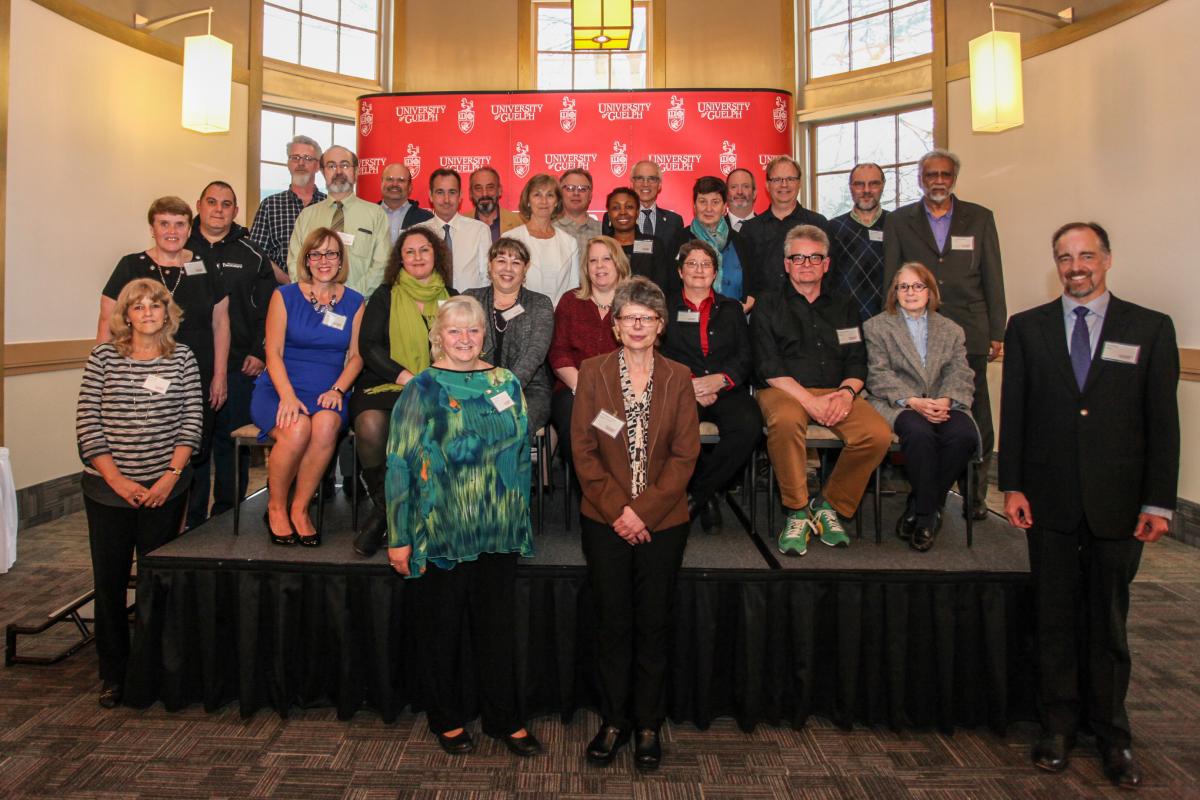 The University of Guelph celebrates its faculty and staff through formal recognition programs such as the Long Term Service Awards and the President's Awards for Exemplary Staff Service.
The University of Guelph acknowledges the commitment and valued contributions of its long term service employees at 25, 30, 35 and 40 years of service. This year's honourees are listed below:
 
25 Year Honourees
30 Year Honourees
35 Year Honourees
40 Year Honourees
Jane Alexander
Ingrid Alexy-Ferrede
Richard Avery
Patricia Dean
Brent Densmore
Chris Earley
Diana Foolen
Cathy Genova
Linda Graburn
Verne Harrison
Doris Hasson
Douglas Horne
David Kelton
Daniel Kenney
Deanna Lundmark
Martin Madden
Maureen Mancuso
James McGarry
Lynne Mitchell
Kim Mitz
Robert Nichols
Gopinadhan Paliyath
Nick Rao
Brenda Reynolds
Anette Rigby
Gary Roy
Dave Scott
Katherine St. Clair
Jeffrey Thomason
Judith Thompson
Karen Tomchick
Claudia Wagner-Riddle
Nonita Yap
Cathy Beattie
Gerrit Bos
Carla Bradshaw
Dona Brandigampola
Manfred Brauer
Ken Carey
Brenda Chomiak
Julia Christensen Hughes
Elizabeth Copland
Charles Cunningham
Roberta Dawkins
Chris Duiker
Helen Erison
John Fitzsimons
Alex Fretwell
John Fryxell
Doug Goff
Beverley Hale
George Harauz
Greg Hastings
Amanda Hathway
Rick Henderson
Tracey Jandrisits
Paul Kelly
Linda Kuiper
Alfred Lambe
Doreen Larocque
Jamie Lawson
Pek Lee
Ruth Macdonald
Wendy Lynn McGrattan
Robert Mcmullen
Richard Moccia
Nicholas Murray
Elfreda Murray
Annette Nassuth
Daniel O'Brien
Patricia Patterson
Jacqueline Poisson
Roman Poterski
Phyllis Reynen
Owen Roberts
Vincenza Romanelli
Laura Schilbe
Nick Schrier
Sharon Sharpe
Tannis Slimmon
Howard Spring
James Squires
Cynthia Stoate
William Teesdale
Gary Toporowski
Julie Tremblay-Audet
Donald Trout
Glen Van Der Kraak
Philip Wallace
Catherine Walsh
Gloria Weirmier
Joe Weston
Ann Wilson
Lori Wright
Nancy Zuccala
William Bettger
Chris Boyadjian
Charles Cadsby
Anthony Cengija
Godfrey Chu
Angela Davidson
Angela Embro
Brian Ferguson
John Fitzgibbon
Donna Hancock
Lynne Harbin
Linda Hoffman
Lynn Kocher-Wilson
Robert Leighton
Stephen Marshall
Alan Miller
Padraig O'Cleirigh
Gard Otis
Mary Purdy
David Urbshas
Andra Williams
Danny Yates
Marie  Vickery
Marielle Wallace

Fernanda Clark
Bill Clausen
Susan Ellig
William Halahan
Drew Illsley
Lorilyn Mckenzie
David Prescott
Elizabeth Reemeyer
Donna Reimer
John Reinhart
Alexandra Smith
Trevor Smith
Janet Wood
---
The Annual President's Awards for Exemplary Staff Service celebrates employees who have demonstrated outstanding service to the University community and/or who have made extraordinary contributions to the University community beyond what is normally expected in their job.  More information about the awards and the nomination process can be found at the following linkhttps://www.uoguelph.ca/president/awards.
The 2017 Award Winners are listed below by category:
Excellence in Health and Safety Award
Dennis Watson - Campus Community Police
This award is for exemplary activity in fostering a culture of health and safety in the workplace at the University of Guelph.
Exemplary Team Recognition Award
Companion Animal Surgery Team, OVC HSC: Pat Davis, Melinda Hanssen, Stacey Harkness, Leslie Reid, Stephanie Roberts
This award is to recognize and honour teams who work cohesively, demonstrate a shared commitment to providing exceptional service to the University and use their combined expertise to produce high quality results.
Hidden Hero Award
Paula Russell - Molecular and Cellular Biology
This award is to recognize and honour employees who support others and provide excellent service, behind the scenes.
Innovative Leadership Recognition Award
Ken Hough - Office of Research, Strategic Partnerships
This award is to recognize and honour employees who are innovative thinkers and creative implementers and who motivate and inspire the people around them through their vision. 
Service Excellence Recognition Award
Kim Garwood - Writing Services
This award is to recognize and honour employees who are on the front line and who, by their actions, motivate and inspire the people around them to excel in client service.
University of Guelph Spirit Award
Amit Khosla - OVC Information Tecnology Services
Leslie Rye - Integrative Biology
This award is to recognize and honour employees who demonstrate University Spirit by fostering a sense of belonging in the University community, or by supporting and promoting the University of Guelph.
University of Guelph Community Service Award
This award is to recognize and honour employees who demonstrate the University of Guelph's commitment to community service through volunteer work, both on and/or off campus.