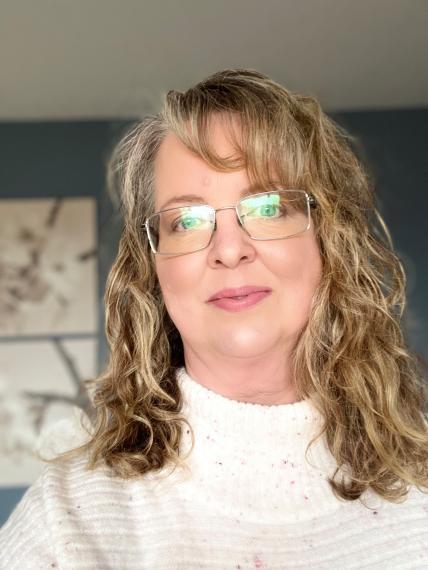 Congrats to our July "G" Thanks! Winner Connie Zavitz!
Jacqueline Hamilton wrote in her Kudoboard nomination:
"I would like to nominate @Connie Zavitz! Connie is such an inspiring colleague and amazing friend. She does so much in her department and at Lang - I don't know how she gets it all done! She is always looking for new, fun and innovative ways to get make things better for others. She cares deeply about her students and is always going above and beyond. I am so grateful to get to work with her. Thanks for all you do Connie!"
When informed of winning this months award, Connie said, "Thank you very much Jackie for nominating me for the "G" Thanks!  The respect and admiration is mutual.  Feeling recognized has made my month. Honestly, it's easy to go above and beyond in my role because I work with fantastic people, there are always exciting changes happening within Lang and enjoy helping others.  Early in the pandemic, I realized that I could either be miserable or try to bring joy and happiness to others.  I felt obligated to make learning and life a little easier for fellow colleagues and students during COVID.  I haven't always succeeded in remaining positive but when I have, it has felt so nice to be nice." 
Jacqueline also shared that, "I feel like Connie is such a go to person, doing a million things all the time for everyone! For someone who does so much, you can always reach out to Connie anytime and she still finds time to support you with high quality. Connie is such an awesome person. There was a period of time where I was in an acting role and Connie stepped up really efficiently to back fill. She does a lot of wonderful things and is so genuine. I just wanted to say thanks and I'm really glad Connie won so everyone will know how awesome she is!"
Davar Rezania, said "We were one of the youngest departments at the University, constantly growing and still recruiting and now one of the largest. We are deeply dependent on proper planning and organization. Whenever there is a question related to planning or how we do things, we have the answer and that is due to people like Connie. It is a pleasure to work with Connie. Connie emphasizes the focus on "we" never on "I". She is always considering other people and trying to create a sense of one group working for the same objective. That is how Connie works and because of that everyone likes to work with her. I don't know how the department would look without Connie there. Thanks Connie!"
Congrats Connie and thanks for all your great work!
"G" Thanks! is a program within the GREAT at U of G initiative, focused on building a culture of gratitude, recognition, and appreciation at U of G. Each month, a new Kudoboard is open for nominations from the University community for faculty and staff who you want to appreciate, recognize, or show gratitude for.
Learn more by visiting the GREAT at U of G website [1]